Liam Neeson recently celebrated his 70th birthday. An age where very few people still shoot around and (must) use their fists. Not so the Northern Irishman, who since the "96 Hours" film series in the late autumn of his career has been nailed to a certain role model: As a defense guard or a criminal with a heart (as most recently in "Honest Thief"), he has demanded for almost one and a half years decade for sometimes more, sometimes less generic, but always completely tailored to him action vehicles also outside the law brutal and deadly law and order.
Neeson's part in "Memory – His last assignment' fits seamlessly into the series of these films, but a number of other prominent names are also involved in the remake of the Belgian thriller 'Totmachen – The Alzheimer case' about a professional killer with memory loss. Bond director Martin Campbell ("GoldenEye" & "Casino Royale") is in charge of the staging, while Neeson is paired with Guy Pearce ("Bloodshot"), an acting heavyweight opposite, and Monica Belucci ("James Bond 007: Spectre" ) " ) also appear as seductive criminals. The result is all the more disappointing: apart from the few action scenes, almost all of which have already been used in the German trailer, the action drama shot in Bulgaria hardly has any sights worth seeing.
Fortunately, Alex Lewis (Liam Neeson) hasn't forgotten how to use a machine gun.
Like his brother who needs care, old killer Alex Lewis (Liam Neeson) is now battling progressive Alzheimer's disease. So he accepts one last assignment from his business partner Mauricio (Lee Boardman) for a double homicide in his hometown of El Paso, Texas. With the robbery and murder of a businessman still proving routine, Alex shows scruples with his second victim – letting his employers know he can't kill 13-year-old Beatriz (Mia Sanchez), who is in the US without papers.
A short time later, the teenager is found murdered, and FBI agent Vincent Serra (Guy Pearce) and his child sexual abuse task force are hot on Alex's heels. It quickly turns out that Lewis is only to be used as a pawn to protect the nefarious dealings of a cartel in which the powerful real estate agent Davana Sealman (Monica Bellucci) plays a key role.
» "Memory – His Last Task" at Amazon*
In the style of an opening sequence from 007, Martin Campbell plays out his entire routine by staging action scenes in the first ten minutes of "Memory – His Last Mission". This also introduces the two main characters, who are equal and in the hard consistency of their actions. As a striking nurse, Alex Lewis brutally strangles an unsuspecting visitor to the hospital ward – only to argue with where he left the car key when he flees. And Vincent Serra's undercover mission goes horribly wrong, killing Beatrice's father. Both action scenes thrive on their successful, completely different tension arcs: Alex strikes unexpectedly out of nowhere, with Vincent, an initially controlled situation escalates further and further through a twist to the point of total escalation. Both parts of the exhibition prove to be dramaturgically successful.
But then Campbell shifts more than just down a gear: Screenwriter Dario Scardapane ("Marvel's The Punisher") increasingly shifts to the hard construction of an over-engineered plot about middlemen and masterminds, vaguely reminiscent of recent years' news about young girls, that have disappeared without a trace, adds Mexico. "Memory – His Last Task" noticeably loses momentum as a result. Other action sequences are few and far between – and some of them (like the head shot on the gym treadmill seen in the trailer) are almost laughably short at a few seconds long, but they're pretty gory anyway.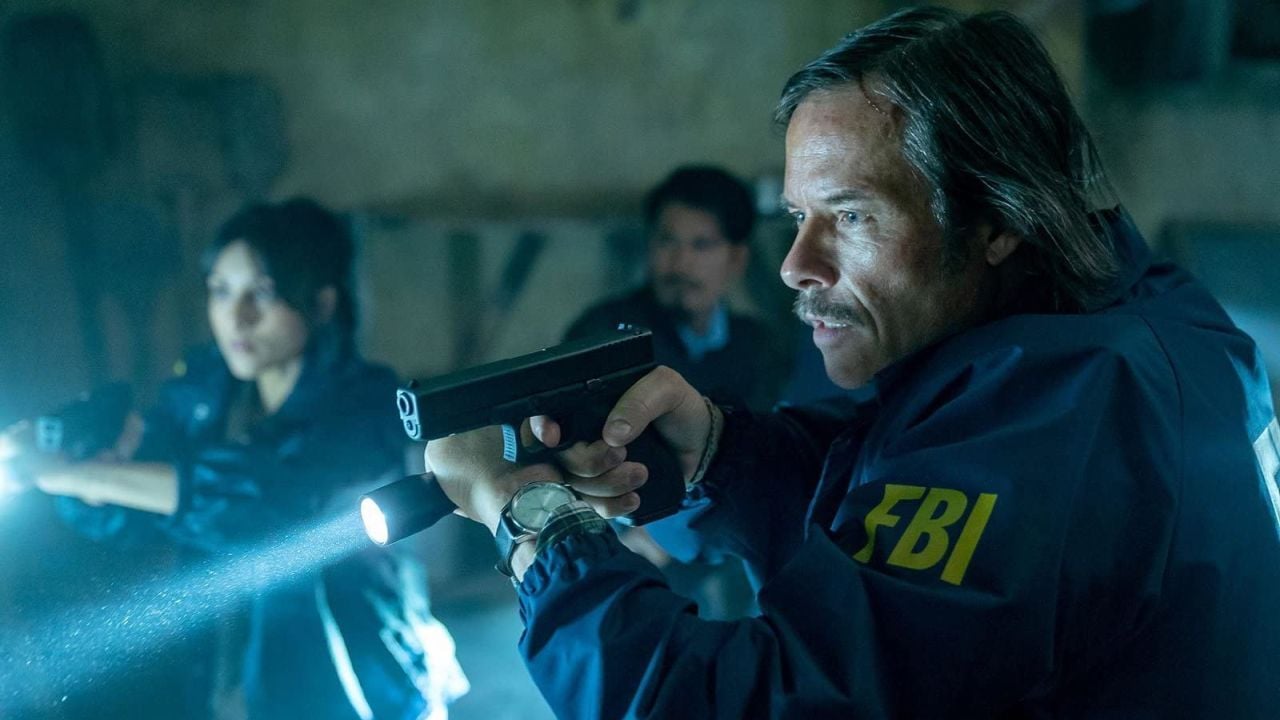 The combination of hair and mustache should be sufficient for the character drawing of special agent Vincent Serra (Guy Pearce).
One scene that gets really tough is when Alex burns a gunshot wound in the stomach in the basement of a bakery – which in its painfully ostentatious fierceness is very reminiscent of the testicle torture scene in "Casino Royale". Apart from repeated ink marks on the forearm, Campbell and Scardapane make too little of the random mental constitution of the main character: Christopher Nolan's amnesia thriller "Memento" (starring Guy Pearce) was here dramaturgically important, with its backward bite-sized narrative braver.
While Monica Belucci's performance is limited to bathing in a luxury villa's swimming pool or sitting around exquisitely furnished offices with no notable accents, Liam Neeson and Guy Pearce try to allude to the script's emptiness despite the shallow characterisation. While Liam Neeson – also to save the honor of a handsome stranger in the hotel – initially only has to use his fists and his finger on the trigger, in the last third he embodies the increasing mental confusion of his character in a believable and convincing way. way of finding difficulties and twitches in the corner of the mouth with words. Guy Pearce has an even more thankless role: as a constantly restless investigator, there is simply no time to give depth to his functional stereotype. Not even his damned looks (thin, greasy hair and mustache paired with an immaculate collection of plaid shirts under the leather jacket) can't change that.
Conclusion: "Memory – His last assignment" does not make enough of its interesting plot premise, while Liam Neeson and Guy Pearce, despite their acting pleasure, just cannot get enough of their flat characters. A completely unnecessary American remake.
*The link to the Amazon offer is a so-called affiliate link. If you make a purchase through this link, we receive a commission.