To live we need fresh air, water, food, sleep and warmth. There are also needs such as security, peace, community, laughter, fun, entertainment, health, tranquility, freedom, justice, energy, warmth, hygiene, satisfaction, mobility, learning, development, beauty, education, nature, biodiversity, environment, play , music, commitment, meaning, belonging, attention, recognition, appreciation, participation, movement and many more.
I like my morning routine of hand-grinding coffee beans myself. Even the smell of the coffee is a pleasure. I can also make my wife happy with the fresh coffee every morning.
It's suddenly fun to polish windows
Having a roof over your head and being able to sleep peacefully at night are also human needs. When I got home and complained about cleaning our windows, my wife said, "If you clean windows, be thankful and glad you have a home." In fact, I've had an easier time cleaning our windows ever since. What a luxury to live in an apartment with windows and heat! Nor is it a matter of course.
Our needs are reasons why we work.
Since we can not do everything ourselves, other people work for us and we for them. It sounds like feasible, clear ground rules. Why does work overwhelm and burden so many people? Why is it often difficult instead of easy and wonderful? What makes life complicated? why do we quarrel Do we not all want the same thing?
For an honest answer, let's take a closer look at our needs
Why are we moving?
Our body needs exercise to function.
Our heart needs movement.
Our 656 muscles need training.
We are moving to get into day care, school and work.
To get involved in the club.
To meet friends.
To have fun.
For socializing in team sports.
To be able to participate in competitions.
To experience happiness hormones.
To dance
To be more productive and live long.
Movement is a need that connects us. In detail, the need is markedly different. Therefore, there are many different suggestions on how we can move.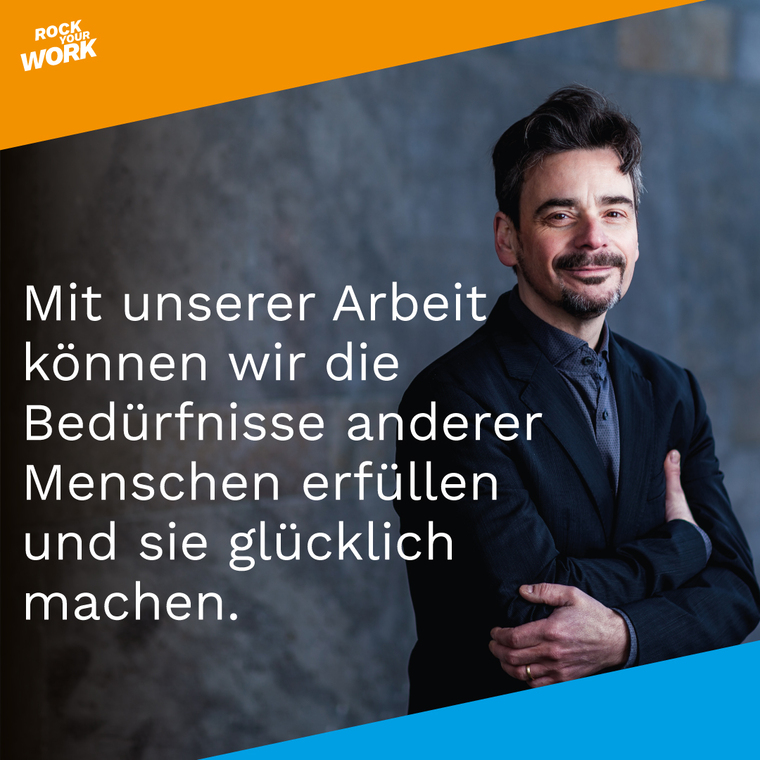 Business with movement
The beginnings of organized sports in Germany are attributed to the father of gymnastics, Friedrich Ludwig Jahn, who organized public gymnastics for the first time around 1810 in Berlin. Today, there are about 90,000 sports clubs in Germany.
The fitness industry arose around the need for exercise. In 1956, the first German fitness center for bodybuilding was founded in Schweinfurt. The founder was the American soldier Harry Gelbfarb. By 2020, there were about 9,500 fitness studios in Germany with well over ten million members, of which nearly five million train several times a week. There are 39,570 gyms in the United States and nearly $ 100 billion in worldwide sales. All this is based on the need for movement, health and beauty.
Work is a servant to human needs. When we understand our needs, it leads to better deals and launches entire industries.
The work serves needs. We make money with services that meet needs. Another example:
Why do we eat?
We eat because we are hungry and need nutrients.
We eat with appetite and desire, because it tastes good.
We eat because we want to train and build muscle.
We eat in company, with family and friends, to celebrate it, for the joy of life.
We eat out of fear, boredom or frustration.
We eat when we are stressed or addicted, as a break and as a distraction.
You should probably come up with more answers.
Behind every need there are many more embedded needs in detail.
The wishes behind the wish
The second and third why leads to them:
Why do we eat? Because we are hungry and need nutrients. Why? Because vitamins, mineral salts, roughage, carbohydrates, proteins and fats end up in the blood through digestion and are transported to the organs and cells. Nutrients are converted into energy through cellular respiration.
Why do we eat? We eat for pleasure because it tastes good. Why? Tasting is an experience that is fun and entertaining. Why? We humans are sensory beings, we hear, see, feel, smell and taste the world.
Why do we eat? Because we want to train and build muscle. Why? Because we had an accident or an operation. Or because we want to participate in a sports competition. Or because we just want to stay in shape. Depending on the occasion, different foods can help us reach our goals.
Why do we eat? Because it tastes twice as good in company, with family and friends. Why? Because we are social beings. We talk and laugh while we eat. Both weddings and funerals are accompanied by a cozy party.
Why do we eat? For the joy of life. Why? Certain foods are good for us, so we enjoy that coffee in the morning or that piece of chocolate in the afternoon. Many people discover their creativity and zest for life while cooking and baking.
Why do we eat? We eat out of fear and frustration. Why? For food can have a calming effect. Food can be a substitute for nail biting. Food can awaken, comfort and satisfy positive experiences. Eating makes you happy.
Why do we eat? Of boredom, as break filling and addictive substance. Why? Food enables an activity immediately, it is available 24/7. People who quit smoking can use food as a substitute for smoking breaks. Food can become an addiction in itself.
Culture and business with food
All of these different manifestations – and more – are based on the core need for food that we need to live. Cultures have grown around food. Each region praises its specialties. Both the food trade and the restaurant industry are dependent on certain sub-needs in their offerings and advertising that they specifically address. The better they understand their guests' needs, the better they can combine offerings, advertising and service to generate sales. All the different needs and under-needs of all people cannot be adequately covered by any offer.
In Germany, about 70,600 restaurants, 37,000 snack bars, 11,800 cafes and 4,500 bars offer food. Sales in the catering industry doubled between 2002 and 2019, and in 2019 it was around 61 billion euros in Germany. Food retail trade generated around € 149 billion in 2021. That means: € 210 billion in sales in Germany is based on the need for food in all its facets.
Choose a need that interests you. Answer the question Why? for the selected need several times. Discover the different human manifestations of this need. Reinforce the first answers with a second and perhaps a third why-round. This is the why-why exercise.
Neither offices nor cars nor machines in a production hall are needed. They are means to an end.
What needs of other people do you satisfy with your work? Which need do you give the best answer to? What need have you elaborated to better understand what people really want? Are there more appropriate, tastier, simpler and better deals in your industry? How do you look?
______
My new book ROCK YOUR WORK
"Rock Your Work is a confetti cannon of positive impulses," says Peter Kreuz.
"Inspirational fireworks," writes Christine Jung.
"Reading recommendation! Like fresh air in the room!", tweeter Wolf Lotter.
"He even surpassed it. An incredible collection of facts," reports Dieter Strasser.