14:42
The ugliest ideas in F1 history

Personally, I find the Mercedes concept visually anything but appealing this year – and I have to immediately think of this series of images:
---
Photo gallery: The ugliest ideas in Formula 1 history
As early as the 1960s, McLaren, among others, experimented wildly with extra wings. In this configuration – here in Monaco in 1969 – the M7C is not only equipped with an oversized rear wing, but also with another, slightly smaller front. After all, the car does not take off …
image series

---
14:33
Mercedes "in theory" with the best concept?

W13 is still unable to win. Barcelona, ​​however, have certainly been progress for the Silver Arrows before. And technical director Andrew Green of the Aston Martin customer team explains that Mercedes should under no circumstances be written off.
"Everyone wants to transport clean air to the rear brake ventilation and the diffuser at the rear. If you do it right, you can generate a good, efficient downforce there," he explains to 'auto motor und sport'.
But which sidebox concept is best suited for this? "When I look at the Mercedes, I get the impression that this solution in theory brings the most air energy to the critical points," Green admits.
"Once they get rid of the jump, this route could be very interesting," says Green, who also explains, "But it's not that easy to copy. You'll need a custom-built chassis for this."
So it's unlikely we'll see ten teams without side pods in 2023 …
---
14.15
Today, eight years ago …

… Nico Rosberg won the Monaco Grand Prix in 2014. However, the secret star of the race was Jules Bianchi, who finished ninth in the defeated Marussia. They were the only championship points in the team's history.
At the same time, they were the only points in Bianchi's career that had a serious accident a few months later in Suzuka, the consequences of which he died in 2015. At the time, his path to Ferrari actually seemed to be mapped.
Instead, his good friend Charles Leclerc joined it a few years later …
---
13:57
Seidl: McLaren stronger when it's cooler

McLaren's performance has been quite inconsistent this year. After being fast in Melbourne and especially in Imola, there were only four sparse points in Miami and Barcelona due to Norris' eighth place finish on Sunday.
Team manager Andreas Seidl explains on 'Sky that McLaren finds it harder "in warmer races" as recently in the US and Spain than, for example, in Imola, "where it was cooler", and Norris even got on the podium.
So he should be happy that it should be a little cooler again this weekend in Monaco …
---
13:39
Ferrari: Better big than small updates

We have already talked about the upper budget limit today. There is hardly any money this year – especially for the top teams. "Of course we should not waste our money," says Mattia Binotto.
"We will bring updates when we have a big one. We will not bring updates to every race," Ferrari team manager Scuderia's strategy explains this season.
His full statement is here!
---
13.30
Friday's driver

Before each Grand Prix weekend, we get questions about whether Friday drivers should be in action this time. However, that is very unlikely to be the case in Monaco.
Explanation: There is hardly any other circuit where driver training is as important as in Monaco. It is about slowly approaching the border. It's much harder in Monaco than in Barcelona, ​​for example.
That is why no one voluntarily wants to give up their first training session.
An overview of all Friday drivers this year can be found here!
---
13:13
Speaking of Hamilton …

Exactly 14 years ago today, the Briton celebrated his first of three Monaco victories. The McLaren rider at the time was able to win the race under difficult conditions, even if he even touched the wall at one point!
Hamilton then won again in the Principality in 2016 and 2019. Only Alain Prost (4), Graham Hill, Michael Schumacher (5 each) and of course Ayrton Senna (6) have several Monaco victories to their credit.
---
12:55 p.m.
No damage to Hamilton

By the way: Hamilton was quite lucky when he collided with Magnussen in the first place. Because chief strategist James Vowles has now revealed that the silver arrow was not damaged.
"The front wing was fine, the undercarriage was fine, the rear wing was fine," he reports. Hamilton had only one puncture, which is why he had to pit.
After his stop, according to Vowles, he was even "the fastest car" in the field for much of the race. The complete Mercedes debrief about the Barcelona GP can be found here:
---
Barcelona GP: How Hamilton's comeback succeeded!
loading video …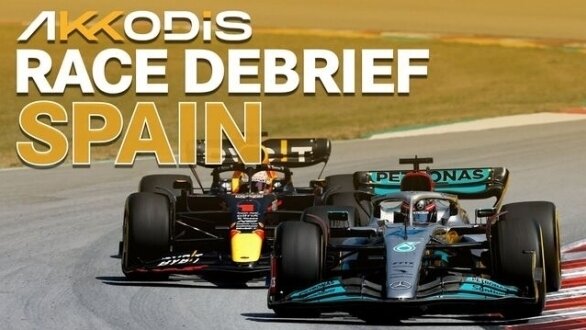 Mercedes chief strategist James Vowles answers key questions about the 2022 Spanish GP in Barcelona.
More Formula 1 videos