14:41
And with that: see you soon!

That was it for today in the Formula 1 live ticker. A fairly quiet day between the race in Barcelona and the race in Monaco, which follows this weekend. And from tomorrow Wednesday, Ruben Zimmermann is again active in the ticker.
Stefan Ehlen says thank you so much for being there today – and see you soon!
---
14:06
How to make Monaco better …

… many have bothered their brains over this. Here is a suggestion from Marc Surer from the recent Formula 1 past. Realistic or not? Just decide for yourself …
---
Overtaking in Monaco: just change direction?
As spectacular as the Formula 1 track in Monaco is, many of the races there are boring. Marc Surer has an idea.
More Formula 1 videos

---
13:49
To get in the mood for Monaco

Yes, everyone knows Monaco and the street circuit there. But how good really? We take you on a tour of what is perhaps the most famous racetrack in the world, and risk a glimpse into Monaco's Formula 1 past in prominent places …
---
A lap on the craziest course in the world
loading video …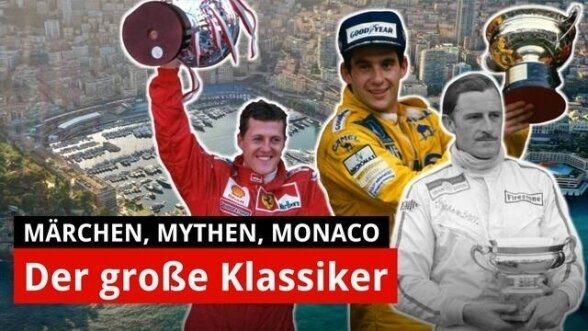 Monte Carlo from Daniel Ricciardo's cockpit perspective in the Gulf-McLaren: These are the key points at the Monaco Grand Prix!
More Formula 1 videos

---
1:23 p.m.
Monaco Special Wings 2001

Let's move on to a completely different topic: Monaco! After all, Formula 1 continues this weekend. What we did not see: aerodynamic excesses like this one from the 2001 season.
As is well known, you can argue about beauty, but not about safety: these attachments were soon banned again in Formula 1 …
---
12:25
Why the mere numbers do not do justice to everyone

In an interview with the BBC, Fernando Alonso said more about Lewis Hamilton and why his performance in the 2022 season was not given enough credit.
Alonso: "Sometimes you have a better car, sometimes it's not that good. But you still have to fight and make progress. This year we see: The driver is very important in Formula 1, but not crucial. Lewis drives as well as for the last eight years. He's running a mega lap now – or something like that, he said it himself in Australia – and is a second behind. "
"It's just like that in Formula 1," says Alonso. "In terms of numbers, this sport is not fair. For example, we did magic laps every now and then and were P15. How do you explain that to people? It's impossible!"
---
12:05 p.m.
Alonso believes: Hamilton is ahead of Russell in the end

Two-time Formula One world champion Fernando Alonso does not believe in snapshots. For example, it does not have to keep Lewis Hamilton currently behind his Mercedes teammate George Russell. Alonso said this in a BBC interview.
He said: "George has been very fast for years. I think everyone expected him to make life difficult for Lewis. But I still believe Lewis will be at the front at the end of the season."
And Alonso explains it like this: "So far we have only talked about [sechs] Race. At some point, however, it becomes more difficult or difficult situations arise. Lewis has more experience and maybe more talent. "
---
10:49
Steiner: The team messed up Schumacher's strategy

In Barcelona, ​​Mick Schumacher seemed ready for a good result after a strong start. But then the strategy did not work: Schumacher fell back, missing the top 10 and thus his first points.
Team manager Günther Steiner admits: Looking back, the two-stop strategy with a long third inning was probably not the best idea. "Even with three stops, it would have been hard to finish in the points, but we certainly would have had better chances," he says.
---
10:23
Haas: We should get points again …

Haas has not scored a point in Formula 1 since Imola. And team manager Günther Steiner believes: Recently, there was more to it than just positions outside the points. He says after the Spanish Grand Prix in Barcelona: "You are worried because there are missed opportunities."
And: "The car seems to have a good pace. Because [in Barcelona] we qualified in eighth and tenth place. At some point, you need points. "
But because there is no counter, "there is also frustration," Steiner says. But he immediately adds: "It's not entirely wrong for us. Sometimes we were unlucky with the safety car. It just takes a little now [Glück] on a Sunday. "
So far, only Kevin Magnussen has scored for Haas. Mick Schumacher is still waiting for his first top 10 result in a Formula 1 race.