XIAOMI MI BIND 6

Battery life on Mi Band 6 does not appeal to you? We'll show you a few simple tips and tricks that will make Xiaomi's fitness tracker last longer.
Unfortunately, the Mi Band 6 does not have a battery saving mode.
Instead, the fitness tracker gives great control over the various functions such as heart rate measurement.
By disabling non-essential features and reducing screen brightness, you can extend battery life up to two weeks.
Unlike many modern smartwatches, fitness trackers like the Xiaomi Mi Band 6 score with excellent battery life. The reason: they are not equipped with so many features, often have smaller screens and more space for a larger battery. Below we will show you a few tips on how to maximize the tracker's battery life.
Increase battery life: You have these options

First of all: Unlike many smartwatches and more expensive fitness trackers, the Xiaomi Mi Band 6 does not offer a battery-saving mode that you can activate just to save power. Nevertheless, you can make a big difference with various smaller options.
In the test, we found that the average battery life of about a week with default settings can be doubled without problems if you disable many unimportant features. In the following, we will show you what options you have for saving battery with Mi Band 6.
Disable health features

The simplest and at the same time most effective way to save battery on Mi Band 6 is to disable or limit the health functions (ie heart rate and blood oxygen measurement, sleep monitoring and stress measurement).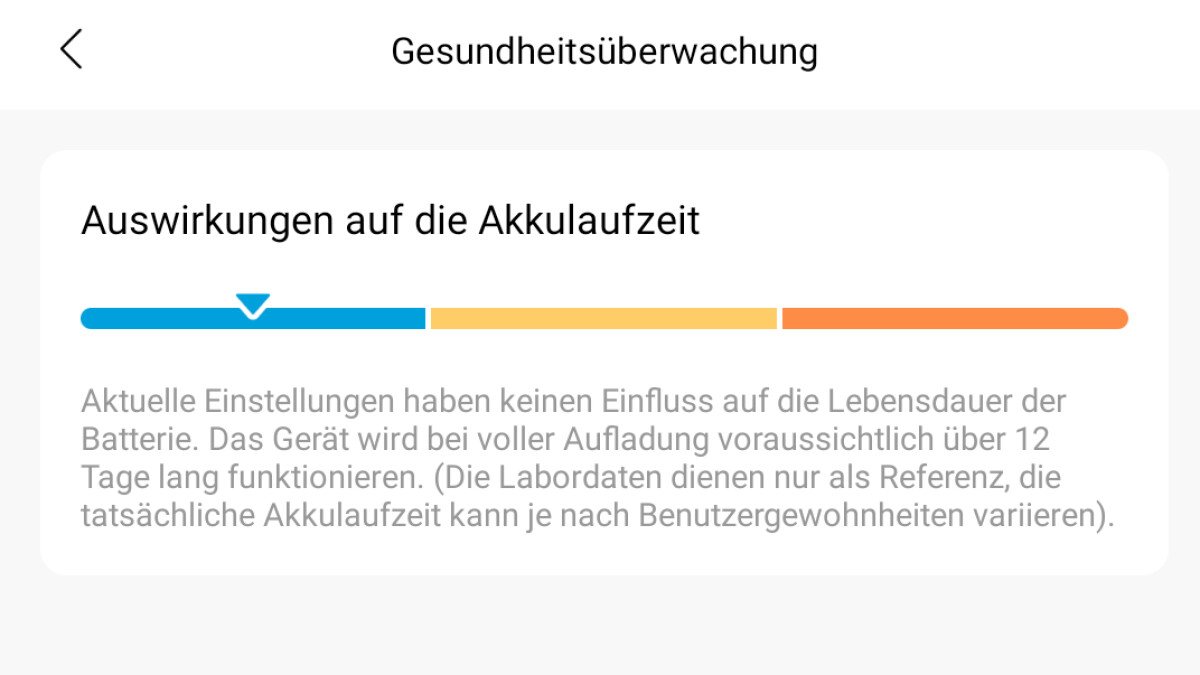 All relevant settings can be found in the Zepp Life app. You can choose to disable all options or just some of them. Xiaomi states in the app that the battery life can be extended to 12 days with these settings alone.
Make various settings on the screen

The screen gives you several settings that you can change to increase battery life. For example, you can reduce the screen brightness on the Mi Band 6 by two or three bars and shorten the screen auto-off setting to five seconds.
It is also possible to deactivate the automatic waking of the watch after lifting the arm. You can find the corresponding option in the Zepp Life app under the menu items "Settings"> "Raise your wrist to see info".
Turn off notifications and automatic workout registration

Another option is to turn off notifications on the fitness tracker. Mi Band 6 must always be synchronized with the smartphone for incoming notifications, for example from WhatsApp, which also means a high battery consumption.
You can also turn off the automatic workout detection feature to save extra battery power. In this way, sensors needed to detect an activity are disabled and no longer use a battery.
Select a dark dial

If you use a dark dial for Mi Band 6, the device automatically uses less power. With the AMOLED screen, not all pixels will light up as soon as you activate the screen.
Xiaomi Mi Band 6: How to install a new dial
How to give your Mi Band 6 a fresh look
Are the three pre-installed Xiaomi dials on the Mi Band 6 not enough for you? You can also install your own. In this article we will show you how to do this.
Disable Bluetooth on your smartphone

By disabling Bluetooth on your smartphone, you disconnect the Mi Band 6 from your smartphone. This prevents data exchange between the two devices – this saves a significant amount of electricity.
Disadvantage: Incoming notifications are not displayed, nor is it possible to display the weather or control the music. All in all, after this step, your Mi Band 6 can only display time, date and vital data, but it will last for much longer.
Do not miss anything with NETWORK-Newsletter
Every Friday: The most informative and entertaining summary from the world of technology!