Mercedes seems to have found the key to its jumping problem. Now the engineers still need to find lap times. The distance to one round is reduced from one second to six tenths.
It was not the big breakthrough, but it was an important step. Mercedes appears to have jumped under control, putting a crucial brake on the erratic W13 in the first five races. In the free practice sessions, it looked like Lewis Hamilton and George Russell could drive with Ferrari and Red Bull. The times for the top three cars were consistently within three tenths.
When things got serious, Russell, in the faster of the two Mercedeses, was 0.643 seconds from Charles Leclerc's pole position and three tenths from Max Verstappen, who had to interrupt his last attempt due to a DRS problem. In the first five races, the distance to the drivers was frozen in one second. Team manager Toto Wolff spoke of a "real step". At grid positions four and six, Mercedes drivers beat at least one Red Bull.
The distance to Ferrari and Red Bull has grown by 48 degrees asphalt temperature, mainly because Hamilton and Russell lost too much time in the last sector. "Tires for heat," chief engineer Andrew Shovlin briefly analyzed. The drivers may have accelerated too much in the first two sections. Russell leads the first sector rankings with 21,936 minutes, and Hamilton finished in third place in the middle section with an almost identical split to Carlos Sainz.
Tires overheat in the last sector
Wolff defended his star pilot: "Lewis had several balance problems. Therefore, he lost more time than George at the end of the inning." Hamilton lamented that all drivers who kept their distance on the warm-up lap to the specifications from the race control later had problems with their tires in the fast laps. "It should be examined carefully."
Jumping had disappeared except turning three and nine. The changes to the undercarriage had an effect. However, the engineers also admitted that the Circuit de Catalunya produces less rocking than other circuits. You will probably first find out the whole truth of Baku with its long flat sections.
Toto Wolff still breathed a sigh of relief: "We now understand what headroom we can expect from the car. Now we can finally start with the regular development work and try to make the car faster."
The opponents had already fired much of their gunpowder. "If we understand the car and the tires even better, then we should be able to keep up with Ferrari and Red Bull," Wolff believes. Designers fear competition. "Once Mercedes has exhausted the potential of its extreme concept, the others have nothing to smile about." The only weak point: "With this car you are forced to drive with the minimum vehicle height. Otherwise the aerodynamics will not work. Ferrari and Red Bull have more freedom there."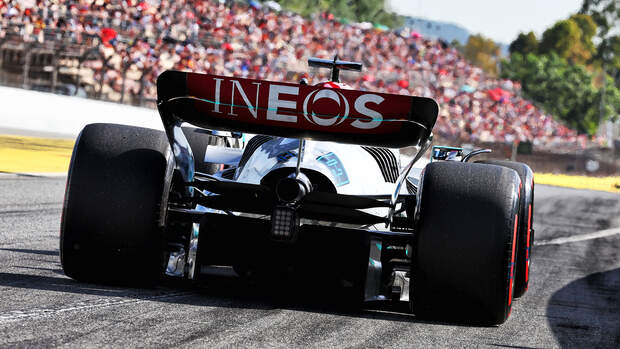 Attack on Ferrari in the race
Lewis Hamilton looked relieved, though he suffered another defeat in a direct comparison with Russell: "For the first time this season, the car felt like a real race car again." Although the starting position is the same as it was in Miami two weeks ago, progress can finally be felt. "My best time in Q2 felt like pole position." Combined with the hope: "Now we can finally develop ideas about where we want to go with the car."
George Russell also sees light at the end of the tunnel: "It was our best qualification as a team. Now we have a good foundation to work with. The distance to Leclerc is still great, but we gave some time away because we did 't get the tires perfectly into their work window. "
For the race, the drivers and men on the Mercedes command bridge expect an improvement on Saturday. "We are usually better in the race than on a lap. On the long races on Friday we were better than the Ferrari. If it stays that way, we should be able to beat them." However, one engineer warned: "Ferrari has been working at its racing pace. Leclerc's long races in the third training session on soft tires looked much better."