(Motorsport-Total.com) – With its new specification, Aston Martin aroused a lot of excitement in Barcelona last Friday. Because the B version of the AMR22 shows amazing similarities to the RB18, so it is already mockingly referred to as the "green Red Bull".
Aston Martin AMR22 is the big topic of debate in Barcelona
zoom

fetch

Copying is nothing new in F1, and even Red Bull has admitted that imitation is the most sincere form of flattery, but the F1 rules have become much stricter on this in recent years.
This is due in part to Aston Martin itself, or its predecessor Racing Point, which was the center of attention in 2020 when they unveiled a "pink Mercedes", as many in the fold said. Because the car had copied a lot from the Mercedes W10 from the previous year and had quite a lot of success with it.
However, it had at the time aroused anger among the other teams, and after a protest from Renault, the racing team was found guilty of illegally using Mercedes intellectual property in the rear brake axles.
Reply yes, copy no
Racing Point had to pay a fine of 400,000 euros and lose 15 points in the Constructors' Championship, which cost them third place in the teams and a few million. It was also discussed whether copying in Formula 1 was the right way.
They concluded that they wanted to prevent the case from repeating itself and introduced new rules to be more restrictive of copying. "This will prevent teams from using extensive sections of images to copy entire sections of other cars, as Racing Point has done," FIA Technical Director Nikolas Tombazis said at the time.
---
Red Bull accuses Aston Martin of data theft!
loading video …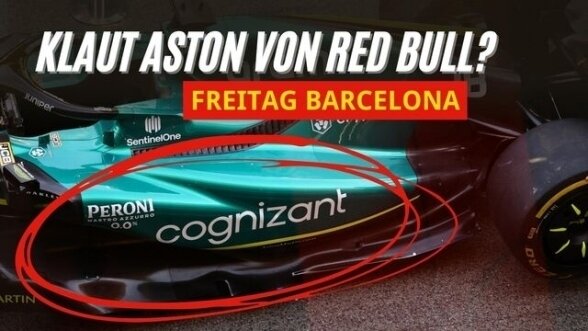 "Copygate 2.0" is Friday's topic at the Spanish Grand Prix: Helmut Marko accuses Aston Martin of stealing data from Red Bull.
More Formula 1 videos

"We will continue to accept that individual components are replicated in local areas, but we do not want the entire car to be essentially a copy of another car."
The new rules came into force the following season and were retained for the new 2022 rulebook. They have basically banned the sharing of intellectual property between teams, and also banned the so-called "reverse engineering" of all listed parts.
what the rules say
While teams could be "influenced by the design or concept of a competitor's design", only under "use of information that should potentially be available to all competitors".
However, this knowledge can only be obtained during races and test runs. You can't win something like that off the field. Article 17.3.3 of the Formula 1 Technical Regulations specifies where the limit is exceeded when teams copy other ideas.
---
Photo Gallery: The Greatest Formula 1 Conspiracy Theories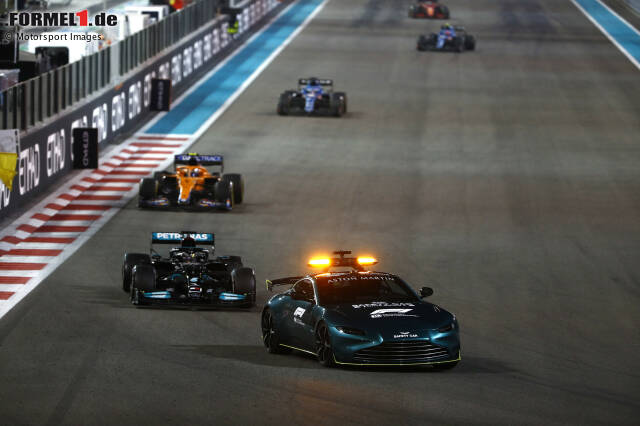 2021: At the final in Abu Dhabi, Lewis Hamilton talks about "manipulation" on the radio. Because: He drives confidently, the safety car arrives shortly before the end, race leader Masi pushes himself through a late restart – and Verstappen overtakes and becomes world champion. Conspiracy against Mercedes? There are even more strange stories from the story …
image series

He specifically forbids:
1) The use of photographs or images in combination with software that converts them into point clouds, curves or surfaces, or allows CAD geometry to be superimposed or extracted on the photograph or image
2) Use of stereophotogrammetry, 3D cameras or other stereoscopic 3D techniques and any kind of contact- or touch-free scanning of surfaces
3) Any technique that projects points or curves on a surface to facilitate the reverse design process
Data can only be carried in the head
The situation is the same with the transfer of information from employees. Red Bull has lost some top-level engineers like Dan Fallows to Aston Martin, but the rules are clear you can not take direct information with you.
This information includes, but is not limited to, data, designs, drawings or other intellectual property.
However, there is no way in Formula 1 that prevents designers from carrying and implementing ideas in their heads from one team to another.
---
Prominent examples: There has always been copying in Formula 1!
loading video …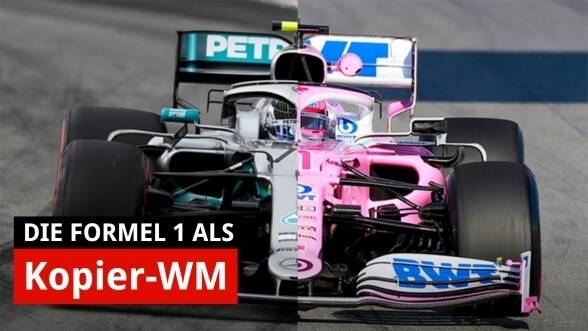 Copying is part of the business of Formula 1, not just since the Racing Point RP20 in the 2020 season. In our video we show prominent examples
More Formula 1 videos

However, the rules say that if there are major similarities between listed components on different cars, the FIA ​​has the right to investigate the matter. Teams can then be asked to prove that the design was created independently.
The teams must then provide data and information proving that they have followed the rules and even designed the components from scratch.
The FIA ​​gives her that okay
The rules say, "It will be up to the FIA ​​to determine if this similarity is the result of reverse engineering or legitimate independent work."
And that's exactly what happened in the case of Aston Martin. The FIA ​​has been made aware that there are potential similarities between AMR22 and RB18. The association had already announced on Friday that they had examined the relevant parts and, after analyzing data from both teams, came to the conclusion that no rule had been violated.
So far, Red Bull is happy to say that any transfer of intellectual property is a "serious matter", but rest assured that they will review the details in the coming days to ensure that no direct information leaks out of Milton Keynes to Silverstone.