Almost no one has dominated women's tennis in recent years, as Iga Swiatek has done in recent months. The Pole is therefore a big favorite in Paris, but not without flaws.
Urgent from success to success in 2022: Iga Swiatek.
IMAGO / HochZwei / Syndication
In recent years, women's tennis has often been accused of missing the stars. There were always positive surprises like the young Emma Raducanus' victory at the US Open last year – but the bottom line was that with the exception of Ashleigh Barty, there was one player who played consistently at a high level. Many fans missed the good old days when Serena Williams or Maria Sharapova stood for top class tennis.
When Barty surprisingly announced the end of his career after winning this year's Australian Open, the decline for western tennis seemed sealed. Despite all doomsday prophecy, this was not the case, rather a player who set out to lead the women's tour to its former greatness.
Strong series, strong player
Strong serve, topspin and backhand along the line, anyone who has seen Iga Swiatek in the last few months should look familiar. The young Pole currently dominates the tour, as no one has done for a long time. The right-handed player won her fifth title in a row after Doha, Indian Wells, Miami and Stuttgart and now travels to Paris with a record of 28-0 victories, where she will undoubtedly become the tournament's favorite.
Playfully, she has a wide repertoire of abilities to pose major problems for any opponent. Swiatek is an offensive player, she creates many winners with her aggressive but by no means impatient playing style and at the same time forces the mistakes of many opponents. A lot of topspin on the extremely fast forehand and a backhand that is as fast as it is exactly makes them universally dangerous. She takes the ball early and puts her opponents under pressure – her first serve is also accurate, if not overly powerful. "She has this safe game," Karolina Pliskova said recently about her competitor, noting that Swiatek "currently has no weaknesses. She moves very well, especially on sand – and she makes almost no mistakes."
The humorous Polish woman has a completely carefree package – even though she is only 20 years old. Her young age does not mean she lacks experience, but Swiatek already knows what it feels like to win at Roland Garros. In 2020, she was the first player in her country to win the most important clay court tournament in the world – at that time still a blank slate. Today, however, a renewed triumph in Roland Garros would be anything but a sensation, especially as she has also been number 1 in the world since the beginning of April.
I'm another player now.
How strong Swiatek is at the moment is shown by the fact that her 28 wins in a row represent the longest winning streak in women's tennis since 2008 – at that time the Belgian Justin Henin had 32 wins in a row. A number that Swiatek could now trump in Paris. But there is still a long way to go before the record is set, as tennis icon Martina Navratilova, who went undefeated in 74 games in a row in 1984, still has it. The second place is taken by Germany's best player in history: Steffi Graf has 66 victories in a row (1989/90).
Targeted for success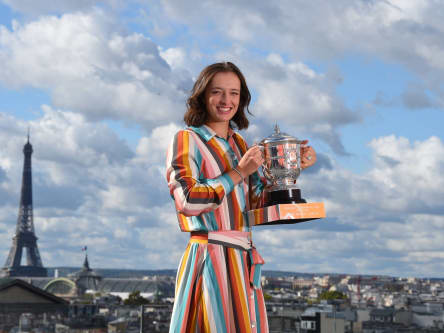 Brilliant winner: Iga Swiatek after her French Open victory in 2020.
imago pictures / Xinhua
But now back to the present and to the question: who is this Swiatek? It became clear quite early on that the Pole has a great talent. She already caused a sensation in the junior division: A Wimbledon victory in singles and a French Open victory in doubles is impressive. Even an ankle injury, which meant a break of seven months in 2017, did not stop her.
Swiatek went its own way – and it was geared for success. Her biggest achievement to date is still the French Open victory in 2020, but she has played consistently well ever since. In 2021 she won Adelaide and Rome – and in 2022 she got off to a flying start.
She swept in over her competitors like a tornado, including becoming the youngest player ever to win the "Sunshine Double" (Miami and Indian Wells).
Basically, it was only seriously required once. In Indian Wells, she even had to take a break in the crucial third set against Angelique Kerber. Since then, Swiatek has played in its own league and only lost one set in the semi-final against Ludmilla Samsonova in Stuttgart. More was not possible for the competition.
The Pole currently has enormous self-confidence as she confirmed herself after her triumph in Rome. "Last year, it felt like I was still looking for consistency – that Roland Garros was not a one-time thing. I think I have done it and that I can focus on the goals and tasks that lie ahead. Today is I'm another player. "
One thing is missing
In fact, Swiatek has taken another leap in performance – she currently seems invincible on both hard and gravel pitches, but the cards could be shuffled on the grass. The Clay Court season is still running at the moment – and Swiatek would certainly only be too happy to crown it with its second Grand Slam title.
She knows she has the resources to do it. Likewise that she can still turn a match even if it does not go well. In addition to her already mentioned offensive qualities, she also has excellent and agile footwork and a sensitive wrist. But there is one mistake, because the Pole is still missing one thing: a real competitor. There is currently no such thing in the firmament, perhaps to herald an era like the men's with Novak Djokovic, Rafael Nadal and Roger Feder in recent years.