A lot happened in Milan, where Huawei had invited to a tech rendezvous. Following the recent leaks and China launches of Huawei Watch GT 3 Pro, Huawei Watch Fit 2 and Huawei Band 7, we expected these wearables to hit the European market. In addition, the Chinese also conjured up the Mate Xs 2, Huawei's latest foldable.
In addition, Huawei's health app presented itself improved and with new features. We take you with us and summarize what there was to see there.
Huawei Mate Xs 2
Huawei Mate Xs 2 was introduced to the Chinese market a few days ago. So now the foldable bar is on its way into European soil – but without Huawei having told us the price or availability so far. So let's stick to what we already know: when opened, it will have a 7.8-inch screen diagonal with a resolution of 2,480 x 2,200 pixels. Once folded, the panel measures 6.5 inches and 2480×1176 pixels.
Images are repeated at 120 Hertz on this AMOLED monitor and the touch sampling rate is 240 Hertz. Mate Xs 2 comes with a new Falcon Wing hinge and weighs comfortably light 255 grams for a foldable. Snapdragon 888 works under the bonnet and, as expected, you should do without 5G and Google services. 8 GB of RAM and 512 GB of internal memory are on board, the latter can be expanded with 256 GB using an NM card.
The camera setup consists of three sensors:
50 MP true chroma camera (wide angle camera, f / 1.8)
13 MP ultra wide angle camera (f / 2.2)
8 MP camera (f / 2.2, OIS)
There is also a 10.7 MP camera for selfies. It's all rounded off by a 4,600 mAh battery that can be charged with 66 watts via the Huawei SuperCharge.
Huawei itself has not yet commented on a German launch and the local price. However, it has been leaked to colleague Caschy that the release will come in June and that all the fun will cost 1,999 euros. But use it with caution. It would still be a high price considering that competitors can offer newer SoCs, Google services and 5G while undercutting the price.
Huawei Watch GT 3 Pro
We already reported on the Huawei Watch GT 3 Pro when the precious watch was launched in China, so you as regular readers are probably all in the picture. In the Huawei Watch GT 3 Pro Hands-on, we introduce you to the new smartwatch, but here are the most important things in brief: There is a large (46 mm) version made of titanium and a small (43 mm) made of white ceramic . These are each available with different bracelets.
The very high quality watch comes with a 1.42 inch or 1.32 inch AMOLED screen which is protected by sapphire crystal and has a resolution of 466 x 466 pixels. The battery should last up to 14 days in the Titanium Edition and seven days in the ceramic version.
Functionally, not much new is happening: the watch is operated again using the crown at the top right. ECG analysis and arteriosclerosis risk screening is new on board. However, the feature is still stuck in the certification process and will not be available in early Germany. Golf and scuba diving have also been added to the more than 100 sports. The golf courses, which are available in large numbers as maps in the Chinese version, are not yet available in the local version.
Also on board is improved health, but we will come to that later. The watches can already be ordered from 369.99 euros. Here is an overview of all models:
Huawei Watch GT 3 Pro Titanium Edition 46mm Active for 369.99 euros
Huawei Watch GT 3 Pro Titanium Edition 46mm Classic for 369.99 euros
Huawei Watch GT 3 Pro Titanium Edition 46mm Elite 499.99 euros
Huawei Watch GT 3 Pro Ceramic Edition 43mm silver for 499.99 euros
Huawei Watch GT 3 Pro Ceramic Edition 43mm gold for 599.99 euros
watch fits 2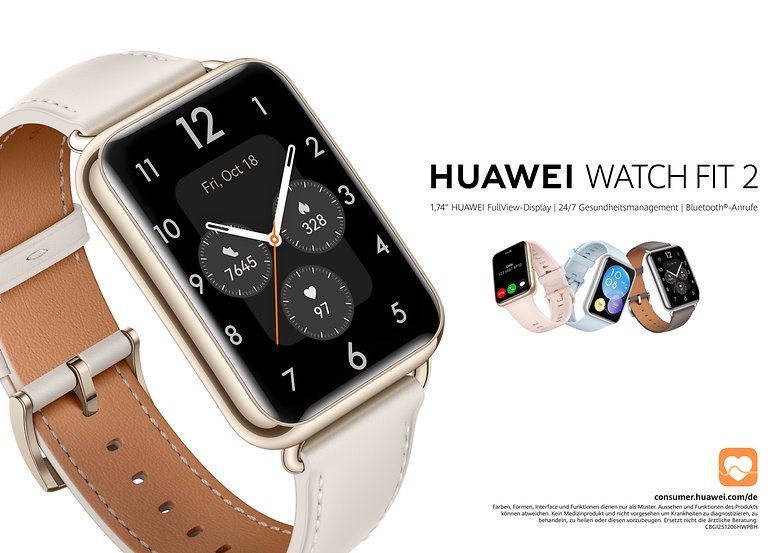 We have already reported on the Huawei Watch Fit 2. The fitness-focused smartwatch comes with a 1.74-inch AMOLED screen. This gives a resolution of 336 x 480 pixels and a screen size of 72.2%. Sports enthusiasts are excited about the RAI – Running Ability Index, which is on board and which Huawei fans among you already know.
97 sports modes are available, seven of which even have an animated fitness trainer that makes your training life easier with easy-to-understand instructions and demonstrations. You get Watch Fit 2 in Active Edition in the colors Sakura Pink, Isle Blue and Midnight Black Huawei Watch Fit 2 as Classic Edition is available instead in the colors Nebula Gray and Moon White. There is also an Elegant Edition in the colors Silver Frost and Premium Gold.
Depending on the version, the different models will be available in stores from June 1 and can be pre-ordered from the Huawei Online Store *. Active Edition is available for EUR 149.99, Classic Edition costs EUR 179.99 and Elegant Edition costs EUR 229.99.
Huawei Band 7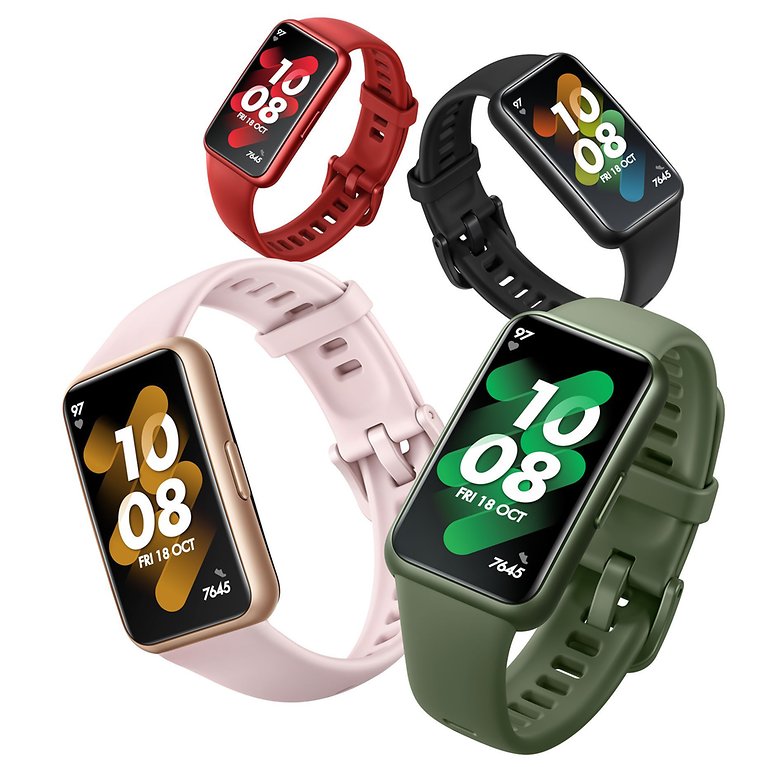 Finally, we come to the last laptop in the Huawei portfolio: the Huawei Band 7! We already know this because it was launched in China in early May. Compared to the Huawei Band 6, not much has changed in terms of function or design. The fitness tracker again relies on a 1.47-inch AMOLED screen with a resolution of 194 x 368 pixels.
The tracker weighs only 16 grams and also has Huawei's TruSeen sensor installed to measure your heart rate. Everything you know from the predecessor can also be found here, so menstrual cycles are also recorded here, you can monitor your sleep and much more. The sleep tracker has been improved and detects various types of sleep disorders.
Of course, sports also work with the fitness tracker, logically enough. There are 96 sport modes on the unit, including swimming (4 ATM) and cycling. According to Huawei, the battery should last for 14 days or even for ten days when using the always on screen. Huawei Band 7 costs 59.99 euros and you can buy the fitness tracker in the following four colors from June 16: Wilderness Green, Flame Red, Graphite Black and Nebula Pink!
Huawei Health and Health +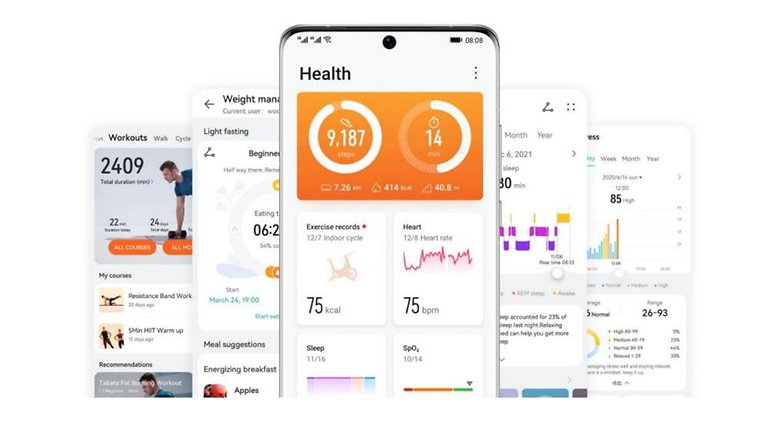 Finally, let's talk briefly about the health app for the tech giant from China. Huawei Health has been redesigned to enhance your health and fitness experience even more than before. We have already mentioned the more than 100 sports modes. But you also benefit from coaching and analysis during sports. Health is now also more focused on nutrition with the "Stay Fit" plan, which includes personal training plans and nutritional analyzes.
As Huawei imagines, the app is combined with your Huawei device as a personal trainer for your pocket. There is a calorie control and various programs for intermittent fasting. The feature list in the app is even longer, but there is also a notch: Some services, such as the breathing exercise tool, are not available in the free version of the app. Huawei is launching Health +, a premium version that expands the Health service. A subscription for Health + is required, which costs EUR 7.99 per month or EUR 59.99 per year.
So you now have an overview of Huawei's news. Tell us in the comments which new product you find most interesting. We have already tested the Watch GT 3 Pro, but we are also trying to test the other test devices. So keep an eye on NextPit.de to learn more about Huawei's new product portfolio.