Anyone who thought that VfL Wolfsburg would calm down after staying in the league was wrong. After the firing of coach Florian Kohfeldt, a lot is happening in Lower Saxony.
A picture from the last day of the match: VfL manager Jörg Schmadtke (left) and former coach Florian Kohfeldt.
imago pictures
Florian Kohfeldt planned the new season for late Saturday afternoon. After the 2-2 draw against champions Bayern, the coach swore his team in the locker room for the coming season, calling for an attack on the international ranks – only to be released a few hours later. Since then, the question marks surrounding VfL have piled up a little more.
Management: Boss Jörg Schmadtke wanted to continue with coach Kohfeldt and made it public, most recently on match day against Bayern, the night before, where the separation was sealed. The Wolfsburg board intervened, but did not follow Schmadtke's "keep it up" plan, but instead the position of sports director Marcel Schäfer, who saw the risk that Kohfeldt would start the new season too charged.
Schäfer won, which means depriving Schmadtke. The manager, who is still on contract until the end of January 2023, lost on the explosive and most important personnel issue. Will he still stay in Wolfsburg until the end of his contract? A constellation that undoubtedly holds dangers. VfL urgently needs a spirit of optimism, which the angry boss has not tried to convey so far. On top of that, there is a rumble in the office, mistrust is spreading on all levels.
Kovac is a candidate to succeed Kohfeldt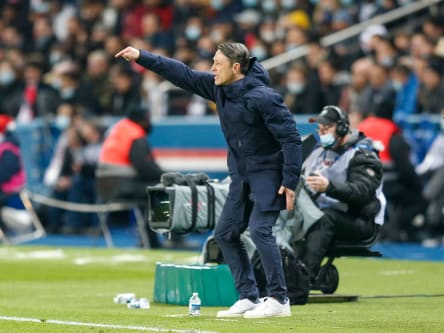 Last commanded in Monaco and is now a candidate for VfL: Niko Kovac.
imago pictures
The coach: Many names are traded, one thing is clear: the preferred candidate Matthias Jaissle will not. The 34-year-old prefers another year in Salzburg. Owner Volkswagen is said to have a big solution in mind, in this context the name Niko Kovac (most recently Monaco, before that Bavaria and Frankfurt) is mentioned. From Belgium, ex-professional Vincent Kompany is associated with VfL, the Belgian is in his first coaching position at RSC Anderlecht, but the parallels to the "experiment" with Mark van Bommel, who is also still quite inexperienced as a coach, make this solution seem unlikely.
Successful coaches in the Bundesliga competition like Thomas Reis (Bochum) or Bo Svensson (Mainz) had to be bought out of their contracts, Adi Hütter came on the market after his departure in Mönchengladbach. And then there is the name of the successful ex-VfL coach Bruno Labbadia, who of course would only become a serious problem if Schmadtke, with whom he did not have the best relationship, went untimely. There may also be changes in the staff at VfL. Above all, the team's desolate state of fitness is being questioned.
The ball possession plan is only a marginal aspect
The team: VfL wants to take a step back in the new season and return to the virtues that characterized the team under former coach Oliver Glasner: high intensity and aggression, fast transitions. Jakub Kaminski (Lech Posen) and Patrick Wimmer (Arminia Bielefeld) have already signed two suitable players. The extreme ball possession plan that Mark van Bommel brought with him last summer is only a marginal aspect.
In addition, the management of the team, which has been extremely sluggish this year, needs to change. Coach Kohfeldt used the word "consistency" more and more until his dismissal, which his successor will now show. Whatever the names. That should make it difficult for Max Kruse, who played a special role under Kohfeldt. A lot expect the offensive player, who came from Union Berlin in January for five million euros, to leave the winter and the start of the new MLS season in the USA by the latest.
What about Pongracic and Brekalo?
Further conflicts threaten: Marin Pongracic (last loaned to Dortmund) returns but has no future until 2024 despite the contract and quarrel with VfL in court (chamber meeting on 9 June at 13.00) about bonuses. Josip Brekalo (contract until 2023) will soon be a VfL player again after his loan to FC Turin, but he really does not want to go to Wolfsburg anymore – bad signs. Also back under contract with VfL: ex-captain Josuha Guilavogui, who was relegated to France with Girondins Bordeaux.