Most of the new models are expected to be available from June 2022. But there are exceptions: the Yoga Slim 7 Pro, for example, will not be available until August (or later in 2022 for the 16.7-inch version). What you can expect from the new devices can already be guessed from the published data. We have summarized the key features of the new laptops for you.
Lenovo introduces several new laptops from the Yoga series
7th generation portable models have WiFi 6 and Bluetooth 5.1 to enable fast wireless data transfers. Many of the models have Windows 11 Home or Pro as the operating system and additional pre-installed software. These include programs like Lenovo Vantage, Microsoft Office 2021, McAfee LifeSafe ™, Amazon Alexa and Dolby Access. To protect your eyes from prolonged use, all models use TÜV-certified blue light filters. Most of the new portable models have upgraded the built-in webcams to an FHD 1080p webcam. The new range of featured Yoga Family laptops include:
Yoga Slim 9i with a 14.7-inch screen from 1,899 euros
Yoga Slim 7i Pro X with a 14.7-inch screen from 1,199 euros
Yoga Slim 7 Pro X with a 14.7-inch screen from 1,199 euros
Yoga Slim 7i Carbon 13.7-inch screen from 1,299 euros
Yoga Slim 7 Pro with 14.7-inch screen and 16.7-inch screen from 999 euros
Yoga Slim 7i Pro with a 14.7-inch screen and 16.7-inch screen from 999 euros
Yoga Slim 7i Pro and Yoga Slim 7 Pro
Yoga Slim 7i Pro and Yoga Slim 7 Pro are the only models offered in two different sizes. Both model series are available in both sizes with either a twelfth generation Intel processor or an AMD Ryzen 6000. In the 14.7-inch models, users can choose between an NVIDIA GeForce RTX 2050 and an NVIDIA GeForce MX 550. The 16.7-inch models can be chosen between an Intel ARC A370M in combination with the Intel processor and an NVIDIA RTX 3050Ti in combination with the AMD processor. The AMD models also have an increased image refresh rate from 120 to 165 Hz.
Yoga Slim 7i Pro X and Yoga Slim 7 Pro X
In the Yoga Slim 7i Pro X and Yoga Slim 7 Pro X models, users can also choose between 12th generation Intel processors and AMD Ryzen 6000 processors. Depending on the model, different NVIDIA GeForce graphics cards can be selected, for which an NVIDIA GeForce RTX 3050 can be selected. The two models are designed to enable content creation anytime, anywhere with the necessary hardware power. Therefore, the models are available with up to 32 GB DDR5 RAM.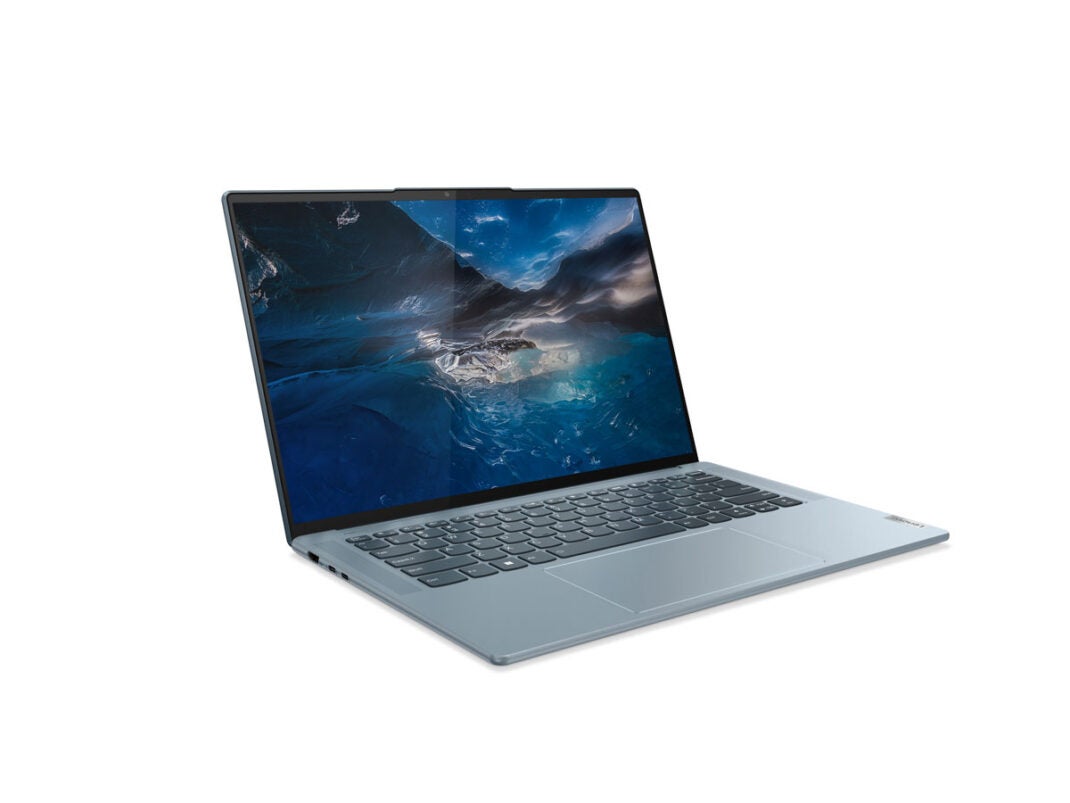 Yoga Slim 7i Carbon and Yoga Slim 9i
The Yoga Slim 7i Carbon is the smallest 7th generation laptop with a 13.7 "screen. It weighs less than a kilogram and has a resolution of 2.5K with an image refresh rate of 90 Hz Designed for mobility, but can still be purchased with up to 32GB DDR5 RAM.The 7th generation Yoga Slim 9i is even the first worldwide certified CO₂-neutral laptop.It comes with a PureSight OLED touch display that can be selected in 4K resolution 60 Hz or in 2.8K 90 Hz resolution, both Yoga Slim 7i Carbon and Yoga Slim 9i both have 12th generation Intel processors.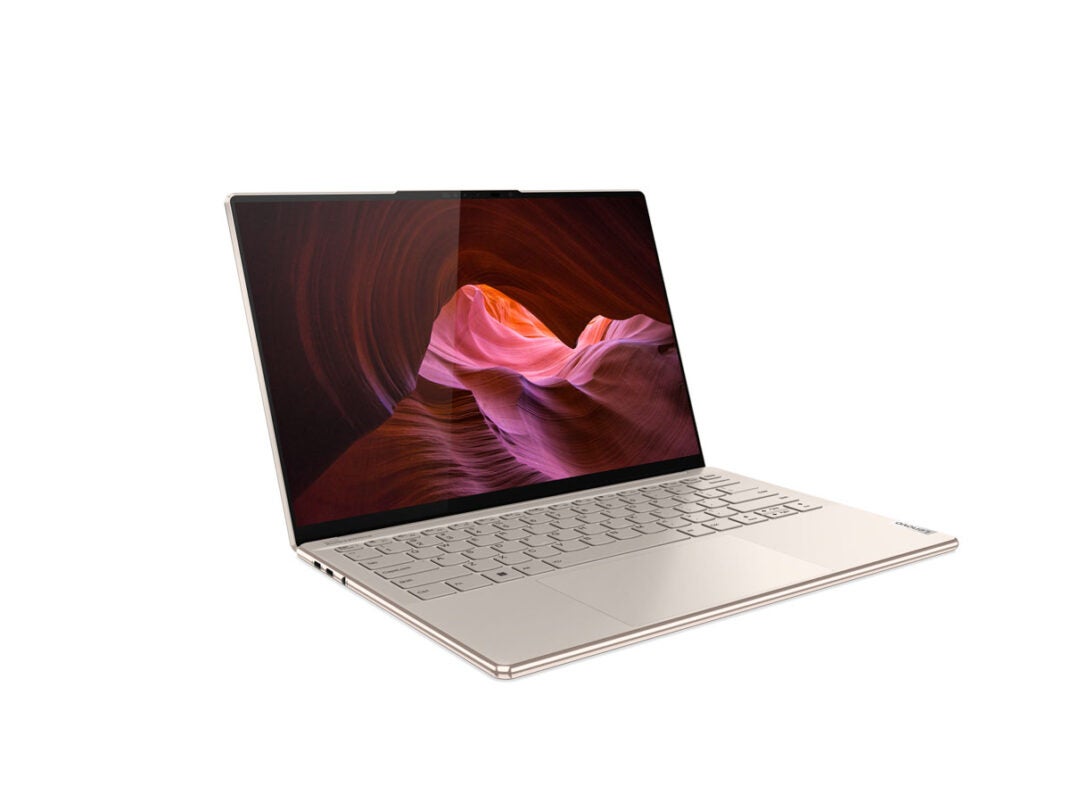 Lenovo Innovations 2022: Yoga AiO 7 and Yoga 7 Convertible
In addition to the presented portable models from the Yoga family, two other products complete the range. One of them is the Yoga AiO 7, which mainly stands out because of its flexibility. The "AiO" part of the name stands for "All-in-One" – that is, a device that acts as a complete computer. Unlike a classic computer, the 27.7-inch IPS screen can be adjusted both vertically and horizontally. It can be rotated up to 90 degrees and automatically adjusts the displayed screen to the new position. In the horizontal position, the built-in speakers are exposed in the stand of the device, so that the Yoga AiO 7 also plays the corresponding sound. Using the stand, the model can be placed up to 72 mm away from the table top.
If desired, the device can also be tilted 5 to 15 degrees so that reflections on the screen can be changed. A single cable connects the model to compatible laptops to conveniently extend the laptop screen to a 27-inch screen. Compatible smartphones also support wireless casting, so you can work on a larger screen without a cable connection. Yoga AiO 7 should be available from 1,499 euros.
Yoga 7 convertible with OLED screen
Yoga 7 is a 14.7-inch convertible available with an OLED screen with a resolution of up to 2.8K. It is compatible with the WiFi 6E WiFi standard and unlike its predecessor has a larger touch display including an active stylus. Thanks to Dolby Vision, it can cover 100% of the sRGB and DCI color space. In addition, it has been equipped with four front speakers with Dolby Atmos support. Thanks to a large selection of different connections, you can easily connect it to a wide range of devices such as additional monitors. These include a USB-C 4.0 port, a USB-C 3.2 port, an HDMI 2.1 port and a MicroSD card reader on the left. The right side has a USB-A 3.2 port, an audio jack and on / off button. Yoga 7 will be available from 1,299 euros.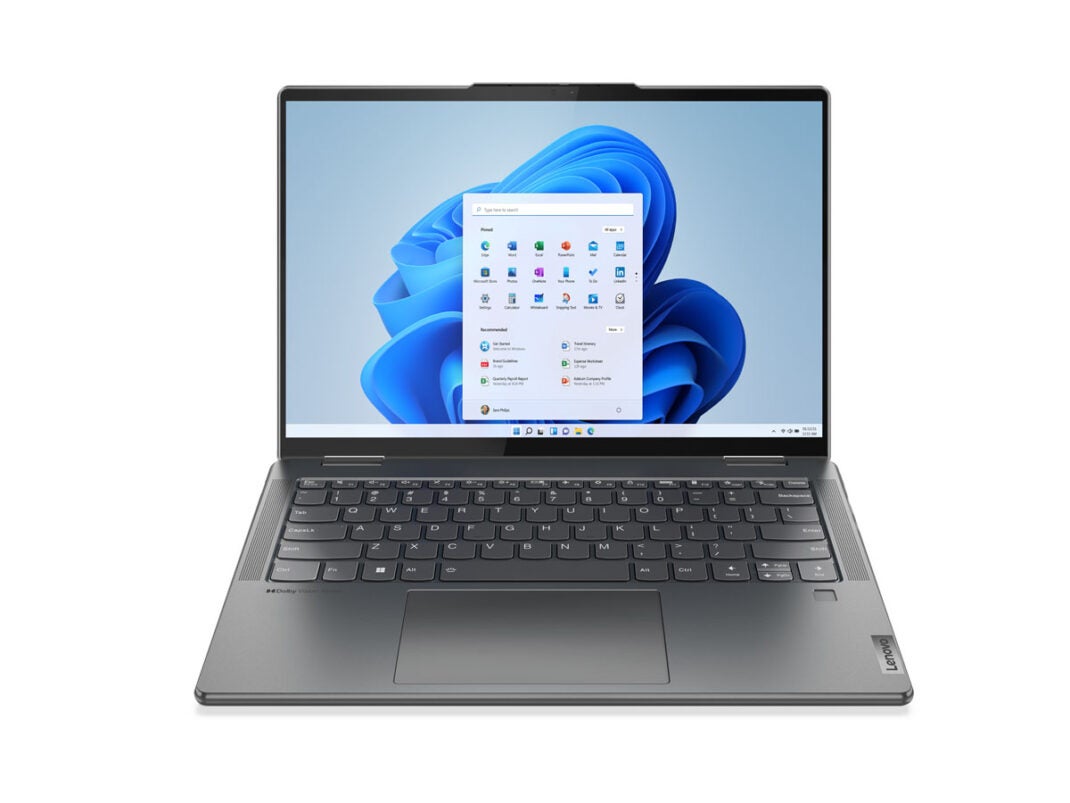 Lenovo Introduces Laptop Firsts: Lenovo Smart Lock Services
During the presentation of innovations, Lenovo's Smart Lock Services were also introduced. Users can also remotely lock their computer using Absolute, a cloud-based security software. This is very useful in case of theft to protect personal data. If desired, it is even possible to remotely delete the data on the device. In addition to being able to remotely access its own files, the device can also be located using GPS, Wi-Fi and IP location determination. The investigation team is also working with local law enforcement to find a stolen device. The new feature is expected to be available from September 2022.
About our links
We mark partner links with these symbols. If you click on such a link or button or make a purchase, we will receive a small payment from the respective site operator. This has no effect on the price of a purchase. But you help us continue to offer digital for free. Thank you!