Dear friends, the weather is finally getting better, spring is here, summer is on its way – and we can spend more time outdoors again! Get out of the four walls, breathe fresh air, enjoy life outdoors.
And everyone who follows our insta stories knows that I also prefer to play sports outside. The same goes for our children, who, unlike me, still train in wind and weather. And now we can do it in our own backyard thanks to this mega multifunctional part called BERG PlayBase. What a wonder! Just crazy. Welcome to Kinder- (og-Eltern! -) Paradise!
Where there are no muscles yet, there may be a …
To be honest, I'm most happy with the rings when I want to stretch my spine again after a long day at the office (you know, just hanging out? Wonderful). I've already tried a role on it …
… Unfortunately it had to stay with the experiment, because muscle mass has to be built from nothing – I'm working on it folks, that's what we have PlayBase for now! Soon I might even be able to do pull-ups or shimmy along the steps like our boys, wait and see.
BERG PlayBase in Large or Medium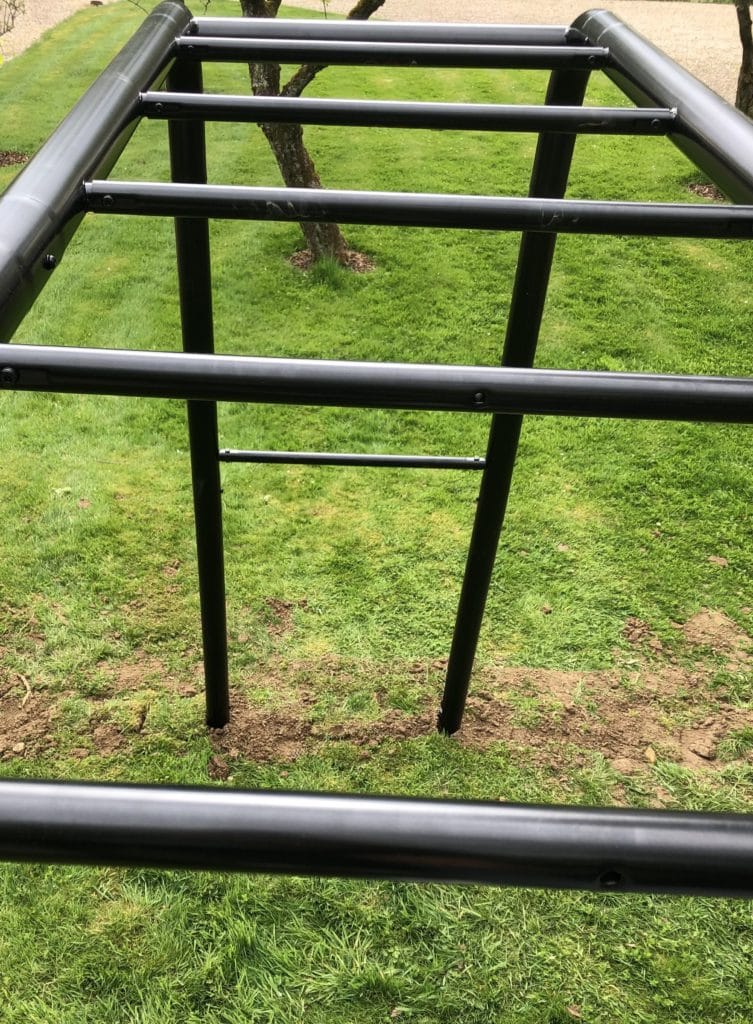 The playbase is also available in two different sizes, one with a large frame (380 cm length x 100 cm width x 245 cm height) and one with a medium frame (285 cm length x 100 cm width x 245 cm height).
As a country family with a garden, we chose the Large model and chose Family Sport equipment (there is also Family Play and Family Lounge equipment). Ours comes with gymnastic rings, wooden trapeze and a punching bag and is now our own personal fitness area for individual training and training according to mood – and right in front of the door!
Pull-ups, swings, vent anger on the punching bag
Honestly, I think the idea that kids can just run dry when they're angry and knock on the punching bag is just amazing. Or if they do not hit basketball next door. Or if you just want to get rid of your strength in some other way. Plus the opportunity to just pamper yourself with a few pull-ups or a bit of a swing in the fresh air … ahh.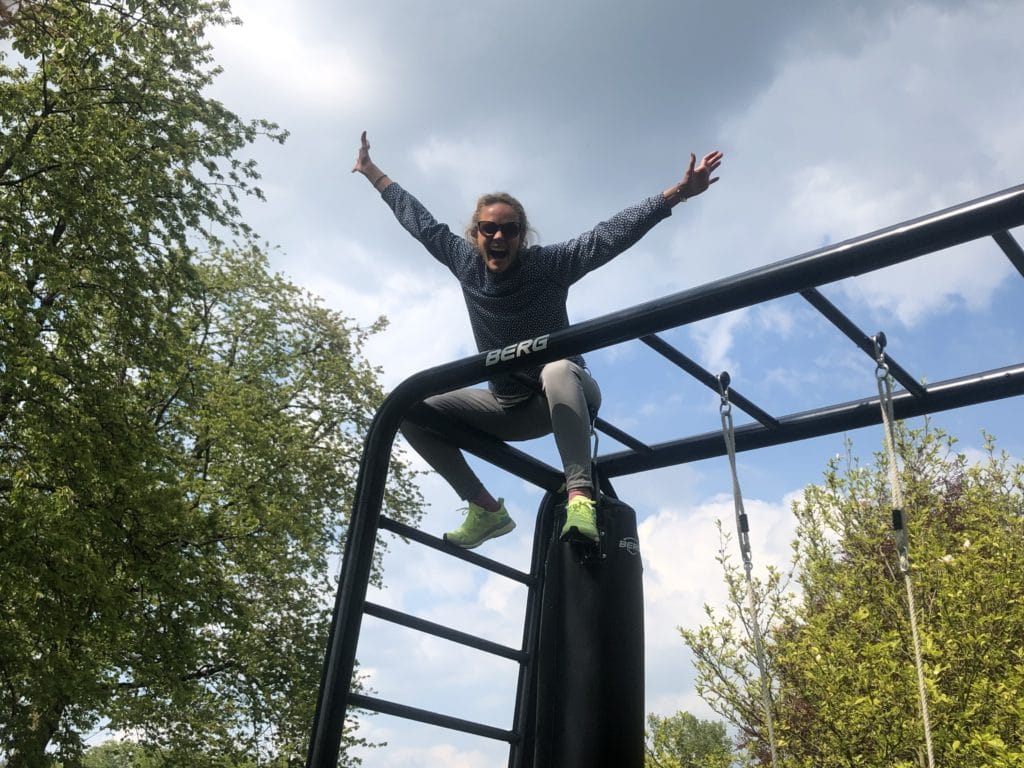 In addition, we have chosen the wooden swing from a total of 18 different accessories, so that the four-year-old niece can also have fun here. It can all be rebuilt in seconds. The individual parts are fastened with carabiners and can therefore be replaced at any time.
The accessory can be replaced in a few simple steps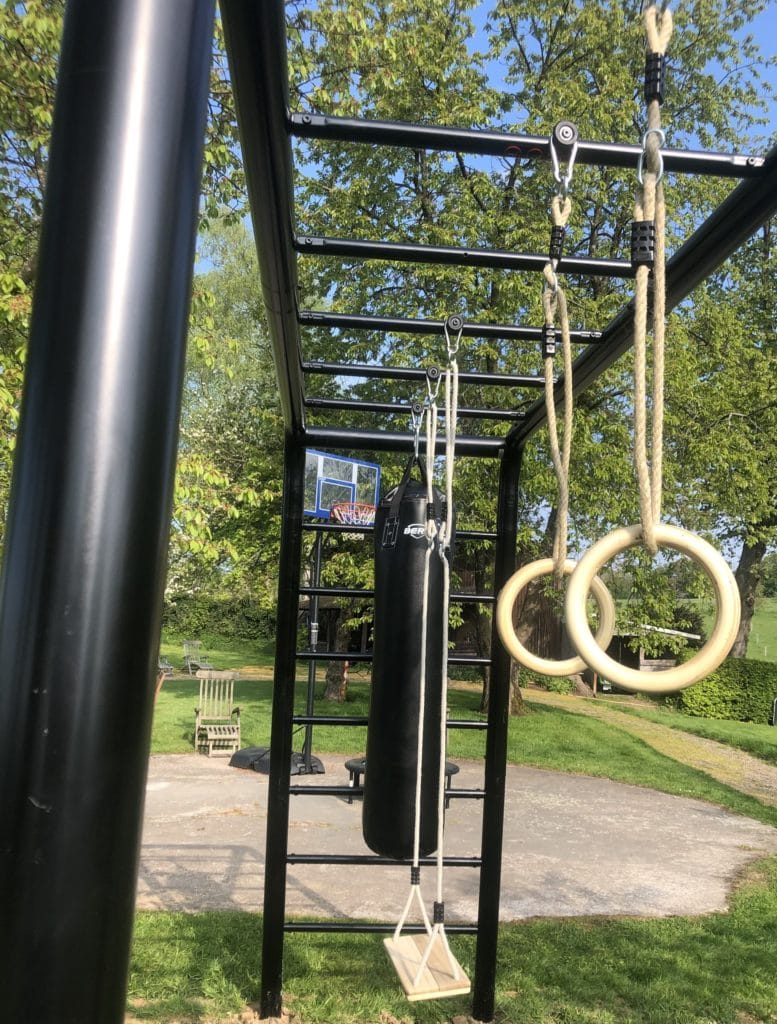 Other accessories would be a basketball hoop attached to the top of the frame, a baby swing seat, a nest swing or a climbing net that extends across the back. In addition, a climbing wall can be mounted on the sides for a bit of an alpine feeling in the home garden …
A goal wall made of net or a hammock for a lounge feeling (no joke, I still wish that, how amazing is that ?!). As you can hear, this BERG PlayBase is simply super versatile! And it can be redesigned again and again in the simplest way. The bar on one side can also be used as a horizontal bar and the steps on the other side as a ladder.
Setting up the BERG PlayBase in the garden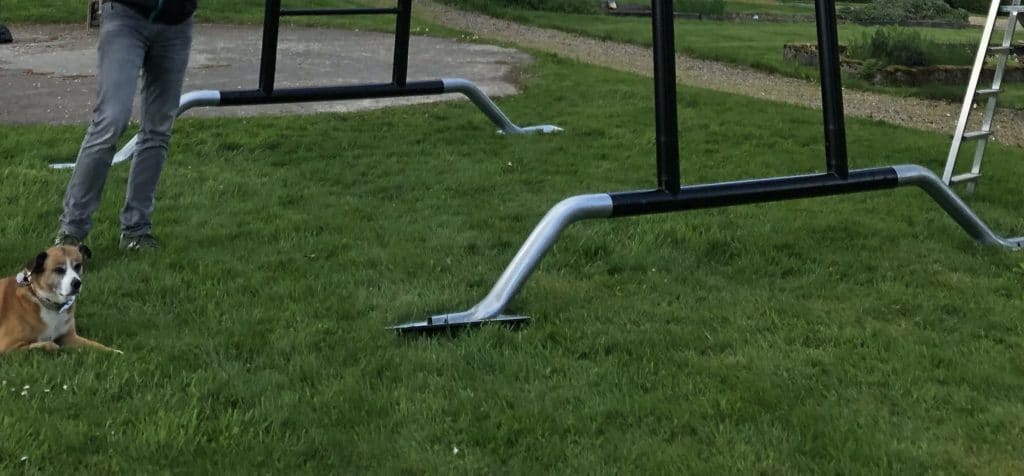 Now you're probably wondering how it worked with the construction of our new sports giant. To be honest, I had a lot of respect for it and thought we should ask some friends to help lay a foundation first, but … dandelions! The highlight of the BERG PlayBase is that it does not need a concrete foundation!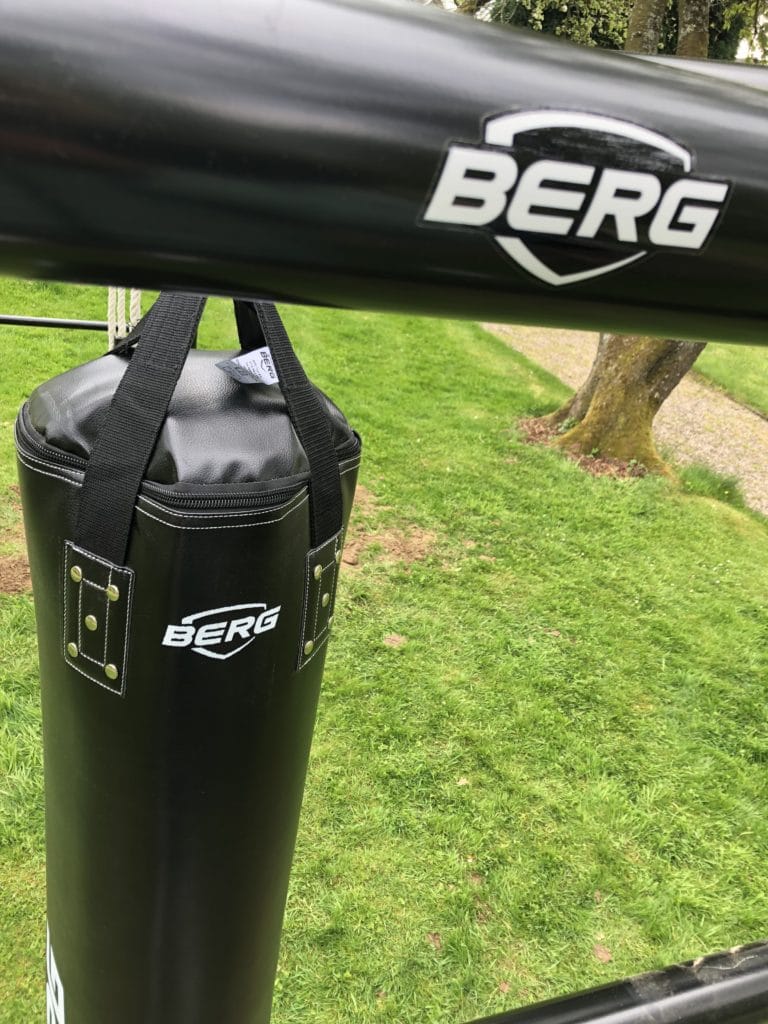 All you need are four 50 cm deep holes in the ground, which are dug with a shovel. And each two of the holes are then connected to each other by a small excavation. It really sounds as simple as it is, we had the entire PlayBase on a single Saturday where we were in charge of the construction – and we are truly NOT skilled craftsmen. But even we understood the operating instructions (it really says something!).
Quality goods from BERG
You know that we at BERG already have the big trampoline in the garden, we are just big fans of the company because the material and craftsmanship are fantastic. PlayBase comes with a strong, robust frame with a patented first-class pipe connection.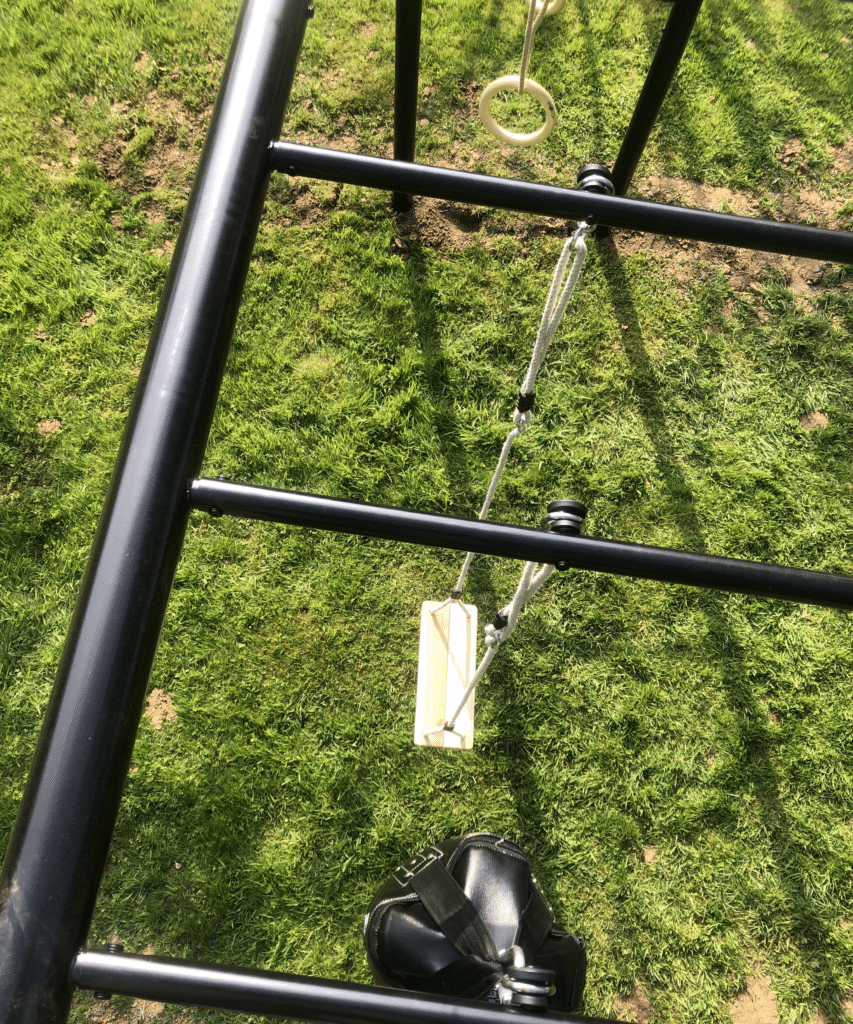 The design – you can see for yourself – is clear and minimalist, the frame's black powder-coated steel in conjunction with the natural wood and rebel elements also stands out. In the station wagon, it adapts perfectly to the surroundings.
Own playground plus fitness station for the home
But the best thing for us as a family is that items can be replaced and changed so that the PlayBase not only grows with our teens, but can also be rebuilt every day for the younger cousin. Just as needed. And we like to be flexible anyway!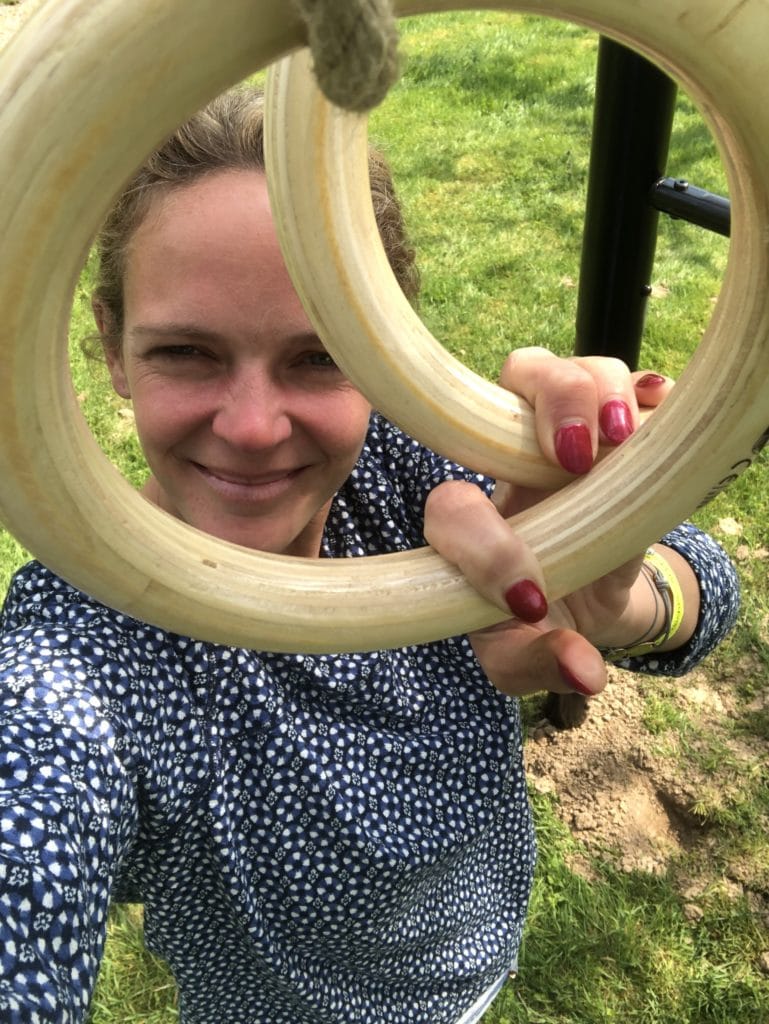 So we say THANK YOU for inventing this multifunctional talent, and we look forward to soon being able to show you a few of my fun exercises on Instagram – if my kids find time to not only record videos of me, but also to watch them too to cut fun wheels together. They can, unlike me.
How do you spend your free time in your home? do you have a garden Does it have play equipment? Or do you live more in the city and can you go to playgrounds? Could you imagine a BERG PlayBase like this in your place? Tell me more.