(Motorsport-Total.com) – At the French Grand Prix, Enea Bastianini won her third victory of this MotoGP season and stalked world champion Fabio Quartararo to within eight points of the overall standings. The next Ducati rider Jack Miller is already 40 points behind, Francesco Bagnaia even 46.
There are many indications that Bastianini will succeed Miller in the factory team
zoom
So Bastianini is right now Ducati's hottest iron in the battle for the title – and that with last year's motorcycle. It is therefore no wonder that he is considered the favorite for promotion to the factory team in 2023. At Le Mans, his manager Carlo Pernat already confirmed that Bastianini will ride on a Ducati factory bike in 2023 and 2024. Between Mugello and Barcelona should decide in which team.
Bastianini emphasized even after victory number three: "I am happy to stay with Ducati because I ride really well on this bike and I think it is the best option for me at the moment. But I do not know where my future is currently located. "
Bastianini: Would he be sorry to leave Gresini?
"I think we will understand it better in the next few races. But I'm happy because Ducati is offering me a good package. In addition, we can also win with the independent team." Asked whether he would be sad to leave Gresini in 2023, he says: "I do not think so much about it yet."
"I prefer to focus on the championship. I think we can do well. But there will come a time when I will also have to make a decision. I feel very good about this bike, Ducati. Here we have again proved that a satellite team can win, so with the right package, it's not something I'm so worried about. "
Nevertheless, he sees himself in a good position for the factory promotion: "I'm not the Ducati boss, but I think my situation is better than the other Ducati drivers."
"Pecco has said Jack would like to keep Jack as a teammate, but I do not know if Ducati will listen to him. But even if I stay with Gresini or drive in another team with a factory package, I can be quick."
Bagnaia would rather continue with Miller
Asked why he thinks Bagnaia prefers to keep Miller as a team-mate, Bastianini said: "I think he prefers Miller because he (Bagnaia) is the Ducati team leader, and he knows my potential – and I also thinking about Martin. That could be a problem for him. "
When asked, Bagnaia answers: "Jack has been my teammate since 2019 and I know him very well. So it's normal that if you have to choose someone to share your box with, then this is the man you share more with Conversations. "that you spend. more time with, so Jack is my first choice because he's a friend, a good teammate that I enjoy working with."
"But it's something the team has to decide. If it's Enea, if it's Martin, it's the same for me. I've always had a good relationship with all my teammates. I think Enea deserves the place, because in Austin he was so competitive, and here he won the race again. "
Miller is aware: "It makes perfect sense"
Miller, meanwhile, appears to have reconciled with losing his place on the factory team. "I do not know what you want to hear from me," he says when asked about his future at Ducati and the competition with Bastianini.
"Put two and two together. He's won three races this year and he's doing a great job. He's Italian, so it makes perfect sense," Miller admits.
---
Photo gallery: Ducati: All MotoGP riders since 2003
Jorge Martin, who was traded as the best option for the second Ducati factory pitch at the start of this season, is currently overshadowed by Bastianini. At Le Mans, the Pramac rider scored his fifth zero in the seventh race. Only once, in Argentina, did he manage a podium finish with second place.
"It is clear that Enea is very strong and Jack Miller is also at a good level," Martin assesses the situation. "I think I personally showed a good performance over the weekend. Obviously we could not show it in the race, but I am happy with the level I had in practice."
Despite the fall and the general situation, Martin does not want to talk about frustration: "Eventually I felt strong all weekend, the pace is there and I'm happy about that. The problem is that something happens to me in every race, like Now is it with my arm, and once we've got it fixed, I know we'll return to it. "
This is what Ducati's management says about the situation
Ducati's sporting director Paolo Ciabatti has not yet made it clear who will be driving alongside Bagnaia in 2023: "We have always said we would keep Jorge and Enea."
"And of course we'll also see if we can continue with Jack. He's a great driver and we love him. We want to offer him something he might not see as good enough so he could go in a different direction. "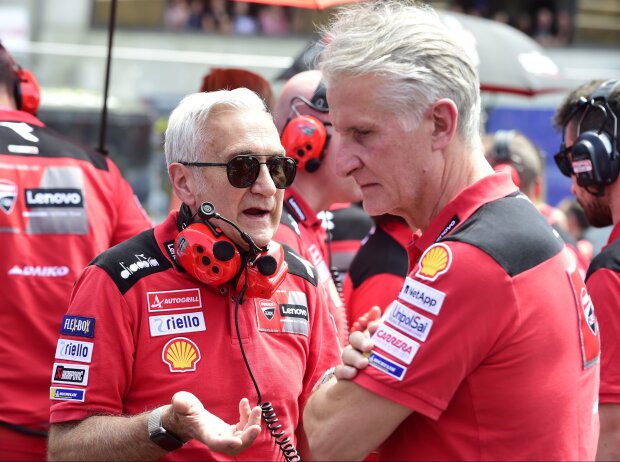 © Motorsports pictures
Davide Tardozzi and Paolo Ciabatti are spoiled for choice among the drivers zoom
Looking at the results of the season so far, Ciabatti analyzes: "Martin is in a difficult phase, but he has already achieved fantastic things. Enea is fighting for the championship. Zarco shows constant races, although there is still some spark missing to be regular on the podium.
"Fortunately, we have more than two bikes in the field and a very good relationship with our satellite teams to find a solution. We need to take a closer look at the situation, and hopefully we have a final line-up between Mugello and Assen. "
He is not worried about the drivers traveling. "I think every single one of our drivers will think twice about going somewhere else," says Ciabatti. "Not only because the bike is very competitive, but the overall package is right. The technical support is high for all customer teams, we care for all riders equally – and they appreciate it."
"On the other hand, I do not think there are that many good alternatives. We have to wait and see what Honda does. At the moment it seems that they will not continue with Pol. But it is not our And Aprilia will see the need for to see if they want to change something, which I do not think right now. "