Darmstadt's dream of promotion is over. Although the Lilies deservedly won their last match of the season against Paderborn 3-0, the long-awaited support from Rostock and Regensburg was absent.
A good laugh: Matthias Bader and Tim Skarke (right) celebrate 1-0.
IMAGO / Jan Huebner
Darmstadt coach Torsten Lieberknecht was still struggling with the aftermath of the 2-1 match in Düsseldorf. Midfielder Gjasula (suspended) was unavailable and Isherwood and Manu were on the bench. New: Müller, Marvin Mehlem and Karic. As a result, Lilien tactics involved an interesting 3-4-3 combination.
Paderborn's coach Lukas Kwasniok had already informed the guests in advance that he would not give the match away and then emphasized this by not sending a B-Elf into the race. Compared to the 2-0 victory against Sandhausen, there was only one change – but it weighed heavily: Captain Schallenberg dropped out and was replaced by Pröger.
Simplicity as a recipe for success
For the first time in the history of the 2nd league, the two brothers Marvin and Marcel Mehlem were on the field together, albeit as competitors. Marvin had more to laugh about, because Darmstadt got a dream start: The ball landed from a throw-in at Skarke, who took a goal from 17 meters, punched the ball in the near corner and made the lightning start perfect (2nd).
The lily played as if they were on, and refrained largely from longer ball possession phases. The home team's recipe was as simple as football can sometimes be. Be gallant in duels and after winning the ball, quickly carry the ball forward, often far and high to the goal player Tietz, who distributed the ball with his header and thus forced quick shots.
SCP did not agree with it at all, but also allowed itself too many shortcomings and hardly developed any danger. Muslija's clever flick after a free kick was an exception (8 ').
Luca Pfeiffer shines with a hoop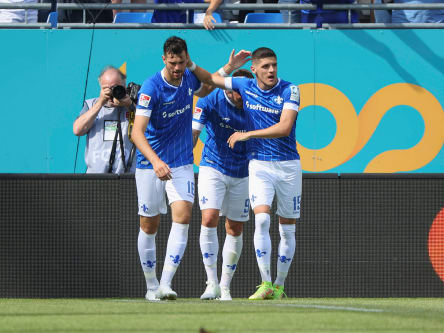 It's going well: Luca Pfeiffer, Phillip Tietz and Emir Karic (from left) celebrate a goal.
IMAGO / HMB Media
The music otherwise played almost exclusively in front of SCP goalkeeper Huth, who still prevented 0: 2 against Tietz after 19 minutes, but soon after had to admit defeat for the second time. Again a throw-in was the starting point, Bader executed quickly, Kempe pulled two men and sent back to Bader, who then found Luca Pfeiffer from the right – 2: 0 (25th).
As the mood at Paderborn's Kwasniok sank into the basement, it was euphoric in the stands. The relegation waved because Bremen was leading at the time, but HSV was behind in Rostock – the relegation waved.
When Schuhen then made a strong save against Pröger (36 ') and Pfeiffer shortly after assembled his buckle (38'), Bölle raged all the more – Felix Magath was there and got an impression of what would have happened to him and Hertha in the relegation can expect.
Long faces on Bölle
But it was not carved in stone. Because: One half still had to be played – and round two again offered real excitement. Less directly on the lawn. Paderborn made the match more open and sometimes looked ahead (double chance Klement / Mehlem, 46th), but overall the game waved off. Darmstadt had gone over to administration and left pretty much nothing to waste. Lily's problem was that HSV had equalized in the parallel game in Rostock and only needed one more goal to crush Darmstadt's dreams of promotion.
After Luca Pfeiffer's goal for the supposed 4-0 was closed in by VAR due to a narrow offside decision, there were long faces – in the stands and in the SCP camp. In the stands because HSV made it 2-1 at Rostock and pushed SVD back to fourth place at SCP because Cuni replaced so directly red for a serious foul on Manu (78th).
goals and maps
1: 0skark (2 ', right foot, P. Tietz)
2-0L Pfeiffer (25 ', right foot, Baths)
3-0L Pfeiffer (38 ', left foot, P. Tietz)

Darmstadt

Paderborn
game info
Stadium
Merck Stadium at Böllenfalltor
When the news of Hamburg's 3-2 victory seeped in, many players cried because it was clear that Darmstadt had to bury their hopes of promotion and next year, like SC Paderborn, had to play second class again – where the applause from the stands and the good encouragement from Lieberknecht helped only to a limited extent. Now the summer holidays are approaching for everyone, before the 2nd league opens its doors again on 15 July 2022.