Lori Locust (left) has been the assistant coach of the Tampa Bay Buccaneers since 2019, with whom she won the Super Bowl in February. Photo: Tampa Bay Times via ZUMA Wire / Monica Herndon
analysis
09/10/2021, 11:2509/10/2021, 16:51
The last two seasons of the NFL have been historic in several respects. First, quarterback superstar Tom Brady won his seventh Super Bowl title in his first year with his new team in Tampa Bay. Friday night, at the start of his 22nd NFL season, he continued exactly where he left off in February: With four touchdown passes, the 44-year-old led his Bucs to a 31:29 victory over the Dallas Cowboys. This brought tremendous joy not only to Bucs fans but also to Lori Locust and Maral Javadifar, who are both part of the coaching staff.
Because the NFL has not only experienced player records in the last four years, but also changes that show social change. The Washington Football Team dropped its "Redskins" name because it was racist and no longer acceptable, players are standing up for the "Black Lives Matter" movement like never before – and in the coaching staff and management, the 32 NFL teams are becoming more diverse and feminine.
"If you look at the NFL teams this season, then we have twelve coaches and more than twelve female scouts. We have female referees, female team presidents. Women work on NFL teams in all areas'Sam Rapoport, the NFL's senior director of diversity, equality and inclusion, told CNBC just before the start of the current season.
And it all has to do with a pretty simple concept that Rapoport launched four years ago and is now starting to bear fruit. In the coming years, the "Women's Careers in Football Forum" needs to be expanded further, for she is still far from a position as head coach and general manager of the NFL. "But it will also happen soon," the native Canadian adds.
The first female coaches win
2021 Super Bowl
Lori Locust and Maral Javadifar have not only been with the team in Tampa Bay since this season, but were also part of the team in the Super Bowl triumph and thus also played their part in the Bucs' victory over the Kansas City Chiefs.
Locust, 57, has been an assistant defensive line coach in Florida since 2019 and was the first position coach in the NFL and the third to be hired full-time. And 30-year-old Maral Javadifar has also been part of the team around head coach Bruce Arians as assistant athlete coach since 2019.
"Women's Careers in Football Forum" has been around since 2017
It's no coincidence that they are both on the coaching staff of head coach Bruce Arians. The 68-year-old is a regular participant in the "Women's Career in Football Forum". The event is conceived by Rapoport and the league and is designed to help connect highly qualified women with NFL team makers.
"There are some general managers and coaches like Ron Rivera, Andrew Berry, Kevin Stefanski and Bruce Arians who are really into the project and want to meet as many as possible," Rapoport said.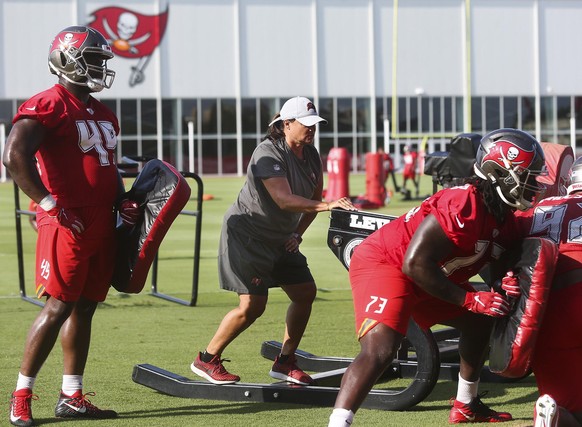 Locus (center) works as an assistant defensive line coach.Photo: Nyhedskom / Dirk Shadd
Participation in the forum is voluntary for all teams, but according to Rapoport, 31 of the 32 NFL teams have participated in the forum so far. And 21 teams would have hired one of the women after the convention.
Washington Football Teams head coach Ron Rivera told NFL.com: "This forum puts people who are more than qualified for a job in the NFL right in our face. You see these women and all their accomplishments and their ambition to work hard just to get a chance to sit in front of us to get their foot in the door of the NFL. That's why it's so important for me to take this forum seriously. "
"We quickly realized that a lot of people got their first league job because they played college football and they know someone who knows someone."
Vanessa Hutchinson, senior manager of NFL development
Buc's coach Arians also remembers the first encounter with Javadifar in an Instagram clip produced by the NFL. "Their qualifications were exceptionally good."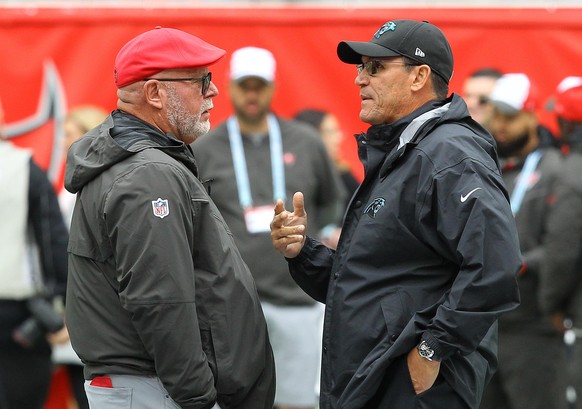 NFL head coaches Bruce Arians (left) and Ron Rivera strengthen their coaching staff again and again with women.Photo: newscom / Gareth Williams
Men often get NFL jobs through contacts
Javadifar played college basketball at Pace University (New York), received his bachelor's degree in molecular biology and his doctorate in physiotherapy from New York Medical College. But she just lacked the right contacts to get a foot in the door in the NFL. "We want to give women a platform to get in touch with the NFL team's makers that they would otherwise never get in touch with."told Venessa Hutchinson, senior manager of NFL Development, to CNBC.
"We quickly realized that a lot of people got their first league job because they played college football and knew someone who knew someone." Hutchinson refers to it as the "Bro Network". Since this option does not exist for women, "the forum aims to close this very gap."
At WCFF, which takes place every year in February for two days, there are presentations, workshops in small groups and panel discussions with coaches, leaders and leaders of the NFL teams for the invited 40 participants.
40 invited participants each year
However, the number of participants in the forum is limited. Rapoport and Hutchinson and their teams use LinkedIn to find women working in college and high school football. They also obtain statements from various NFL talent scouts that potential attendees have met through years of high school work.
After this first pre-selection, there are discussions with the female coaches before a final invitation is sent to the 40 participants.
Jennifer King first variety
full-time coach
One of them, in 2018, was Jennifer King, who this season became the first black woman to serve on a full-time NFL coaching staff. The 36-year-old works for the Washington Football Team as an assistant running back coach.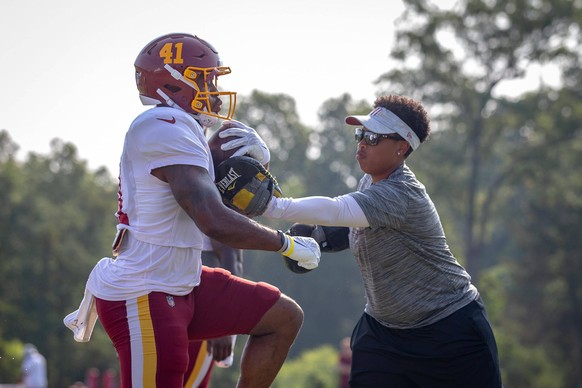 Jennifer King (right) is in charge of running backs on the Washington Football Team. Image: www.imago-images.de / Cory Royster
King had already sat in the Carolina Panthers under current Washington head coach Ron Rivera in 2018 and 2019, then during the season break and preparation. And throughout 2020, she worked as an intern on Rivera's coaching staff. Of the twelve coaches currently working in the NFL, six are full-time employees.
"I got a lot of messages from players and other coaches congratulating me. Some players were even confused because they thought I was already fully part of the coaching staff'"King said in a video interview with the NFL.
Rivera, 59, also brought Natalie Dorantes to her staff as chief coordinator of the coaching staff. The 26-year-old is the first Latina to hold such a leadership position in the NFL.
The NFL places great emphasis on the fact that not only white women benefit from the WCFF program. "We are also very committed to gender equality within our program, so 50 percent of our participants must be colored," Hutchinson says.
And the program turns out to be a complete success. In 2021 alone, 44 women who competed in WCFF in previous years have received professional football or jobs at the collegiate level.
As Rapoport explains, "The NFL's face is changing and will continue to change. And that process will not slow down in the future either."
Real really want to sign Kylian Mbappé. Although the royals already have one of the best strikers in the world in Karim Benzema, it is a top priority to pick up his compatriot in Madrid, who is eleven years younger than him. Even Benzema's current fantastic hit rate (26 goals in the league, 15 in the Champions League) does not change that.