The Austrian tennis men have been without a current top 100 player since this week. This has been the case for the ÖTV women for over five years.
But there is light at the end of the tunnel: Julia Grabher put a good exclamation point at the WTA tournament in Istanbul at the end of April.
With his first two wins on the WTA Tour, the 25-year-old Vorarlberg entered his first quarterfinal at a major WTA tournament.
"It felt really good"
"It felt really good. Of course it was something very special," recalls Grabher, who among other things is world number 37. Jill Teichmann (SUI) suggested, in conversation with LAOLA1 Return.
"I already played really well at the Billie Jean King Cup and beat a top 30 player (note: Tamara Zidansek). So I came to Istanbul with a good feeling and a lot of confidence. I knew I could do everything I could can. be dangerous and beat everyone. And that's how I played. "
Grabher is currently number 152 in the world. With her 430 WTA points, she is still well over 230 points away from the top 100. If local experts have their will, they should be able to take this leap in the foreseeable future.
Melzer and Bresnik rave about Vorhand
Especially with her forehand, Grabher has a real weapon at her disposal, which should enable her to jump to higher levels. That's what Jürgen Melzer said LAOLA1 Already last year: "She has an incredible forehand. I do not think there are many girls on the WTA Tour who can play a forehand with such a spin and such a speed."
When asked about this, Grabher did not want to contradict the acting ÖTV sports director. "My game is that I play a lot with the forehand and often run around the backhand," she explains.
"Of course my opponents try to play my backhand and avoid the forehand. But my forehand also makes me so dangerous and that's why I'm trying to develop it even more. It's definitely my best weapon because I can use it very quickly and also with can play a lot of spin. "
Coach Günter Bresnik, with whom Grabher has trained in Südstadt for just over two and a half years, confirms in an interview LAOLA1 this statement: "That's right. Forehand is exceptionally good. Of course it is trained a lot, but it is always difficult for such people to be able to play a sensible balance between forehand and backhand."
No difference between Svitolina and Grabher?
That's not the only reason Bresnik still sees great potential in Grabher: "The knot is not even broken with her. She should not only get into the top 100, she also plays the level of it. She has really had the good ones. has been beating people lately and I know how well she can play. "
In the winter, Grabher also had the opportunity to train with former world number three Elina Svitolina in the southern part of the city. The Ukrainian is the wife of Gael Monfils, and the Frenchman has been a protégé of Bresnik for over a year.
"I saw that there was little or no difference between the two. Except, of course, in the rankings and performance in the match. But she definitely has that level in terms of play," the experienced ex-Thiem supervisor confides in his protégé. some more.
Consistency is still lacking
What is it that still fails most of the time? The necessary coherence is simply not there yet. Melzer: "She just has to minimize the error rate. She always has fights where she beats herself. If she can, then there is definitely potential."
She gets the best out of every minute and is not someone who sits for minutes wrapping grip tape or comes to training with a lot of broken strings. It is very professional. And of course it suits me.

Bresnik on Grabher's position
Grabher confirms: "Of course mistakes are never good, so we also try to stabilize them in training. The number of unforced mistakes needs to go down," the route is clear.
Grabher is very pleased with the training during Bresnik in Südstadt. Vorarlberg natives have lived in Vienna for some time. In her home country, she is only "very, very rare. The collaboration with Günter works well, and I am also fully satisfied with it. He also knows what I still need to improve to achieve my goals."
Bresnik praises the attitude to the work
Bresnik is happy to return the roses. He especially highlights Grabher's eagerness to work and her attitude: "She just does what she's told. She comes in the morning, and before she even trains, she says 'thank you' three times. She already says 'thank you', that she will be allowed to come at all '.
"She spends every minute and is not someone who sits for minutes and wraps grip tape or comes to training with lots of broken strings. She is extremely professional. And that is of course good for me," excites the 61-year-old from Lower Austria.
Training with special glasses
Grabher also tries to get one or two percent out of himself away from the normal training methods. She has been working on her "neuroathletics" since the middle of last year. She trains with special glasses that simulate as if she was blinking several times a second. If she takes off her glasses again, Grabher sees everything temporarily as in slow motion.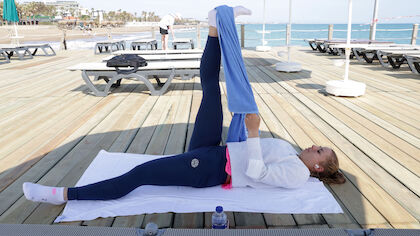 "I train a lot with the glasses. It strengthens my reactivity. It gave me a better overview of the course, because it also trains my eyes. For example, it is very important on the return, because you have to react quickly. If you To recognize early , where the ball goes gives you a huge advantage, "says Grabher, who discovered this relatively new training method through his brother Alexander.
support from brother
"My brother is my athletics and fitness coach. He dealt a lot with these things and after an analysis I saw that I still had a lot of potential up there," said Grabher, who can also rely heavily on his brother's support in other ways.
"He used to play a lot of tennis and also some future tournaments until he saw that the top was too far away. He plays really well himself and is also a perfect sparring partner for me in the tournaments. He often accompanies me on the tour. And Of course, it is very important to me that I have someone with me who I can fully trust and who only wants the best for me, "says Grabher.
Goals: Grand Slam main competition and top 100
How should things go for the ambitious Dornbirner? "The two big goals are definitely a Grand Slam main competition and getting into the top 100. If I do the things I do in training, then I will do it if I continue to be consistent and disciplined every week when "I play what I played in Istanbul. It's the big challenge that I can do it every week. If I can, then I have a good chance of achieving those goals."
On Monday, Grabher starts qualifying for the French Open with a week of training in the southern part of the city. There, she failed last year in three sets in the final round.
This year, for the first time, it was to work with the main competition. And then the top 100 would be a little closer again.

Text source: © LAOLA1.at


to the top » COMMENTS ..
Legal notice:
User comments do not necessarily reflect the opinion of the LAOLA1 editorial staff. LAOLA1 reserves the right to delete comments without giving reasons, especially if they violate criminal or civil standards, violate good morals, or otherwise violate LAOLA1's reputation. In this context, we refer in particular to our terms of use. In such cases, the user can not make claims. In addition, Sportradar Media Services GmbH reserves the right to make claims and report criminally relevant facts.