Jule Niemeier (WTA No. 109) received a wild card for the main draw for the Porsche Tennis Grand Prix in Stuttgart (from April 18), also as a reward for her strong performance last year. We talked to Niemeier about it – and also about her new coach Christopher Kas.
by Florian Goosman
last edited: 14/04/2022, 14:59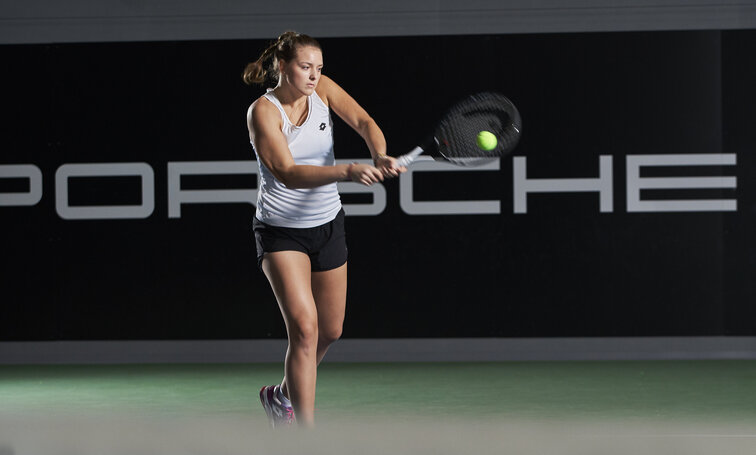 Jule Niemeier has had an impressive 12 months with a victory at the ITF tournament in Prague last spring and semi-finals at the WTA tournaments in Strasbourg and Hamburg. The 22-year-old from the Porsche Talent Team has climbed more than 150 places in the world rankings since the beginning of last year and is currently in place 109. We caught Niemeier just before the flight from Frankfurt to Kazakhstan. the German selection at the Billie Jean King Cup at the start. From April 18, she will go to the Porsche Tennis Grand Prix in Stuttgart.
Mrs Niemeier, a few days ago it was announced that you are working with Christopher Kas as your new coach. How did it happen?
I train in Regensburg at BeTennisBase, which is run by Michael Geserer and Matthias Mischka. Each player has his own coach here. Michael and Matthias hired Kasi for me, we have been training together for a week. It runs in a way through the academy, but Kasi is my own coach and will also suit me for tournaments.
How were the first days? Kasi is a very positive guy.
Yes, we had really good training days and got on well on a personal level right from the start. We did not know each other personally before. But it fits perfectly, I'm very glad we're tackling it together.
Kasi has already coached a number of German ladies, such as Sabine Lisicki and Mona Barthel. Is it an advantage to have someone who has trained at the WTA level?
I think it makes things a lot easier. Also because Kasi knows about emotions – it makes a difference whether you train a WTA player or an ATP player. He also has a lot of experience because he himself was a professional and can relate to many situations on the pitch. It is extremely important to be able to exchange ideas, to talk about emotions in certain phases. We started directly on the clay and worked on how we could best act here. With a lot of spin on the forehand, offensive, with the road to the net. It's not so much about teaching me a different way of playing as it's about improving my game and getting the most out of it.
You've had a fantastic twelve months with the victory in Prague, the semifinals in Strasbourg and Hamburg. Did it come as a surprise? You were injured for a long time, then you dared to move to Michael Geserer's Academy and since then you have worked with Florian Zitzelsberger as a physiotherapist.
It was unexpected that success came so quickly. Of course, I knew I had the potential to play tennis. However, due to my many injuries, I lacked confidence. Also the rhythm, when it comes to the fights. I also lacked confidence in my body. Being able to play painlessly for several months without having to worry about my body helped a lot. It's a lot more fun, you can focus on what's important, improve yourself on the court and in the gym. The worries 'Oh, now my shoulder hurts, can I play the next tournament, is this training too much …?' – all that has disappeared and that was crucial. I have now seen what can happen.
They are currently on the verge of the top 100. How does a tournament selection work: When do you play qualifying tournaments for WTA tournaments, when do ITF events take place?
We do not look at the rankings at all, it has little influence on the tournament planning. We try to play the biggest possible tournaments. I have now received the wildcard for the Porsche Tennis Grand Prix in Stuttgart – which is incredible for me! Otherwise we'll see: I would like to play against Madrid, but the qualifying field is smaller than Indian Wells or Miami, so I have to wait and see how the list of participants develops. But it's not the end of the world to play an ITF tournament again.
At the Porsche Tennis Grand Prix you are here for the first time. Have you ever been there?
Only once so far when we had a photoshoot for the Porsche Talent Team a few years ago. It was right after my final exam that I was going to leave right away, the next day was going to be already. I'm really looking forward to the tournament, I've only heard positive things so far. It is supposed to be incredibly well organized. And this year there are nine top ten players! Being able to participate here is great.
How did you find out about the wildcard?
Anke Huber contacted me and told me. I did not really expect it, a main draw wildcard for this tournament is something very special. I was so much the happier.
The Porsche Tennis Grand Prix was canceled in 2020, in 2021 it took place without spectators on site. Now there are fans on the spot again, and as you know, they create a good atmosphere in Stuttgart. Do you like it?
Definitely! I would also have loved to play the Billie Jean King Cup against Kazakhstan in Germany, especially in Stuttgart with the great atmosphere. I hope this will work in the future.
Thanks for the interview and good luck in the coming weeks!