Lenovo launches the seventh generation of Yoga slim notebooks in July and August. The new flagship is the Yoga Slim 9i with OLED screen, while the new lightweight is the Yoga Slim 7i Carbon. With the Yoga Slim 7 (i) Pro X, Lenovo is targeting creators and with the Yoga Slim 7 (i) Pro more towards the general public.
Yoga Slim 9i with Age Lake-P and OLED
The flagship among the Yoga family in the upper segment of notebooks for consumers is the new Yoga Slim 9i, which Lenovo will offer exclusively with Intel processors from the Alder Lake P-Class and Intel Arc 350M from July at prices starting at 1,899 euros. With this 14-inch class notebook, Lenovo relies on a new chassis with rounded contours and a glass top cover. On the inside, up to 3,840 × 2,400 pixels shine on an OLED display with DisplayHDR 500 True Black certification. For 90 instead of 60 Hz, the resolution is downgraded to 2,880 × 1,800 pixels.
The Yoga Slim 9i is located in the premium segment and also offers features such as four speakers set by Bowers & Wilkins in the side area of ​​the keyboard, which is divided into tweeter and subwoofers, Wi-Fi 6E including Bluetooth 5.1, a full HD webcam that can electronically locked, and a 75 Wh battery, which Lenovo announces with an operating time of up to 14.5 hours for video playback. In addition, the touchpad is said to be 50 percent larger than in previous Yoga models.
Yoga Slim 7i Carbon weighs 970 grams
Carbon models like the new Yoga Slim 7i Carbon are no longer reserved for ThinkPads. Although Lenovo now offers AMD and Intel variants almost everywhere, this new notebook is also a pure Intel device with Alder Lake-P. The body is made of magnesium alloy reinforced by multilayer carbon fiber, which pushes the weight down to 970g. In the particularly compact notebook, you have to settle for one Thunderbolt 4 and one USB-C 3.2 Gen 2 each and a battery that is only 50 Wh, which should still handle 13.5 hours of video or 10 hours in MobileMark 2018.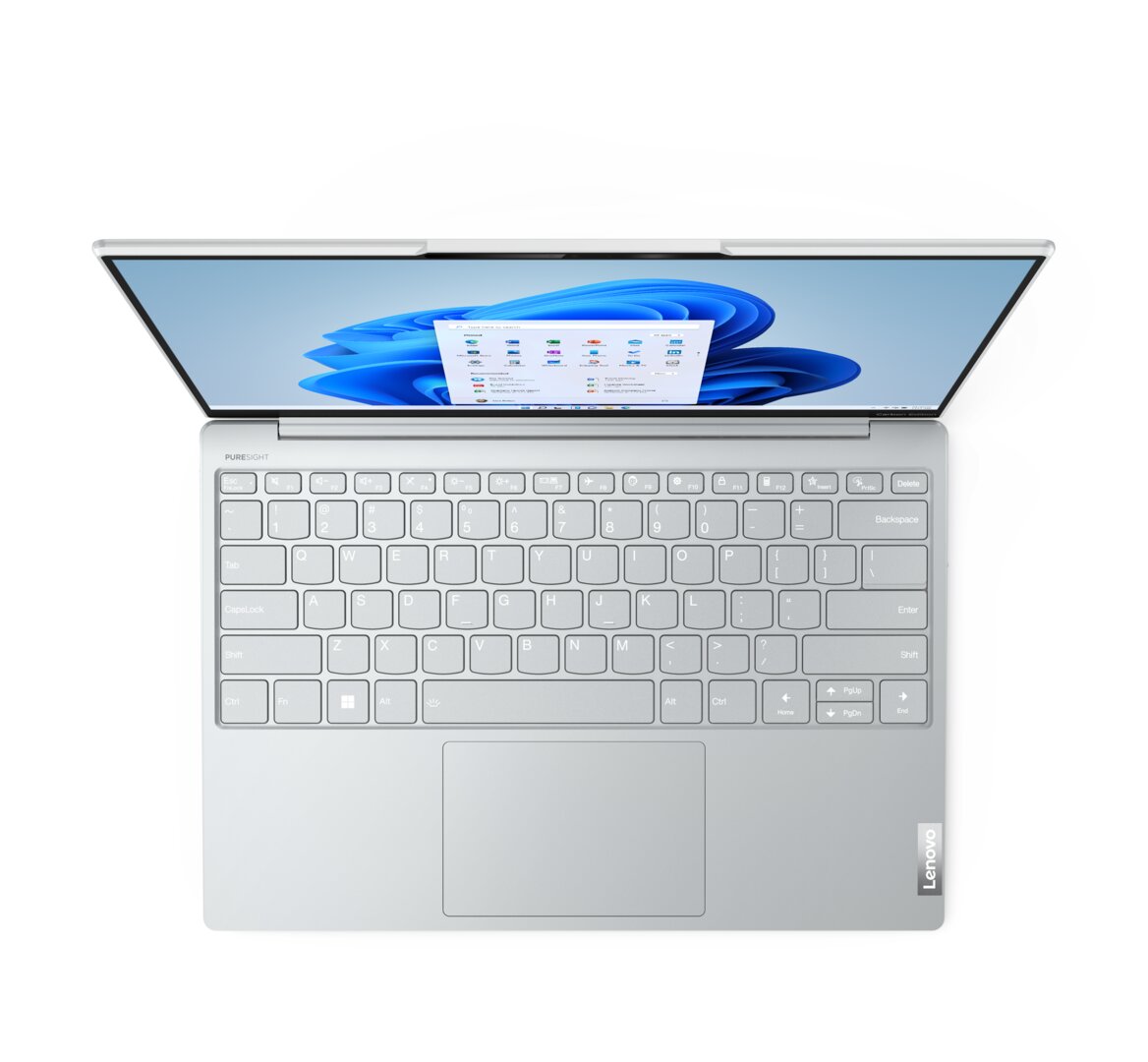 The screen is a bit smaller at 13.3 inches and IPS is used instead of OLED. 90 Hz is standard on the Yoga Slim 7i Carbon, and Lenovo also calibrates the panel to a DeltaE value of <1. The two screens offered differ only in the support for touch. Yoga Slim 7i Carbon is scheduled to launch in Germany in July at prices starting at 1,299 euros.
Yoga Slim 7 (i) Pro X for creators
Calibrated screens are also used in Yoga Slim 7 Pro X (AMD) and Yoga Slim 7i Pro X (Intel), but here in 14.5 inches, with a standard 120 Hz and with G-Sync. Buyers of the notebook, which will be available from July from 1,199 euros, can choose between touch on glass, glass without touch or non-touch without glass for the IPS panel.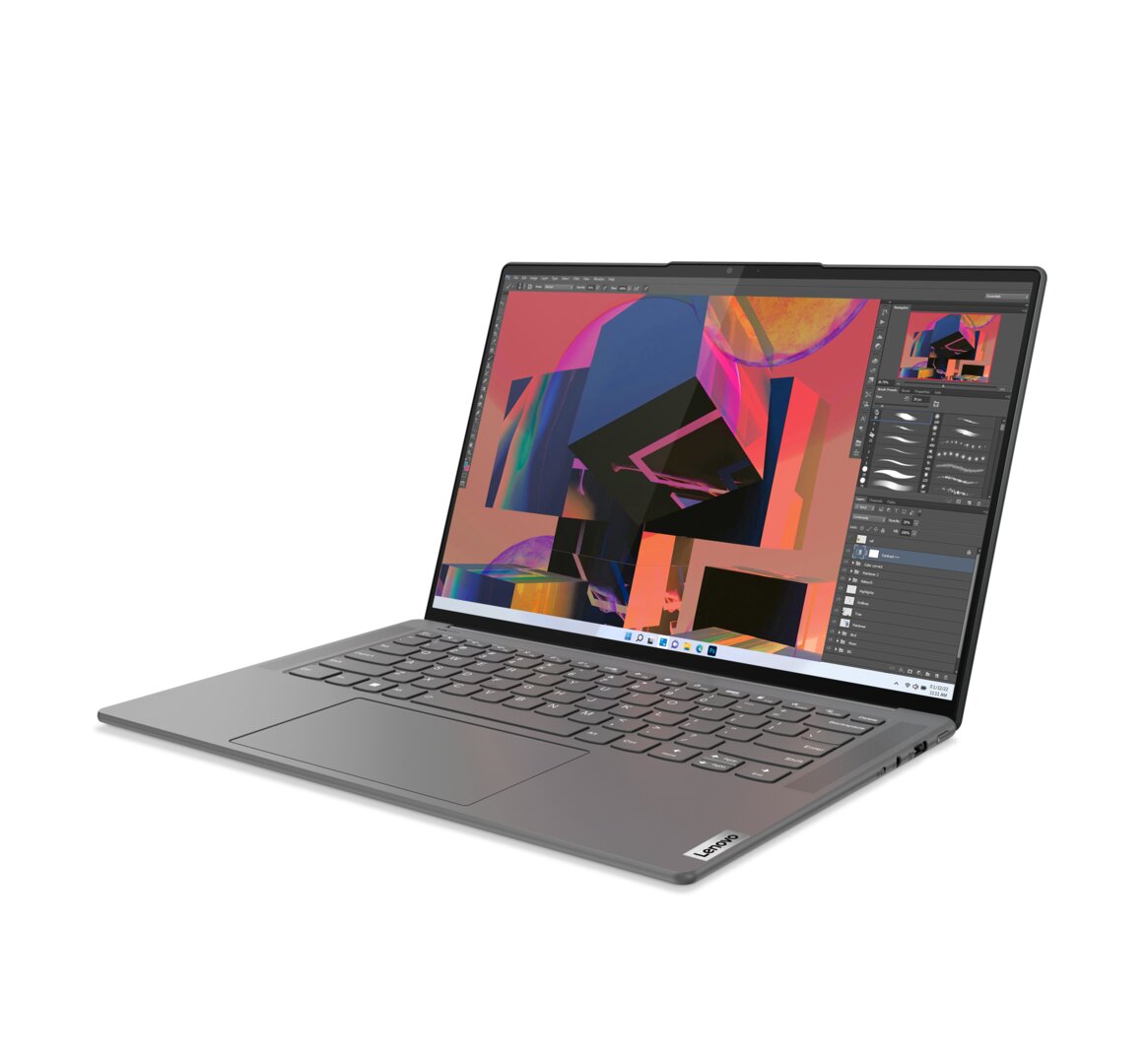 The new X models differ from the normal Yoga Slim 7 (i) Pro in their slightly increased size, which makes room for a more powerful cooling system. The higher-clocked Creator Editions of the Ryzen 6000 or alternatively Alder Lake-H can be accommodated in the notebook and combined with up to a GeForce RTX 3050 portable GPU, giving the series a studio validation from the GPU provider.
Yoga Slim 7 (i) Pro comes in 14 and 16 inches
The successors to last year's Yoga Slim 7 Pro (test) are the Yoga Slim 7 Pro (AMD) and the Yoga Slim 7i Pro (Intel), each with 14 and 16 inches. Lenovo is also switching to the AMD Ryzen 6000 Creator Edition or Intel Alder Lake-H and Alder Lake-P processors for these notebooks.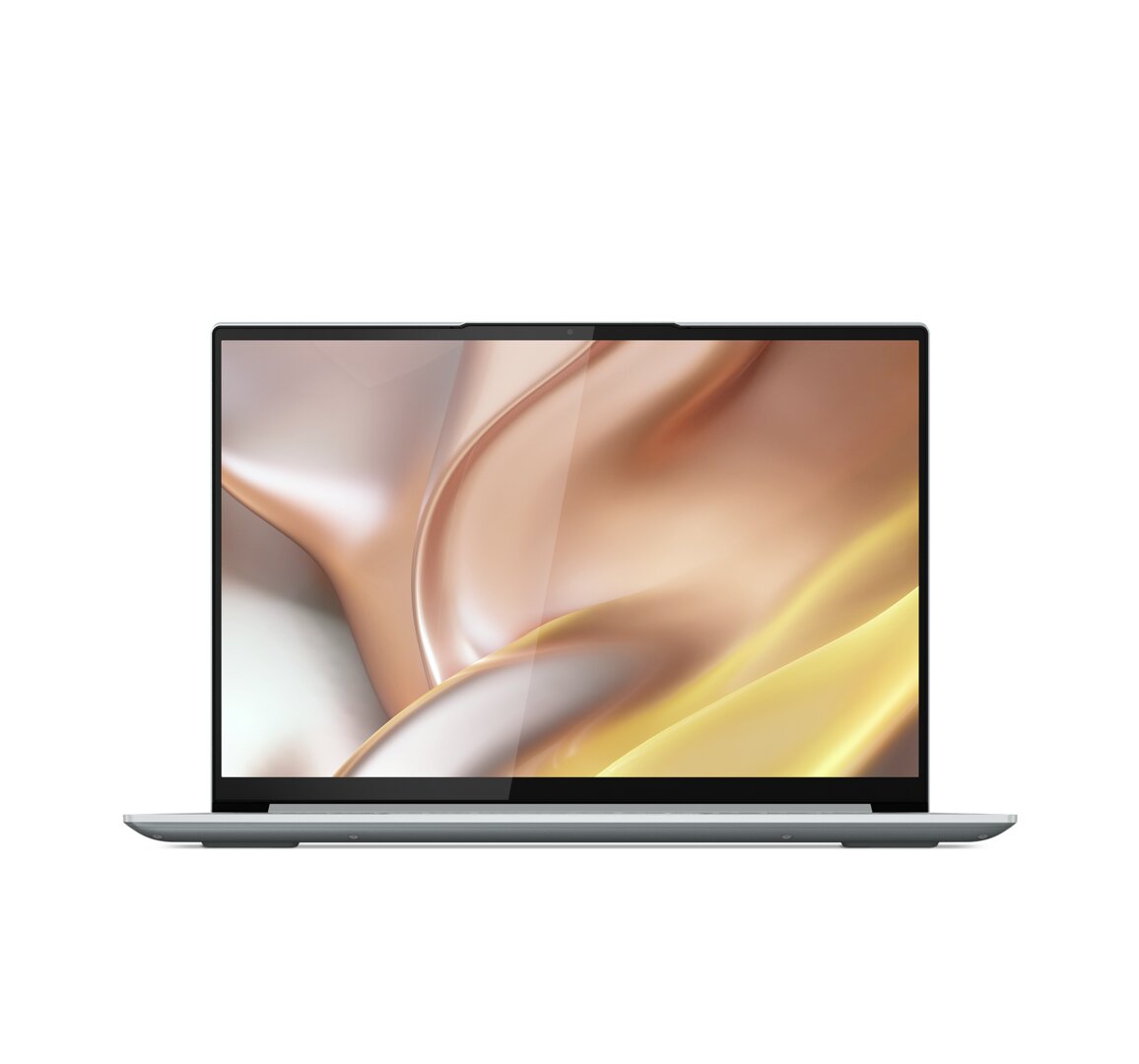 The 14-inch models in particular are characterized by a large selection of screens with OLED or IPS panels, which differ in terms of brightness, refresh rate and color space coverage – details can be seen in the table below. At 16 inches, there is only one screen to choose from, which in turn works with faster 165 Hz and is brighter (500 cd / m²). The AMD model can also be equipped with up to an Nvidia GeForce RTX 3050 Ti laptop GPU, while the larger Intel version is equipped with the most powerful Intel Arc A370M.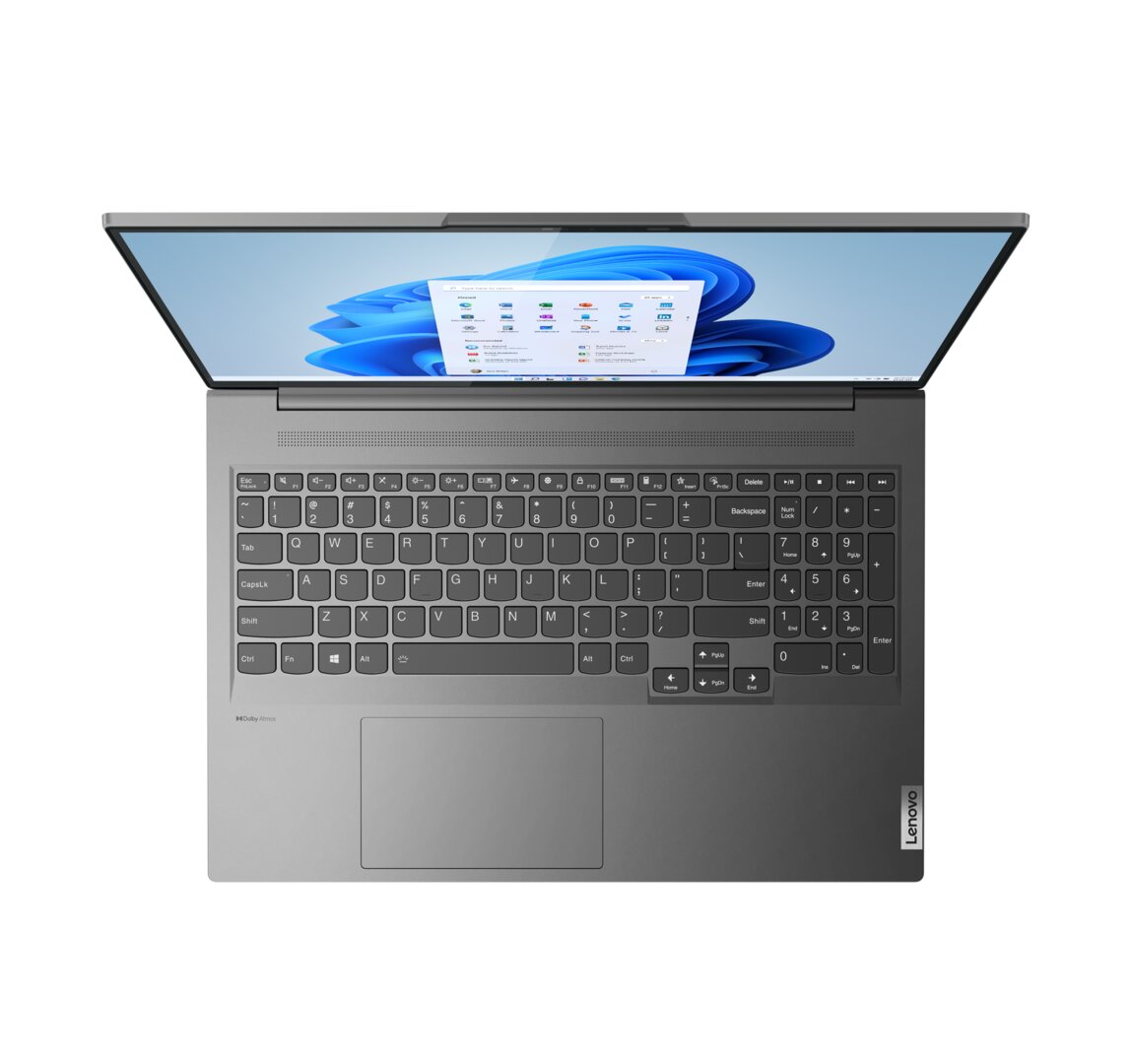 The Intel versions at prices from 999 and 1,499 euros are to start in July, before the smaller of the two AMD models, also from 999 euros, follows in August. There is no specific date or price for the Yoga Slim 7 Pro 16 ".
Yoga 7 as a true 2-in-1 with a 360 degree hinge
While Yoga notebooks were basically still 2-in-1 devices at the beginning of the new notebook series, today they are primarily stylish, compact and lightweight notebooks for consumers and creators. The new Yoga 7, on the other hand, is again a classic 2-in-1 with a 360-degree hinge, on which a 14-inch 16:10 display with OLED or IPS panel is attached, which can be operated by touch and stylus. With Yoga 7, Lenovo uses the economical processors of the AMD Ryzen 6000U series and combines them with up to 32 GB of RAM and a 1 TB PCIe SSD.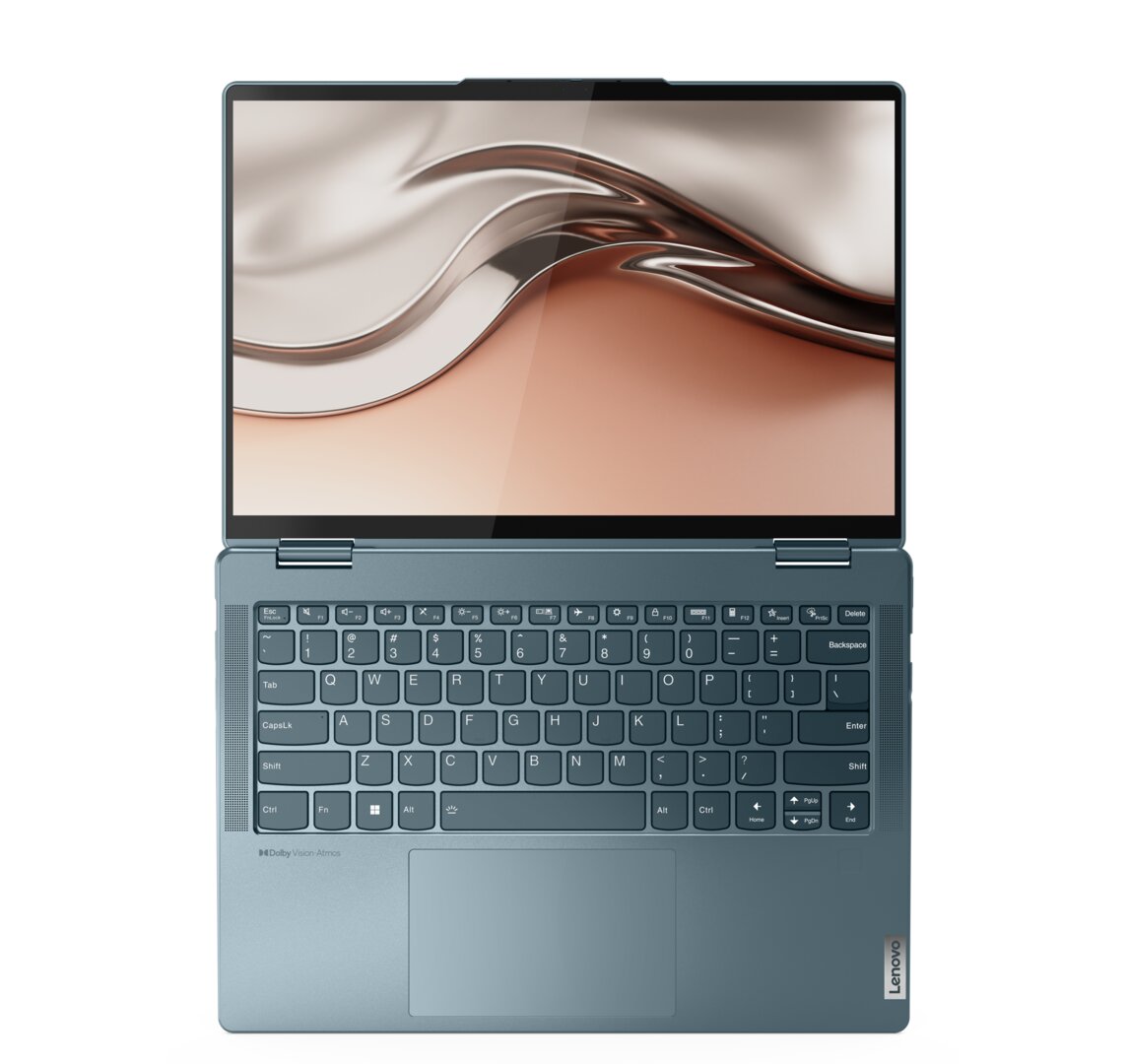 Yoga 7 is scheduled to launch in Germany in July at prices starting at 1,299 euros.
ComputerBase received information about this product from Lenovo under the NDA. The only requirement was the earliest possible release date.