At Imola, Mercedes got off with a black eye. George Russell finished fourth. The team is still 3rd in the world championship. The key was a rocket launch from 11th to 6th. Russell mostly had a clear run. This brought the tires up to temperature and the Mercedes was able to show its normal shape. It could have gone very differently, as the example of Lewis Hamilton shows. The ex-master was stuck in a DRS train all the time.
The tire problems at Mercedes almost made us forget that there was another major construction site. Jumping did not disappear just because almost no one talked about it. It was still there, and even worse than ever. The engineers reveal their internal order: "The bounce hit us the most in Imola. Then comes Jeddah, Melbourne and Bahrain." Imola provided further important information to Mercedes to put the puzzle together properly on the way out of the trap.
It's about the questions: when, where, how and why does it occur? And why are others less serious or not at all? Why, for example, does Ferrari rock at similar points, with a higher amplitude and lower frequency, and why do the red cars stop abruptly when the drivers turn the steering wheel or step on the brake?
Drivers complain of pain
The learning process is an ordeal for the most successful team of the past. Fourth place is not the requirement for a racing team that has won the world championship eight times in a row. Not even for George Russell, though he jumped at every championship point at Williams. At Mercedes, at least, he expected regular podium finishes. "We know our car can do more than the results indicate. The bouncing one forces us to drive it in a window where it does not feel like a real race car."
In the Imola, both Mercedes were on the road with more ground clearance on the rear axle than ever before. And yet the drivers were at their breaking point. "Everything hurts when you swing. The hips, the back, the chest. It was the maximum of what is still enduring. But if we go any higher, we lose even more time," Russell complained. Colleague Hamilton is already running out of words. He is reminded of his McLaren from 2009, which suffered from a similar dental disease. It took six months for McLaren to correct the mistakes at the time.
Mercedes will not wait that long. At the same time, the engineers know that it can not be solved overnight. Because new discoveries are constantly being made that were not expected. "We thought it was less bad in rainy weather because the speeds are not that high. In fact, it was no better than on a dry road." Team leader Toto Wolff concludes: "It depends on a number of factors: downforce, speed, vehicle height, but also external influences such as wind, bumps, driving in traffic."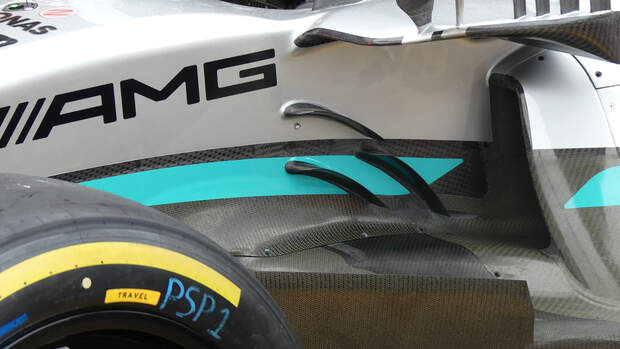 Bull's-eye too risky
The new aerodynamic components screwed on the two Mercedeses in Imola were not a reaction to the jump. "Just a general development that gave us a little more downforce." To solve the link, you need something that is data supported and can be explained. "We could shoot the bull and hope to hit," says one engineer. "Even if we were lucky, the problem would not be off the table. Because then you still do not get it. The next upgrade may backfire."
This is also the reason why Ferrari is hesitant with major upgrades. The championship leader also suffers from jumping, even though it does not cost the riders any lap time. But that can quickly change if you make major changes to the car without knowing how it will affect the mare. "We will take further steps to remedy it first," said team manager Mattia Binotto.
In this regard, Red Bull has a trump card on hand. Bounce is minimal and the engineers seem to have gotten it. Also the last upgrade in Imola worked as expected. Technical Director Adrian Newey says: "It's a purely aerodynamic problem that will never completely disappear with these cars. You have to live with it as much as possible." According to Newey, the key is to control the various flow structures under the car in such a way that a vacuum never arises that is so large that it sucks the car to the road.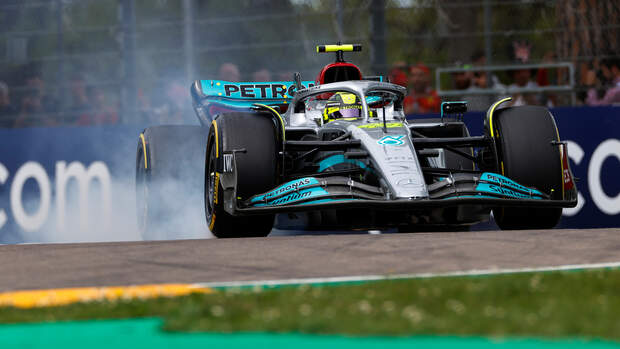 Comparative test in Barcelona
In its detective work, Mercedes has prepared some experiments for future races that should shed more light on the matter. "We will try something in Miami and then again in Barcelona." Toto Wolff puts his hopes especially for Barcelona. "We drove with our presentation model during the winter test. It had much less bouncy than the other specification, which we then brought to Bahrain. The data comparison between the two cars should take us one step further."
Engineers warn against automatically declaring Barcelona a turning point: "First we must fully understand the problem, then pour it into a mathematical model and then correct it. As painful as it is at the moment, we must go through it. There is no one faster way out, at least not one we see. There is no point in correcting something now if you do not know what 'something' should look like. If you do, you are making it worse instead of better. "
The problem could theoretically be recreated in a wind tunnel, but according to Mercedes and Red Bull, hardly anyone will do it. "It would need an extremely light model, and you would have to shake the car ten times more frequently to represent reality," Newey explains.