19:14
Next stop: Le Mans!
On Monday in Jerez, there is another official test day for all MotoGP teams. As usual we will keep you updated with all the important information from this test on 'Motorsport-Total.com'. The next race will then take place on May 15 in France. Because today we say goodbye to the ticker and wish you a good start to the new week.
---
---
15:17
MotoGP: The image from the podium
---
---
15:09
Francesco Bagnaia: "A beautiful day"
Francesco Bagnaia (Ducati; 1.): "It's a beautiful day! Even though we had so many problems at the beginning of the season, we never gave up and kept working. Luckily I was able to drive in Portimao, albeit with pain. But the race has my feeling returned from previous years. "
"I'm so glad we can now show our potential again. Maybe it's even more than last year. Because back then we were significantly further behind Fabio on this track. He was invincible back then. Today we did everything right. Thank you be all that helped me. After all the problems with my shoulder, today went perfectly smoothly. I'm just happy. "
---
15:07
Fabio Quartararo: "I have tried everything"
Fabio Quartararo (Yamaha; 2.): "It was a really difficult race. 'Pecco' had a great start and then ran a great race. I wanted to overtake him right at the first lap because I knew it would otherwise be difficult for my front tire."
"I tried everything. Our pace was just insane and my front tire got incredibly hot. I could not brake harder. Our distance to the back was quite large because we were both very fast today. Congratulations to him! It was not a real one! one who fought because we did not overtake each other. Still, it was an intense race that was fun. "
---
15:05
Aleix Espargaro: "Running changed in one corner"
Aleix Espargaro (Aprilia; 3.): "Mentally, it was a difficult race because I just could not overtake. I was much faster than Jack [Miller] and Marc [Marquez]. But I just could not get past it. Marc was incredibly strong on the brakes. I had no choice but to wait for a mistake. "
"When I saw that Jack [in Kurve 13] braked early and Marc almost fell, my race turned in just one corner. From then on, I just said goodbye. In the final stages, I was able to show my true pace. Now I am number two in the World Cup, less than ten points behind. I dream."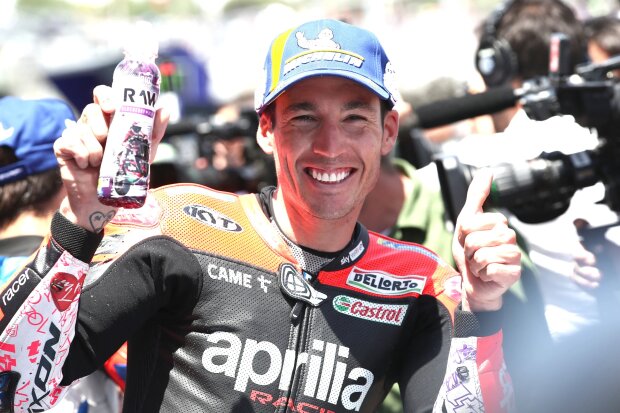 © Motorsports pictures
---
14:47
MotoGP: The other places
Joan Mir takes sixth place with Suzuki. Behind them, Enea Bastianini, Marco Bezzecchi and Brad Binder complete the top 10.
The other places in the points go to Pol Espargaro, Miguel Oliveira, Alex Marquez, Maverick Vinales and Franco Morbidelli.
22 drivers see the checkered flag.
---
14:46
MotoGP: Marquez still grabs Miller
The duel between Jack Miller and Marc Marquez ends. At last, Marquez starts an overtaking maneuver in the fast turn 8 and manages to get past Ducati.
This places Marc Marquez in fourth place and Jack Miller in fifth place. Marquez is celebrated by his fans.
---
14:44
MotoGP: Next podium for Aprilia
Aleix Espargaro confidently crosses the finish line in third place. Aprilia has now collected six concession points within a calendar year and is free of the benefits. But in the background, preparations for this situation have been going on for several months.
Aleix Espargaro is the new second place in the world championship. Only seven championship points are missing at Quartararo.
---
14:43
FIRST WIN OF THE SEASON TO FRANCESCO BAGNAIA
Francesco Bagnaia makes no mistake on the last lap and does not give Fabio Quartararo a chance to attack even in the famous last corner.
The Ducati rider celebrates a light-to-flag victory! It's his first in Jerez and his first this year.
With second place, Quartararo expands its championship lead.
---
14:41
MotoGP: Last round
Bagnaia has a half-second lead over Quartararo to the final lap.
---
14.40
MotoGP: 2 laps left
Can Quartararo still start a maneuver against Bagnaia for the victory?
---
14:39
MotoGP: Espargaro secures third place
Aleix Espargaro immediately drives away from Miller, Marquez and Mir! With third place, Aprilia would lose concession benefits.
---
14:37
MotoGP: Espargaro third!
In the closing corner, Aleix Espargaro squeezes past Miller. At the same time, Marquez misses the braking point and runs a wide line. This places Espargaro in third place.
And at the end of the home run, Marqurz is also overtaken by Miller. Through these encounters, Mir catches up with this group again.
So Aleix Espargaro is third, Miller fourth, Marc Marquez fifth and Mir sixth.
---
14.35
MotoGP: Marquez attacker
In the Sito Pons corner, Marc Marquez passes Miller on the inside. A surprise maneuver!
On just towards the Pedrosa corner, Miller tries to counter, but Marquez catches the brake point and is the new third.