(Motorsport-Total.com) – The season's first DTM qualifier in Portimao – and after camouflage and deception in the battle for a good Balance of Performance (BoP), the teams finally put the cards on the table, which subsequently led to a BoP change led. Grasser-Lamborghini driver Mirko Bortolotti secured pole position with a best time of 1: 39.678, with the Italian even significantly underestimating the lap time of 1: 39.9 calculated by AVL.
First points of the season: Grenier, Bortolotti and Auer (from left to right) can be happy
zoom
In the training, lap times of around 1:41 had been run. Behind Bortolotti, who left it at an attempt and saved a set of tires as a result, was the surprise of qualification: Canadian DTM rookie Mikael Grenier placed his Group M Mercedes in second place with just 0.011 seconds ahead of Winward brand colleague Lucas Auer (+ 0.041).
"It was a perfect game," Bortolotti said happily on 'ran.de'. And says so dryly: "We took a bit of a risk and only went out at the end to take a single shot. I've never been so spoiled in recent years that I can take two shots, so I'm used to it, just to drive a shot in qualifying. "
Bortolotti on successful deck poker: "A dream scenario"
Now he is hoping for an advantage for the race: "We could save a set, which I think is important, especially in light of the temperatures," he points out, it was about 20 degrees in the morning. "It's a dream scenario."
What does he expect from it? "Because tomorrow it does not make much difference, because we still have to change tires in the race. So everyone has the same situation in the qualification tomorrow. But for the race, it can definitely be an advantage for the stop."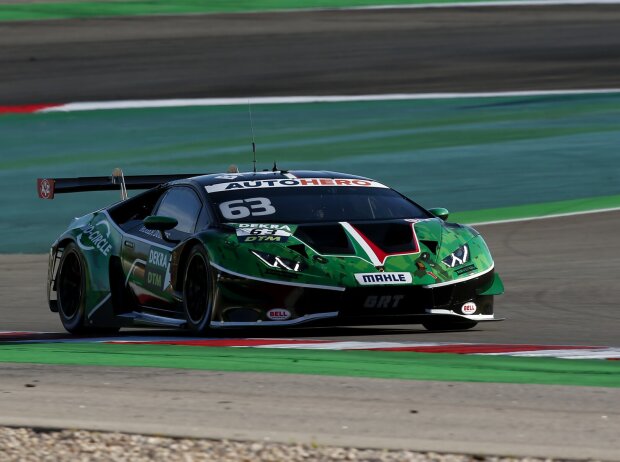 © Motorsports pictures
Italian Bortolotti, who lives in Vienna, came across trump in Grasser-Lamborghini zoom
AF Corse Ferrari driver Felipe Fraga also proved to be extremely strong in his DTM debut in fourth place, 0.060 seconds behind. The best BMW driver was Schubert driver Sheldon van der Linde in seventh place. His deficit was 0.277 seconds.
Defending champion Götz in ninth place: "It was brutal"
Defending champion Maximilian Götz finished in ninth place with a time of 0.412 as the fifth-best Mercedes-AMG driver, but he is pleased with the AMG strength. "It was brutal," he says on 'ran.de'. "I knew: This year it's on a different level. If you do not get it right, you will be somewhere in the middle of nowhere. But I'm glad it's a good start for us. Congratulations to the other two drivers."
However, traffic played a "massive" role. "You set the air pressure and heating perfectly, but when there is traffic in the last sector, it no longer works," he explains.
Best Audi only in tenth place, Rast satisfied anyway
For the Audi drivers, however, there was a disappointment: The Ingolstadt-based company, which was usually at the top of the tests, had their best driver, Rosberg-Audi driver Nico Müller, in tenth place – 0.420 seconds behind. . Just behind him is Rene Rast, the best Abt driver.
"I'm very happy with my personal performance or with our performance," said the triple DTM champion. "My goal was to be at Kelvin or Ricardo level," he alludes to his teammates, who finished 13th (Feller) and 17th (van der Linde).
"Nico is right in front of me, so we also managed to catch up with Rosberg. It did not look like after the sessions, but we closed the hole." Overall, though, he sees room for improvement: "There is still half a second to go ahead. We have to see what we do there, but basically we are in a good position to finish in the points."
Disappointment for Porsche, Loeb strong in midfield
It went even worse for the newcomer Porsche than for Audi: The best 911 GT3 R, driven by SSR Porsche driver Dennis Olsen, was only number 19, 0.710 seconds after the best time.
How did it go for AF Corse Ferrari driver Sebastien Loeb? The 48-year-old rally superstar finished as number 21 in his first DTM qualifying session, 0.786 seconds down – a strong result after nine years without a GT3 race weekend. The first DTM race of the year starts at 13.30.