prison sentence
Lilly Becker, Alexander Zverev and other celebrities: great sympathy for Boris Becker
Two and a half years in prison – this is the verdict for Germany's former tennis star Boris Becker after several bankruptcy crimes. In his home country he is still popular.
Tennis legend Boris Becker gets great sympathy after being sentenced to prison. "I'm sorry for Boris," former football coach Reiner Calmund told Bild. "Boris has survived the toughest fights. I wish he would master this time too."
The German Tennis Federation (DTB) wants to continue to support the triple Wimbledon winner: "We take note of the verdict with respect and regret and wish him all the best in the near future," Federal President Dietloff von Arnim said on Friday. in Munich. "We stand by his side."
Boris Becker: Celebrities and friends give him courage

Becker had previously been sentenced to two and a half years in prison by a London court for several bankruptcy crimes. The 54-year-old must serve half of that before he can be allowed to spend the rest on parole, Southwark Crown Court Judge Deborah Taylor ruled. Becker was immediately remanded in custody Friday. He now has 28 days to appeal the verdict.
Becker's wife Lilly Becker, who lives separately from him, was surprised by the harshness of the verdict: "He did not kill anyone [Er hat niemanden umgebracht]"She said 'Exclusive Weekend' on RTL (interview broadcast on Saturday from 5.45pm). When she watched Becker's patchwork family, Lilly, who was in a relationship with Boris Becker until the breakup in 2018, said: 'It's important that each person knows that we, Amadeus, Noah, Elias, Barbara, his girlfriend Liliana, we are all behind Boris. "
"Was our idol"

"Boris Becker was everyone's idol," said fashion designer Harald Glööckler of Bild. "Whether you knew anything about tennis or not, you did it. It was literally lifted up into the sky – and now dropped indefinitely." TV host Verona Pooth also wanted Becker a lot of strength.
"Boris Becker has been an integral part of the German tennis family for decades. His merits are and will remain unique," said DTB President von Arnim. Becker has done great things nationally and internationally in the field of tennis. "Most recently, he supported the German Tennis Federation as head of men's tennis in the competitive and youth sports sector and proved to be a major asset and sponsor of our sport during this time."
German tennis player Oscar Otte, who reached the semi-finals of the ATP tournament in Munich on Friday, said Becker's conviction was a shame and sad – "because it's the tennis legend in Germany and he got tennis Germany to tennis Germany with his performance ".
Alexander Zverev also comments

German tennis player Alexander Zverev told "t-online" in Munich: "Boris was and is very important to German tennis. It's sad to hear. I wish him the best."
Becker, who lives in London, was declared bankrupt by the court in 2017. He then had to disclose his assets to the insolvency managers – but according to the court, he omitted important parts.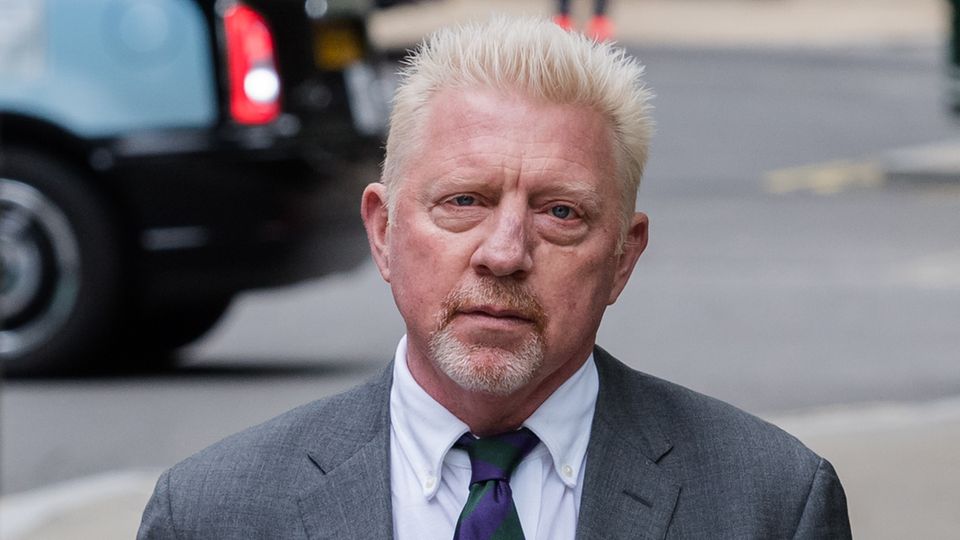 A jury found the German guilty of 4 out of 24 charges three weeks ago. The lay judges found that Becker was hiding a property in his hometown of Leimen (Baden-Württemberg) worth about 1.2 million euros, illegally transferring a total of 427,000 euros to other accounts and shares in an artificial intelligence company worth 78,600 euros and a loan. debt of 825,000 euros. Now Judge Taylor had the floor and set the prison sentence.
"A tragedy in sports history"

Baden-Württemberg's Finance Minister Danyal Bayaz (Greens) wrote on Twitter about the Boris Becker case: "Right and consistent under the rule of law". At the same time, he added: "A sports-historical tragedy".
As at any meeting, Becker appeared on Friday accompanied by his partner Lilian De Carvalho Monteiro; the couple held hands as they walked past dozens of photographers and cameramen into court. Becker's eldest son Noah brought a packed travel bag, which was placed with Becker in the glass cabinet in which the defendant was to reside.
Becker's daughter Anna Ermakova was stunned after the verdict in an interview with the newspaper "Bild". "I'm really shocked that my father has been sentenced to two years and six months," she said. "I will support him and I will visit him whenever I can. I hope it will help a little to get through time."
ls / dpa