(Motorsport-Total.com) – Aleix Espargaro (Aprilia) and Marc Marquez (Honda) fought a verbal duel at MotoGP on Friday in Jerez, the training day of the Spanish Grand Prix. In the overall result of the two Friday workouts, neither one nor the other plays any major role. But there are explanations for that.
Aleix Espargaro and Marc Marquez dueled orally on Friday (Photo: Thursday)
zoom
Immediately after the end of the afternoon training, the TV picture showed Espargaro gesturing towards Marquez. The reason was initially unclear. But in his media round, Espargaro explains what happened. It was again about the boring topic of slipstreaming and the fact that Marquez was looking for one.
"It seems like I'm just whining all the time. But it's just amazing. I do not know what this guy is doing," Espargaro said. "When I pulled out on the field, there was no one in the pitlane. When I got right in on the back, there was no one there. But he waited in the middle of the field for a minute. Incredible!"
Marquez disturbs Espargaro twice
"I was signaling for him to leave. But he did not care. He was just looking back. Unbelievable!" says Espargaro indignantly, thinking, "Why the hell should an eight-time world champion look for the slipstream of an Aprilia? That must be because he lacks confidence. That's the only explanation I have."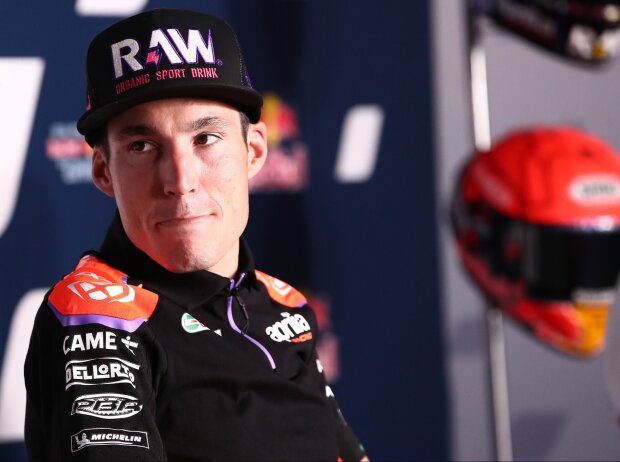 © Motorsports pictures
Aleix Espargaro has had enough of Marc Marquez's slipstream play zoom
This was preceded by another scene which Espargaro has not lost sight of. Marquez also played a role in this: "Everyone saw it, my brother [Pol Espargaro] almost ran into him at turn 13, then [Remy] Gardner, then [Miguel] Oliveira and saw me. "
Marquez explains precisely this incident, in which Marquez and Gardner almost collided, in his own media round thus: "I drove behind another driver, who slowed down to turn into the pit. I knew that Pol and another (Gardner; "note) comes from behind and is just trying to clear the line. Pol must not have been aware of that. There was just confusion."
Marquez defends his behavior: "This is how it works"
Regarding Aleix Espargaro's claims, Marquez says: "It's always the same with Aleix. He's always complaining. But this year he's very fast. He should be proud that we're looking for his slipstream. Because it's usually the other way around. This year I looking for his slipstream because he's third in the world championship. He's driving very well. That's how it works. "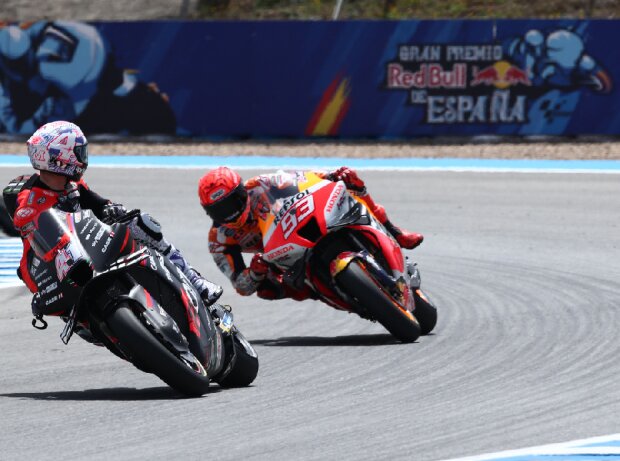 © Motorsports pictures
Marc Marquez thinks Espargaro should be proud when someone is looking for his groundbreaking zoom
Meanwhile, when asked, Espargaro makes it clear that his anger is not only for Marquez but also for the race director: "I do not blame him. I blame the race director. He can do whatever he wants. I am not one of They must tell him how to drive. "
"But everyone always talks about Moto3. MotoGP is much worse! Or is it normal for an eight-time world champion to wait on the track for an Aprilia? What the hell are people doing in race control?" said Espargaro.
Aside from the heated scenes, Espargaro and Marquez did not fare so well last Friday. Espargaro explains his 13th place in the combined result of FT1 and FT2 with "chattering" on one side and the comment on the other side: "I lost my concentration. Therefore, I was only P13 in the end. It's my fault."
Marquez with two falls in one inning
And Marquez, who only finished the day in P19, fell twice on a lap during the afternoon training session. First, the Honda rider had a harmless low-speed crash at the Dani Pedrosa corner, the right hairpin at the end of the long straight (Turn 6).
Not until Marquez had raised himself from the fall before going down again just three corners later. At turn 9, he ran into one of the last wet spots left even in the afternoon. During the night it had rained in Jerez. However, the training sessions were all completed with slicks.
"I actually only had one real fall," Marquez says, referring to the first thing that happened to him in turn 6. "The second fall was one of the problems on this course. After it hadn't rained all day, I just had did not expect it to be wet there. "
"I drove very slowly off the ideal line. I saw how [Brad] Binder walked inside next to me and would have pitted anyway. But this one place was completely wet. Water penetrates from below to the surface. That's something they need to improve in the future, "Marquez said.