(Motorsport-Total.com) – At the home game in Emilia-Romagna, the Ferrari team experienced a real debacle, even though the Scuderia got the best start to the season ever on points in the first three races of the season.
After the start, Ferrari driver Charles Leclerc could only see the rear end of the Red Bulls
zoom
While the big competitors Max Verstappen and Sergio Perez from Red Bull in Australia were still clearly under control, this trend could not be confirmed in Imola, as driving errors also crept in with Carlos Sainz and Charles Leclerc.
"I do not think we were strong enough in terms of tire control, especially in the sprint race," says team manager Mattia Binotto, analyzing the weaker race pace compared to Red Bull. At the same time, he stresses that it actually was. no longer a problem in the main race on Sunday.
"Of course, we only had the one session last Friday, which was also completely wet, to set the car up for the weekend. We could therefore only collect a small amount of data regarding the long run," he explains.
Although Ferrari, like all the other teams, used the second free practice extensively to test the car under racing conditions with more fuel, this was not enough, according to Binotto. In addition, due to the parc ferme rules, the teams could only make minimal adjustments to the sprint on Saturday.
Explained: That was why the Ferraris started so badly
"Red Bull just did a better job. We'll have to look at it again to understand why we could not." Apart from the sub-optimal set-up, the start of the race did not go according to plan either. Both Ferrari drivers had to start the race from the right side of the field, causing them to lose a few places.
"We have already analyzed it and discussed it with the drivers. Both mastered the procedure very well, we just did not have enough grip. You could say that there were wetter spots on our side which made us lose grip."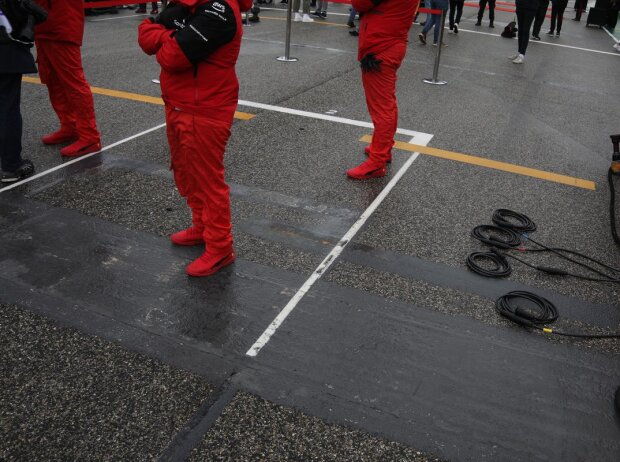 © Giorgio Piola
Charles Leclerc's starting box contained two different types of asphalt – According to our technical expert Giorgio Piola's analysis, it was only logical that the Monegasques slipped on the smoother asphalt in the rain zoom
Then it was a difficult race as Sainz was already retiring in the second half and Leclerc was stuck behind Sergio Perez: "Again we could see that they had good top speed and that made it very difficult or even impossible for us without DRS to overtake, "Binotto said.
"Although we have to compromise on the use of the battery, its power unit is also very competitive. However, I think it is quite equal between us and Red Bull because we also have a good engine."
Only "little things" for Miami – Big Ferrari update only in Barcelona?
Since testing, Scuderia has been driving with an almost unchanged car, while Red Bull has already brought two major update packages to the track. According to Binotto, Ferrari will also not make the major adjustments to the car at the next race in Miami: "We will only bring a few small things to the car."
As the circuit in Miami includes both long straight stretches and all types of corners, Ferrari will launch a medium downforce package for the race in the US: "We are convinced that it is quite efficient. But it is also Red Bull has a very good medium downforce package so they will be very strong, "says the Ferrari team boss.
---
F1: Grand Prix of Emilia-Romagna (Imola) 2022
According to Binotto, it will be crucial to adapt immediately to the conditions in Miami, as the route characteristics were previously only checked in the simulator: "It will be important because we are still struggling with the 'guinea pig', as you can also see."
"We definitely have more than Red Bull, and therefore there is still a bit of achievement for us to find there. We are trying to exploit this potential, which will be our main focus in Miami. The big updates will follow soon. Afterwards," reveals Binotto.
Leclerc is not worried about the Red Bull pace yet
When the Ferrari team was clearly beaten by Red Bull in Imola, even though the track properties with few straights and many corners should have played F1-75 in the cards, shows that Scuderia has to go up to keep up with Red Bull. .
However, World Cup leader Charles Leclerc does not assume that the weekend in Emilia-Romagna has led to a turnaround: "I honestly think it goes back and forth with Red Bull. On a weekend they are stronger, but we are on another. "
"We were faster in Bahrain and Australia, but they had taken over now and in Saudi Arabia. So I think it's pretty track-specific, which team is better. I do not think there is that big difference yet, although I must say , that they were a bit stronger than us at the weekend, "Leclerc analyzes.