Tournament director Markus Günthardt expects a tennis week with superlatives: "We offer our guests a lot of quality in all areas."
Nine top 10 players bring a touch of Grand Slam tournaments to the Porsche Arena. 15 of the top 20 in the world earn. At the top of the seed list is Polish Iga Swiatek, the new world's No. 1 after recent victories in Doha, Indian Wells and Miami. She is coming to Stuttgart for the first time. "Many players were excited about this tournament for me. I am happy to finally be there this time," said the winner of the French Open in 2020. For her, the Porsche Tennis Grand Prix is ​​the ideal preparation for Roland Garros, and Porsche Taycan GTS Sport Turismo as the Grand Prize for the Winner is an Extra Incentive: "I've had my driver's license for six months and I'm looking forward to finally driving a Porsche. Or better yet, win one."
Top 10 players create a Grand Slam atmosphere
The other top 10 players are Barbora Krejcikova (Czech Republic / No. 2), Paula Badosa (Spain / No. 3), Maria Sakkari (Greece / No. 4), last year's finalist Aryna Sabalenka (No. 5), Anett Kontaveit ( Estonia / No.6), Karolina Pliskova (Czech Republic / No.7), Danielle Collins (USA / No.8) and Ons Jabeur (Tunisia / No.10).
Porsche ambassadors Angelique Kerber and Emma Raducanu are also starting in the Porsche Arena. Along with the British US Open champion of 2021, Cori Gauff (USA) is one of the young faces representing the future of women's tennis. She is also playing for the first time at the Porsche Tennis Grand Prix. Tennis fans look forward to Bianca Andreescu with excitement: The Canadian, 2019 winner of the US Open, is making his long-awaited comeback on the WTA tour in Stuttgart using a wildcard after a long break and several setbacks.
Thanks to a wildcard, Laura Siegemund, winner of the doubles in Miami last week, is also in the main draw in her home tournament. She won in the Porsche Arena in 2017. Three players from the Porsche Talent Team also have the opportunity to compete with the best players in the world and gain important experience at the Porsche Tennis Grand Prix: Jule Niemeier gets a wildcard for the main draw, Nastasja Schunk and Eva Lys to the qualification.
"Our cast is sensational. The fact that so many top players are playing with us again is an incredible vote of confidence," said tournament director Markus Günthardt. Anke Huber, who is by his side as sports director, adds: "We are also extremely well positioned. "The whole line. Our spectators can look forward to the best tennis. From a sporting point of view, this will definitely be a memorable tournament."
"Aces for Charity": Porsche donates to children in Ukraine
In the "Aces for Charity" campaign, Porsche donates 100 euros for each ace hit at the Porsche Tennis Grand Prix. The donated amount goes in equal parts to the Agapedia Foundation and the State Sports Federation in Baden-Württemberg for projects with refugees from Ukraine. The Agapedia Foundation thus primarily finances the care of partially traumatized Ukrainian refugee children and their relatives. With the donation, the Statens Idrætsforbund in Baden-Württemberg primarily supports refugee competitive athletes with a focus on children and young people as well as coaches and their families.
"The tournament has been a sporting highlight for more than 40 years," said Sebastian Rudolph, Head of Public Relations, Press, Sustainability and Politics at Porsche AG. "With the traditional charity campaign, we want to take on social responsibility as a company in the long term. We are pleased that we can support charities in their important work. This year we are focusing on projects that support refugees from Ukraine. "
Attractive support program with a mix of sports and entertainment
The Porsche Tennis Grand Prix not only offers its spectators world-class tennis. An attractive support program with a colorful mix of sports and entertainment also provides plenty of variety away from Center Court. One of the attractions is the new Porsche World, where visitors can admire and experience very special Porsche vehicles. There will also be autograph sessions for the stars and hands-on activities for young and old. At the Porsche Mini Tennis Grand Prix, young people of U9 age will compete in the final weekend in Public Village. A sporting highlight next to tennis is the Final Four tournament in badminton, where the best teams will play on court 1 on 22 and 23 April for the German championship. The performance of the Stuttgart Ballet promises to be a delight for the senses. The world-famous company will once again get the audience in the mood for the finale with a performance at Center Court.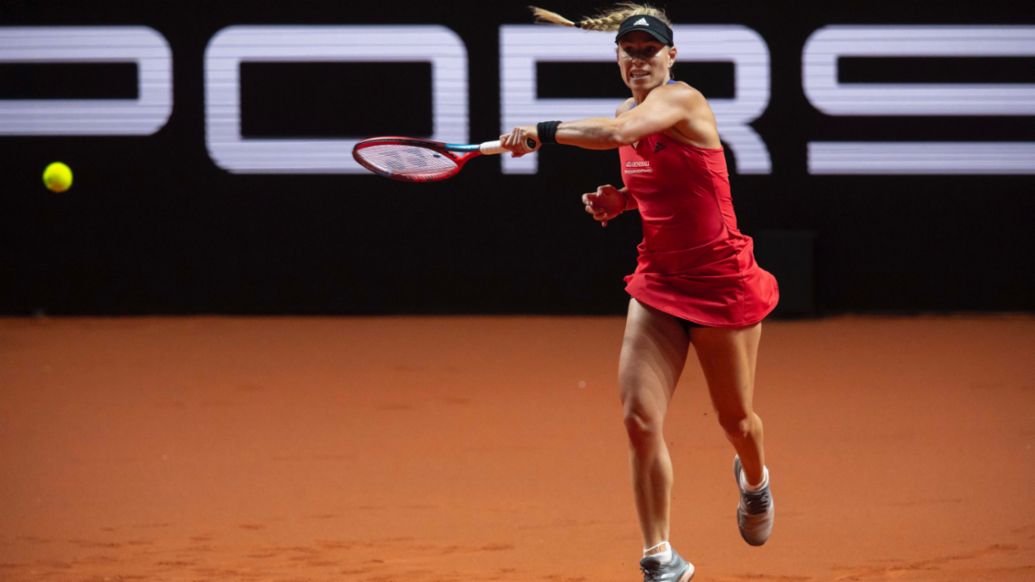 Live on TV and on the Internet: a multimedia world of experience for tennis fans
All matches at the Porsche Tennis Grand Prix will be broadcast live in Germany by Eurosport, Tennis Channel and Porsche Tennis TV. Transmissions start on Monday at 17.00. The two singles semi-finals take place on Saturday at 14.00 and 16.00, with the final starting on Sunday at 13.00. Tennis Channel also shows the qualification and all matches on Lane 1. The individual broadcast times can be seen below. Internationally, the Porsche Tennis Grand Prix can be seen in more than 100 countries. Detailed transmission times are available at www.porsche-tennis.com.
Live TV and streaming times in Germany, center court *:
Game day

Eurosport

Tennis channel (stream) *

Porsche tennis tv

(streaming)

Qualification,
16.4 and 17.4.

16.4. from kl. 11.00 Courts 1 & 2

17.4. from 11.00

court 1

Monday,

18.4.

from 17.00
2 games

from 17.00
2 games

from 17.00
2 games

Tuesday,

19.4.

from 17.00
2 games

from 12.30
every 5 matches

from 17.00
3 games

Wednesday,

20.4.

from 17.00
2 games

from 12.30
every 5 matches

from 17.00
3 games

Thursday,

21.4.

from 17.00
2 games

from 12.30
every 5 matches

from 17.00
3 games

Friday,

22.4.

from 17.00
2 games

from 12.30
all 4 games

from 12.30
all 4 games

Saturday,

23.4.

14:00 1st semifinal
16:00 2nd semifinal

14:00 1st semifinal
16:00 2nd semifinal

14:00 1st semifinal
16:00 2nd semifinal

Sunday,

24.4.

13:00 Finals

13:00 Finals

13:00 Finals
* Tennis Channel will also broadcast all matches on Court 1 Live from Monday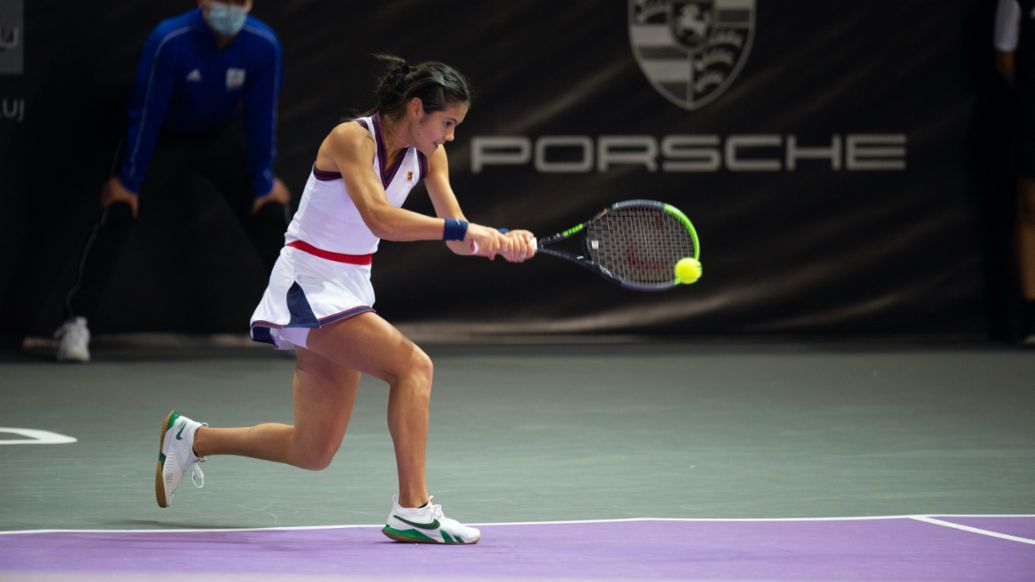 Exclusive behind-the-scenes look and interactive practical formats
The Porsche Tennis TV offer on the tournament website www.porsche-tennis.com is extended to include a live program covering the main matches. In addition to an overview of current events, fans can expect exciting additional information about the tournament with an exclusive behind-the-scenes look. You can also watch interviews with various guests and entertaining videos with the tennis stars. During the broadcasts, viewers can choose between four different camera positions, such as the Umpire Cam to follow the match from the referee's position or the Net Cam, which is located in the middle of the net. There are also other interactive participation formats for the community. Likewise, all training sessions on lanes 1 and 2 will be transferred.
Advance ticket sales
Tickets for the 45th Porsche Tennis Grand Prix are available from Easy Ticket Service on 0711/2 55 55 55 or online at www.easyticket.de. There are also tickets for the Final Four tournament for the German badminton championship.