Even after the end of his career, things never calmed down around Boris Becker, he has never existed without stage and drama. "I could not live like Steffi," he once said. While Steffi Graf tacitly addressed his financial problems, Becker awaits the grand verdict on his future on Friday.
by Joerg Allmeroth
last edited: 28/04/2022, 20:21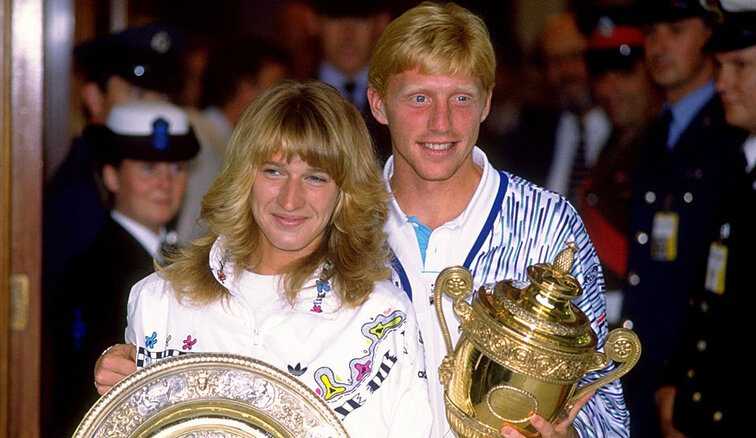 It was on 16 September 1999 that Boris Becker made a statement that was as startling as it was correct in an airport lounge at Palma de Mallorca Airport. "The first pictures of a new Becker baby (Elias, the Red) is not the head of the BILD newspaper, "Becker said at the time – pretending to be terrified – to the few fellow travelers who wanted to fly with him to Munich in a private plane," something very special must have happened. "
Of course, Becker had something special in front of the rest of the group, the actual sensational news that graced the page 1 head of the tabloid: "Yeah! Great love: Steffi and Agassi. "Becker circulated the newspaper and then announced," That's great, right? "
That was it, in fact. But that day was the big exception in the fundamentally different lives of the two fundamentally different German world stars – Boris Becker and Steffi Graf, who both left the Baden provinces in the mid-1980s to color tennis black, red and gold and the nation at . home to inspire for their centercourt duels. Becker was always the man for the colorful, shrill, adventurous, eerie headlines, the man who got happy when he reappeared on the front page and of course was the center of attention. Graf, on the other hand, was hated by the public, the way the cameras looked at her and the microphones held in front of her. She just wanted to play tennis, nothing else, she took care of the dazzling embellishments of the professional tour circus out of sheer duty. Not because she enjoyed it.
Steffi Graf after resignation: "I am happy to have my peace"
That Becker in the last few weeks had to stand before a court in London for misconduct in her insolvency proceedings and is now awaiting the judge's verdict, Graf's longtime companion will have noticed in her new home in Las Vegas. But that's just a side note to Germany's greatest athlete, who in every way has put a huge distance to his past life and comrades-in-arms. Graf has, with few exceptions, withdrawn from the public eye, and has since his resignation on 13 August 1999 and married Andre Agassi largely taken care of his family in secret. And interviews were almost only given when it came to her foundation for traumatized children and adolescents. For a while, she also traveled with her husband Agassi on tennis trips as a player wife. But she seemed almost relieved when 2006 also hung the bat up. "I'm happy to have my peace," she later said, "the years in tennis were brutally tough."
Becker, on the other hand, was always aware that he could not brake like that. One would, however, have wished him as much foresight and consistency as the "Countess", who at one point drew the tear in the turbulent turbulence of the tax scandal that her father unleashed – and received the necessary overpayment of about 27 million marks. transferred to the tax authorities. Thus, this unfortunate chapter was over, the headline theater was over. And Becker? He saw himself in court for the first time in 2003 when tax evasion was tried against him in Munich. He escaped with a more serious injury, a two-year suspended sentence. But, as we now know, the trouble did not stop there for him, on the contrary.
Becker: "I'm just another person"
For nearly 15 years, Becker and Graf traveled together in the tennis caravan that traveled across continents and time zones. They played side by side in the biggest tournaments, the Grand Slam glasses. Their balances, their achievements, their victories, their failures were compared again and again. In 1989, they both held their Wimbledon trophies at the mandatory Champions Dinner at the All England Lawn Tennis Club. The Becker / Graf double strike was one of the biggest German sporting moments, and the joint trophy picture is a historic document. But through it all, they never really got close, either emotionally or personally. When they first stood together on a tennis court at the turn of the year 1991/1992, at the Hopman Cup in Perth, Australia, the unofficial world championship in mixed, the togetherness seemed quite trying. Together, both star travel companies did nothing in the metropolis of the Indian Ocean.
Becker was always accused of Graf just like Graf, the countryman who was two years older than him. When Becker was asked about the 22-time Grand Slam winner, who lived far from home, for his 50th birthday, he reacted slightly angrily. It was simply impossible for him to "live like Steffi now in Las Vegas, away from it all," Becker said, "I'm just another person." completed one of his few public appearances. "I can not say anything about it, because I do not know what his life actually looks like," says Graf, "it's Boris' thing anyway.
Graf, the dominant player in her tennis era, simply disappeared from the public eye and from discussions after the final years of her career, which were marked by many injuries. She delivered no scandals. Nothing for variegated community papers to enjoy. When she occasionally visited her German homeland, only her closest friends found out. There was never any posing in the spotlight, only appointments related to her foundation work. Interviews with her became a rarity, even those about tennis. She does not watch much sport anymore, she said four years ago at a sponsorship deal in Paris, "I'm happy if I even get to the gym regularly."
Becker lawyer: "He is hopeless with money"
Becker was always far away from such a constant stream of life. Things have never calmed down for him since he also retired in 1999. Becker also wanted success in business, he threw himself into many projects, but also failed often enough as an "apprentice in needle stripes." His privacy was glaringly enlightened, his first divorce from his wife Barbara was watched by millions of people around the world in front of the TV screens, all broadcast live Miami. Becker continued to live in great style, appearing to have no cost control, alimony for ex-wives, and for his children from multiple marriages put together. His legal adviser Jonathan Laidlaw defended him in court in London, saying Becker was "hopeless" when it came to handling money.
During the big roller coaster ride of his life, Becker repeatedly flirted with the idea of ​​stepping back and wanted to "take it easy." But without attention, without attention, he simply could not do it, it is his eternal dilemma, he can not exist without a scene and drama. Even if it costs him dearly. "I live my life the way I want to. Not like others want me to do," Becker said more than once, adding that he once moved from Germany to London also had to do with the belief that he should be patronized. at home practically forever, preferably still be the flawless 17-year-old Bobbele.
He spent a lot of energy fighting the German wishful thinking about "what an idol should be like," Becker says. The fact that he lost himself in the process, that he was not willing to accept advice and competent help, was possibly the tragic turn of fate.