Felix Lobrecht talks about his everyday habits.Image: image alliance
In their joint podcast "Gemischtes Hack", comedian Felix Lobrecht and author Tommi Schmitt discuss the important and indifferent things from last week on Wednesday. They also philosophize about life and bizarre everyday situations and regularly make people laugh with their style. In the current episode, Lobrecht came up with a surprising confession about his everyday habits.
A "fetish" comes on the table (or on the couch)
At the end of the 181st episode, Lobrecht – as the name suggests – asked five quick questions in the "Five Quick Questions" section, both of which answered. This time it was about, among other things, what three things most people like to do in the company they prefer to do alone.
The two surprisingly agreed, which in turn raises the question of whether most people really like to do it in society. But enough with these questions. Lobrecht at least agreed with Tommi Schmitt's answer "Essen" and his comments.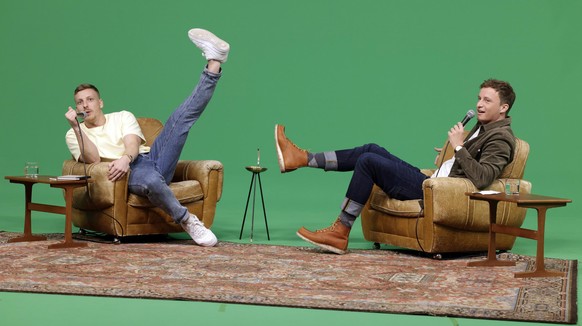 Felix Lobrecht and Tommi Schmitt also like to talk about private matters.Photo: WDR / Thomas Brill / –
Schmitt first gave a charming insight into his eating habits and described himself as a "pig". If he puts on a jogging suit and just "eats" and dips his pizza in sauces, he can live out his "fetish" without being looked at by others. Felix Lobrecht completely agreed with him. From time to time he also likes to eat in company. But: "I actually think I prefer to eat alone". The reasons: When you eat alone, nothing matters. He does not have to be considerate, can eat at his own pace and does not have to wait for everyone to start together.
Better spontaneous than playing sports together
The two also agreed on the next point: jogging. Lobrecht described jogging together as "annoying". "These are mostly start-up people who go on jogging in pairs and talk about some numbers," Lobrecht says. It is doubtful whether this cliché is true. But the two of them were primarily busy talking while jogging together, which was exhausting for them.
This applies not only to jogging, but also other sports. Lobrecht: "I prefer to go and pump alone". He used to train with a buddy, which was fun. But above all, the "organizational" speaks for training without training others. "I want to go when I go. I can not say today when I will train tomorrow."said Lobrecht.
As a reason, he gave his sleep rhythm, for example: If he sleeps well, he first goes to the gym around 11 o'clock. "If I sleep like shit, I'm there at 8:45 in front of John Reed." Reason enough for Lobrecht not to refer to anyone. Another advantage for the comedian: He can go home "completely exhausted" after training.
When romantic performances meet harsh reality
Showering is the closest thing they think others prefer to do in company. The truth of this dissertation can again be questioned – at least for most people. According to Lobrecht, most people feel this way:
"There's this idea where you take a shower, everything's wet, you have a hot girl or a hot guy, and then you imagine it's so hot. But it's super annoying."
Here the romantic performance apparently meets the harsh reality. Instead of enjoying this "big" situation, he just thinks, "Hey, get out of my beam, dude. I'm cold." Tommi Schmitt agreed with a laugh. And Felix Lobrecht admits, "I'm such an unromantic fast shower. In, shower, out, done."
(department)
It's almost a month ago that Oliver Pocher was publicly slapped in a boxing match between Felix Sturm and Istvan Szili in Dortmund's Westfalenhalle. The comedian has now reported his attacker, known under the artist name Fat Comedy, but before the case goes to court, the two are fighting their conflict online.