(Motorsport-Total.com) – First of two test days for the upcoming DTM season opener in Portimao – and who in the Hockenheim test is an Audi driver in front: Abt rookie Ricardo Feller, who also competed in the ADAC GT last weekend Masters won and set the day's best time of 1: 41,573.
Third official test day, third best time for Audi: Feller was fastest this time
zoom
Behind him, with small time gaps – 24 drivers were within a second – Bernhard Porsche driver Thomas Preining and Attempto Audi youngster Marius Zug, who was fast again, lined up.
The session started at 4 pm local time – one hour earlier than planned because the construction work proceeded quickly – on a fast-drying track and lasted until 10 pm. But at 21.04, despite comfortable temperatures of no more than 18 degrees, it was finally time to stop as Rosberg-Audi driver Dev Gore was the last to head for the pits.
"Driving at night does not help much"
"Driving at night does not do much good," says Grasser-Lamborghini driver Mirko Bortolotti. And one team leader wondered, "Why can't you do the setup work the night after the test?" Some teams had arrived without the so-called "endurance lights" and therefore had to leave shortly after 8 pm, as it was getting dark on the track, which does not have floodlights.
Only about a dozen riders then continued their laps on the Algarve roller coaster. "We drove at night to drive in a set of brakes, so we are well prepared for the weekend," said Schubert-BMW driver Philipp Eng when asked by Motorsport-Total.com how the time was spent.
---
Sebastien Loeb: Mr. Rally kicks off DTM!
Preview of the 2022 DTM season: Promoter Gerhard Berger is excited to see how the new superstar Sebastien Loeb will fare at his premiere. More DTM videos
"Otherwise, it would not have made much sense to keep driving in the ring, because we will never find these conditions here again, at least not this season in the DTM."
Loeb and Auer do not drive at all, Müller has to wait a long time
The busiest driver on Tuesday was Walkenhorst newcomer Esteban Muth with 78 laps. Rally superstar Sebastien Loeb, who only drives for AF Corse on Wednesday, and Winward Mercedes driver Lucas Auer were not behind the wheel at all.
According to information from 'Motorsport-Total.com', the Austrian is not completely fit and would take it easy, but is scheduled to play on Wednesday. Rosberg-Audi driver Nico Müller was also in the pits for a long time. According to the team, his Audi R8 LMS GT3 Evo II had a problem with a transponder.
The Swiss had to wait until just after 7 pm before he even ran his first laps, but he still reached 37 laps.
What is the best Audi time worth?
Nevertheless, Müller was still number four in the dark, making sure that three Audis were among the top four in the end. And Zug, who already did not think much about the bluff for a favorable Balance of Performance (BoP) at Hockenheim, proved with a best time in the first sector, but this time drove early in the pit.
Is Audi so dominant, even though they used a constraint that is 1.5 millimeters smaller than the Hockenheim and therefore has less power? And are the Mercedes teams lagging behind because Luca Stolz, the best AMG driver, is only number 16, 0.594 seconds behind?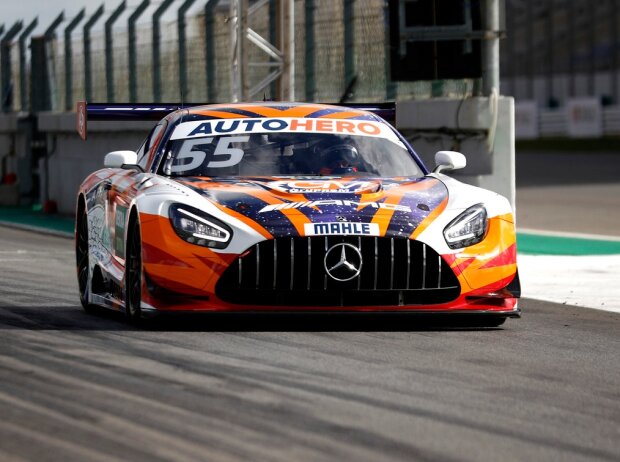 © Alexander Trienitz
Mikael Grenier's Mercedes was exhibited for the first time in the AMG anniversary design zoom
All this can be doubted, for again there are signs that no one has revealed their card. During the private test runs at the end of February, the DTM teams achieved lap times just above the 1:40 mark.
And according to the simulations from AVL, which is responsible for BoP, lap times in the upper 1:39 range are possible on weekends. The Austrians failed to check the weight of the cars on Tuesday and will not take more precise measurements until Wednesday.
Hawkeys Lamborghini without sponsor logos
What else did you notice? T3 Lamborghini driver Esmee Hawkey, who was absent from the Hockenheim test due to a presumed positive corona test, was actually in action in Portimao, suggesting she is also competing in the season.
In the last few weeks, there had been rumors that efforts would falter because sponsor ROKiT did not pay. Interestingly, Hawkey's car in Portimao was completely black and lacked sponsor logos, suggesting that there is some truth in the speculation.
Green in the third HRT Mercedes
But the HRT team surprised with a third Mercedes-AMG GT3 in the pit. At the wheel of the car, which had similar stickers as Arjun Maini's car, sat the British Ben Green, who received the test from the DTM umbrella organization ITR as a reward for winning the DTM Trophy championship.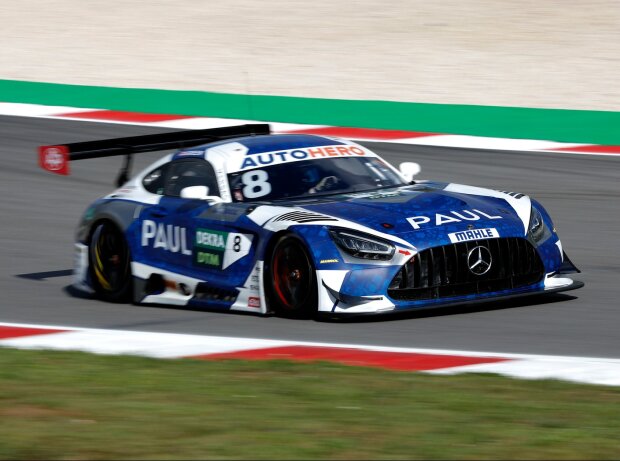 © Alexander Trienitz
Brit Ben Green redeemed his reward for winning the DTM Trophy title zoom
"I enjoyed every turn," he says on 'DTM.com'. "After a technical defect we had to stop a little earlier than planned, now I'm looking forward to Wednesday where I can attack with new tires," said Green, who drives the Schubert-BMW in the ADAC GT Masters this season.
And there were also surprises from the other Mercedes-AMG teams: David Schumacher showed up for the first time with his new Ravenol decals, which until now have only been known from the design graphics, while GruppeM rookie Mikael Grenier made his debut and for the first time time with Affalterbach-Design was on the move on the occasion of AMG's 55th anniversary.
The result of the DTM test in Portimao on Tuesday:
1. Ricardo Feller (Abt-Audi) 1: 41,573 (70 laps)
2. Thomas Preining (Bernhard Porsche) 1: 41,658 (66)
Marius Zug (Attempto-Audi) 1: 41,757 (68)
4. Nico Müller (Rosberg-Audi) 1: 41,882 (37)
5. Sheldon van der Linde (Schubert-BMW) 1: 41,919 (53)
6. Philipp Eng (Schubert-BMW) 1: 41,933 (61)
7. Nicki Thiim (T3 Lamborghini) 1: 41,940 (54)
Marco Wittmann (Walkenhorst-BMW) 1: 41,947 (59)
9. Mirko Bortolotti (Grasser-Lamborghini) 1: 41,976 (56)
10. Rene Rast (Abt-Audi) 1: 41,994 (58)
11. Esteban Muth (Walkenhorst-BMW) 1: 42.020 (78)
12. Clemens Schmid (Grasser-Lamborghini) 1: 42.054 (66)
13. Kelvin van der Linde (Abt-Audi) 1: 42.045 (62)
14. Laurens Vanthoor (SSR Porsche) 1: 42.054 (61)
15. Dennis Olsen (SSR Porsche) 1: 42.068 (57)
Luca Stolz (HRT Mercedes) 1: 42.167 (44)
17. Felipe Fraga (AF-Corse-Ferrari) 1: 42.172 (71)
18. Dev Gore (Rosberg-Audi) 1: 42.280 (58)
19. Arjun Maini (HRT Mercedes) 1: 42.338 (42)
20. Rolf Ineichen (Grasser-Lamborghini) 1: 42.433 (54)
21. Maro Engel (Group M-Mercedes) 1: 42,456 (75)
22. Maximilian Götz (Winward-Mercedes) 1: 42.466 (47)
23. Nick Cassidy (AF Corse Ferrari) 1: 42.513 (73)
24. Mikael Grenier (Group M-Mercedes) 1: 42.535 (57)
25. Maximilian Buhk (Mücke-Mercedes) 1: 42.824 (35)
26. David Schumacher (Winward Mercedes) 1: 43.320 (50)
27. Esmee Hawkey (T3 Lamborghini) 1: 43.751 (39)
28. Ben Green (HRT Mercedes) 1: 43.789 (35)
29. Alessio Deledda (Grasser-Lamborghini) 1: 43.957 (55)
Not driven: Lucas Auer (Winward-Mercedes)