Usually, the Hamburg district around the Reeperbahn does not come alive until the evening. Lately, a lot has happened along the "sinful mile" even during the day: A special kind of gym has moved into the "Hamburger Ding" office complex. "United Cyber ​​Spaces" (UCS) is not about building muscle or the fastest way to an ideal weight. Instead, it's all about responsiveness, concentration, teamwork and strategic thinking. UCS is a gym for gamers where visitors can work on their computer gaming skills with professional support. The concept is so far unique in Germany: "We want to make eSports tangible in Germany. Everyone should be able to come to us to experience eSports, "explains Sebastian Lampe, project manager at UCS.
Paradise for e-sportsmen
Therefore, the equipment and atmosphere differ from conventional gyms: the rooms are bathed in dim light and there are plenty of gaming PCs at long tables. Teams can retreat to separate areas, have quiet discussions there and train together. It goes without saying that you do not even have to leave "Spaces" to eat or drink. Players can relax in lounge corners with drinks and small snacks. Anyone who is a member can go to a match or a tournament every day from 11 a.m. to 8 p.m. on one of the 60 training grounds. Coaches provide support, sometimes in individual sessions, sometimes in a group. And the course instructors, as experienced sports players, know exactly what they are talking about – some of them are still active in the professional scene. The offer is explicitly aimed at anyone who likes eSports. It does not matter if you are a beginner, experienced or professional graduate – everyone is welcome. Much thought has been given to female offspring: United Cyber ​​Spaces explicitly wants to promote female gamers (not only), who therefore also have female coaches at their disposal. In addition to the eSports courses for all age groups, there are also tournaments where eSports players compete against each other individually or in teams. In addition, the first-person shooters "Counter-Strike – Global Offensive" and "Valorant" as well as the multiplayer role-playing game "League of Legends" are trained and played. Other games such as the co-op survival shooter "Fortnite" and the crazy auto ball game "Rocket League" are under preparation.
Seniors for the joystick!
Age does not matter either, on the contrary: UCS has also discovered seniors as a target group. At special "Golden Gaming" courses, seniors are introduced to computer games. Because games are not only fun, they can also maintain the ability to concentrate and respond, especially in seniors. "Because we also wanted to build bridges between the generations, the idea arose of giving older people special access to their grandchildren through games," says Sebastian Lampe. The Golden Gaming, which UCS offers in collaboration with the rehabilitation center at a nearby endoclinic, has been well received – the oldest participant to date was 77 years old.
And what does the fun cost?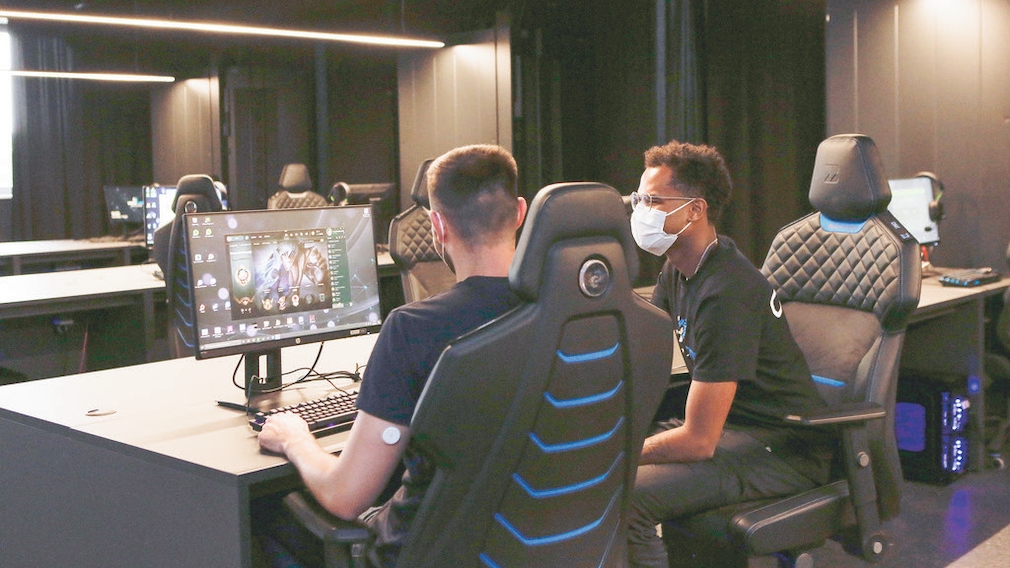 Of course, not everything is free. As in a classic gym, visitors must be members of United Cyber ​​Spaces. There are three memberships to choose from: The basic price of 25 EUR per. month includes two group training sessions, three training sessions for 30 EUR and four training sessions for 40 EUR. In addition, members receive discounts on entry fees to tournaments and other gaming events. They also get free access to the Discord chat and video conferencing service, specially designed for computer gamers. Those interested can visit UCS for 30 days for free and only then decide to become a member.
Protection of minors included
All of this, of course, sounds very tempting to young people who may not be allowed to play all the matches at home and therefore prefer to hang out at UCS all day. But kids and teens must not just play all the games they want there. According to the operators, they strictly ensure that only players with the minimum age required for the respective game get the game of their choice on the screen. In addition, UCS organizes parent evenings, where not only the games are presented, but also questions about the hobby eSports are answered.