Every year, new and well-known trends emerge in the fitness market. These are the hottest workouts in 2022
New year, new motivation: Have you decided to finally get in shape this year, but have not yet found the right sport for you? Or do you just want to try something new and always want to be up to date with small talk with your sporty colleagues?
Incidentally, maintaining variation in training is one of the keys to long-term motivation. Trying new things really helps in making the sporting decisions this time. Here are our 6 sports trends that will seriously go through the roof in 2022, just in time. You can find even more tips on how to motivate yourself to exercise more in everyday life here.
Corona had a strong impact on the 2021 sports year and this development will continue in 2022 despite easing. Home and outdoor gyms have become solidly established in the training routine of many athletes. Nevertheless, we are drawn back to the gyms. These are the hottest workouts in 2022 that you should definitely try:
1. Padel
Do you like ball sports and love to duel with your friends? Then off to paddle tennis! This trend from Spain is a mix of tennis and squash and is a lot of fun.
You play paddle with four people, ie in doubles against each other. The rackets have a perforated racket surface instead of a string. And the game is played in a so-called paddle box: a mini-tennis court surrounded by plexiglass windows. In certain game situations, you can play with gangs, which makes the game particularly fast and challenging. Padel is not only a lot of fun, it also trains coordination and trains strength, endurance and feeling for the ball. There are more and more of these kind of paddle boxes in German cities where you can usually rent rackets and balls. You can play paddle indoors and outdoors. Best of all, everyone can play. Once the rules have been internalized, you will quickly get to grips with it and can play the first rallies. The German Tennis Federation provides an overview of where paddle boxes can be found in Germany. In addition to regular sportswear and simple sneakers, you will need a racket and balls for paddle tennis. If you do not want to be dependent on rental equipment, you can get your own racket:
2. Trail running
Outdoor sports are more popular than ever, especially trail running. This is nothing more than running in nature and bringing a little new energy to your usual run in the park. Trail runs offer brand new attractions: natural underground, no traffic. The routes are sometimes narrow, winding and intricate, more often they are demanding with a height of one or two meters. NOTE: Normal running shoes are often not sufficient depending on the surface. It's worth investing in a pair of trail running shoes, our tip: Salomon Speedcross 4 Gore-Tex.
The muscles in the legs, torso and buttocks are trained, fat metabolism is activated, endurance is improved and the immune system is strengthened. Uneven surfaces also stress and strengthen intramuscular coordination. Trail running is an optimal workout for the whole body.
Outdoor activities will continue to be very popular in 2022, according to a study by the Health & Fitness Journal. Then get out there, away from the streets and out into nature. Here we show you why trail running is so effective.
By the way: Our training plan improves your fitness and makes you a runner:
your training plan
training plan
Schedule for fitness athletes in 8 weeks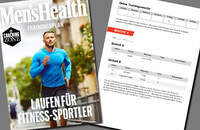 training plan
Endurance for strength athletes
goal-oriented mix of endurance races and HIIT units
only need 2 running sessions per week
available on all devices
You want more? All plans are here
Already a customer? So log in here.
After successful payment, you will receive an email with a download link. If you have questions, send a message to [email protected]
3. Indoor cycling
Indoor cycling like Peloton has triggered a real hype and has shown that cycling also works at home. Exercising on the bike really makes you sweat, whether you are alone at home or in a group in the gym, for example with spinning. Do you want to put your own bike in the living room? Here we have selected cheap alternatives to the Peloton bike for you.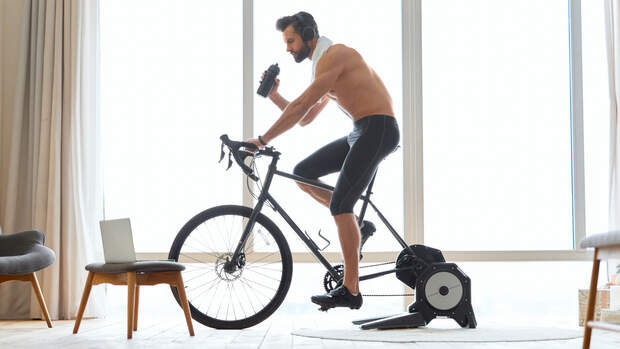 Do you already have your own racing bike at home? A roller trainer allows you to train with your road bike in your own four walls. Change your cycling training indoors, and simply decide for yourself when and how to step on the pedals. Virtual training apps even simulate gradients and let you run fictitious routes of your choice on screen. And that brings us to the next fitness trend in 2022.
4. Virtual sports
The study in the Health & Fitness Journal of the American College of Sports Medicine predicts a further increase in demand for technology-oriented fitness tools for the 2022 fitness year. According to the study, the effects of the corona pandemic are particularly noticeable here. Many people want to play sports anytime, anywhere, especially at home. Fitness "on demand" and digital, the supply of online courses is increasing. Sports equipment and apps that connect you virtually with other athletes, such as Zwift or Strava, are also very trendy.
5. Boutique Studios
Boutique studios are typically small studios that focus on one or two core offerings. It can be Pilates, Yoga, Cycling or CrossFit. You like clear routines, but membership in a classic gym is out of the question for you? So look around for boutique studios in your area. As in the US, the supply of small sports clubs is now increasing. Such clubs are often much more personal than large fitness chains and usually offer more individual support from coaches tailored to your needs. An example of a well-established boutique concept that you have probably heard of is the EMS training chain Bodystreet. Other newer concepts are Urban Hereos or Barry's Bootcamp, which offers HIIT courses in a club atmosphere. Special indoor cycling studios are also on the rise, such as the Hicycle in Hamburg.
6. Mix sports
As the example of paddle tennis shows, sports that combine two disciplines are very popular. The best of both sports are combined into a new variant so that more and more trends are emerging, such as piloxing: a combination of pilates and boxing, or SUP yoga: stand-up paddling combined with yoga. Here, a relaxation part is often added to a sport, for example through yoga or pilates. The sports provider Urban Sports Club has analyzed its members' training behavior and states: "Wellness comes into focus as a relaxing balance, and variation, mix and multisport are more in demand than ever. Against this background, combinations such as Piloxing, HILIT or Crossminton More and more popular. " HILIT comes from "High Intensity – Low Impact Training" and combines high-intensity training with more relaxed units from yoga or aerobics. Crossminton combines elements of tennis, squash and badminton.
Start the new year superfit and try the new trends in the sports market. Here is something for everyone.
Sources: Health & Fitness Journal – American College of Sports Medicine
This article may contain links to providers from whom MEN'S HEALTH receives commission. These links are marked with the following icon: