With over 1,200 training areas spread over two floors, you can now train at PRIME TIME fitness on Maximilianstrasse. One of tonight's star guests: the legendary pioneer in the fitness and health industry Albert Busek (Schwarzenegger-discoverer!). Of course, we asked how Munich actually trains and how to overcome their weaker selves !!
Sophisticated devices as well as milon circle now offers a new type of full-body workout in the new Prime Time Fitness Court on Maximilianstraße. The focus of the new study is on fat burning training, TRX bands, weights, ropes and more. But PRIME TIME fitness is more than just equipment in one room. An entire staff of personal trainers helps members achieve their personal goals with individually tailored training programs.
Tips from fitness and health guru Jennifer Wade
You can not tell her 71 years! 'The most important thing when it comes to cardio training is not only the hard training but the regularity plus a healthy diet!'
Sky Sports presenter Sylvia Walkerwho moderated the evening, stays in shape privately with spinning and TRX training.
Anna Maria Kaufman sticks to her daily, specially composed fitness program consisting of dance, stretching and yoga, but for a transition, she will soon have to try out the cardio program.
If actor, environmental activist and author Hannes Jaenicke When he is not rescuing orangutans, polar bears or sharks, or standing in front of the camera, he prefers to work out in the gym in the winter because it is effective and fast. In the summer it's back to surfing.
About the creators of Prime Time Fitness
The creators of Prime Time fitness Henrik Gockel and Barbara Lohse not only give Munich fitness enthusiasts a new home. Henrik Gockel is himself a teacher and lecturer at the German University of Prevention and Health (DHfPG). Henrik Gockel received the European Club Leadership Award 2018 for his services in prevention and health International Health, Racquet & Sportsclub Association, excellent. Henrik's sister is fashion designer Anja Gockel, who flew into Munich fresh from Fashion Week Berlin. The power woman stays in shape with personal training with her brother in Prime Time Fitness the main tower, the highest fitness center in Europe.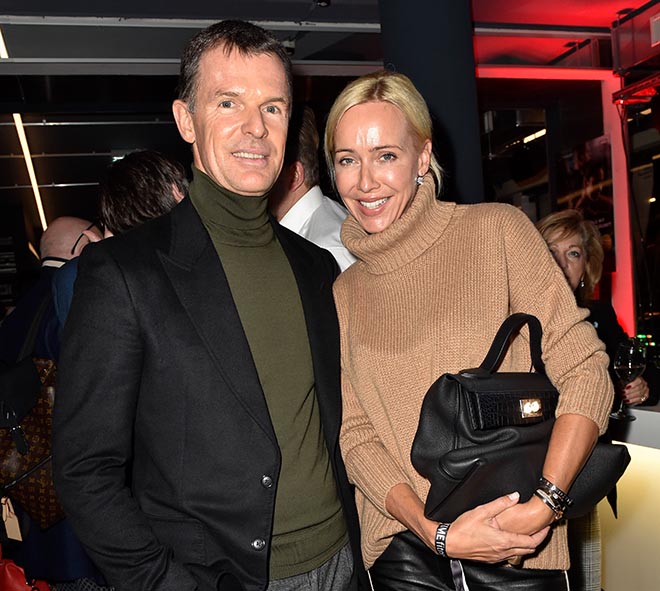 Entrepreneurs and race drivers could also shine Hubert Hauptwho came with his wife Stefanie because he just won it for the 3rd time 24 hour Dubai Auto Race. He brought a very special gift to the opening: his very latest circuit training device from his fitness brand milon. Unfortunately, his private health club (founded in 2012) with a million circle in Domagkstrasse no longer exists!
Culinarily spoiled Neighbor Gabriel Levy with delicious pizza slices from Roma and from the winter grill station, there were the revolutionary Grillido sausages, low-fat, high-protein or vegetarian. At the bars, you could choose between innovative energy and sports drinks from Lifestyle Drinks or the popular premium Tequila Padra Azul from the star lawyer and entrepreneur Patrick Knapp Schwarzenegger, who is already looking forward to the Hahnenkamm race.
More Prime Time Fitness guests
The Kempinski director was also curious about the new neighbors Holger Schroth. Hermès chef Hoda BoumanjalP1 chef Sebastian Geller. Schörghuber consultant Robert Salzl. had traveled extra Armin Pfurtscheller (owner of the luxurious hideaway Jagdhof in Stubaital), who donated a luxury stay to the draw. Moreover Moritz von Crailsheim and Margarita Cittadini-Leinfelder and more In May The Russian national football team on Henrik Gockel the training camp.
NEW: PRIME TIME FITNESS at home
These free fitness sessions can now also be used by non-members as an additional service and for free without registration or obligation – In this extraordinary situation, Prime Time fitness now offers this as an extra service to all those who stayed at home. The sessions are structured in such a way that everyone, regardless of fitness level, can participate! Live daily, but also available at a later date, there are certainly no more excuses for those who do not like sports.
https://www.youtube.com/user/primetimefitnesstv