Training is good. This also applies to patients with the lung disease COPD. But some avoid physical activity for fear of shortness of breath. Conservation is the wrong approach.
Especially since the shortness of breath in COPD patients is not only due to the restricted function of the chronically narrowed lungs, but also that the body is not trained enough. Everyday activities like shopping or going to the café can trigger shortness of breath. To prevent it from getting there, there is the so-called lung sport.
Adjust the breathing to the load
It has many facets. "It is important to first be individually instructed by professionals," says Fürth Lung Specialist Prof. Heinrich Worth. He chairs the working group on lung sports. The purpose of the special training is to improve the coordination of muscles, ligaments and joints.
Among other things, you practice adapting your breathing to the physical exertion. "For example, you learn to breathe when you go up stairs or carry loads," Worth says. In addition, it is about maintaining the strength and mobility of the breast – it allows the patient to cough better.
"Physical training is in focus," says Prof. Adrian Gillissen, director of the department of internal medicine and pneumology at the Ermstal clinic in Bad Urach near Reutlingen.
About how lung sports training works
The training in lung sports groups, which are found in many places, is adapted to the participants' degree of illness. It takes about 60 to 90 minutes.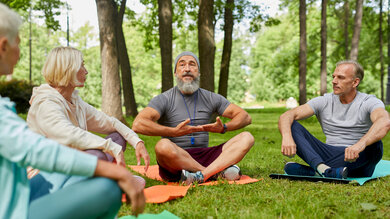 The group training begins with a warm-up phase. Then strength, endurance and coordination are trained. Some trainers also offer breathing and relaxation techniques. However, these can and should not completely replace the exercises performed by respiratory therapists.
Incidentally, it is not only COPD patients who benefit from lung training. Exercise is also beneficial for patients with bronchial asthma, pulmonary fibrosis, cystic fibrosis or lung cancer.
Training from home is also possible
Lung sports groups usually meet once a week. "Patients can also exercise at home if their state of health allows it and if they feel like it," says Gillissen, vice president of the German Lung Foundation.
The Lung Sports Working Group, for example, offers a lung sports unit once a week on the Internet that patients can sign up for. The virtual training takes place at your own risk. AG also provides online training videos that can be viewed at any time.
Continuity is important. "It's not about constantly achieving new top performance, but about regular physical activity," says Worth. This is often more motivating in a group than alone. The coach also helps if problems suddenly arise. This is not possible at home.
Be prepared for emergencies
"Even relatively little physical activity a day results in a huge health boost for lung patients – if they are performed regularly," says Gilissen. Anyone who practices lung training alone at home or outside in the park or anywhere outdoors should know their limits and not exceed them.
At home or out in the park, it can be difficult to get help or even recognize an emergency, says Gilissen.
Asthma or COPD patients who exercise alone should always have an on-demand spray on hand. It is also useful if you have a current doctor's letter or at least a list of medicines with you, so that an emergency doctor can quickly get an overview of the medical history.
Gillissen advises patients who achieve less than 50 percent of their overall goal performance – this value is determined by a physician – not to exercise alone. They are better placed in outpatient rehabilitation sports groups with specially trained coaches.
What applies in Corona times?
"Lung sports groups can usually meet again without further ado at the moment," Worth says. It is important at such meetings that everyone wears a mask (except during exercises) and keeps their distance.
Changing clothes together, for example, is currently not possible due to the pandemic, Worth says. This means that group participants often have to show up for training already wearing sportswear.
"Some lung sports groups also meet virtually," says Gillissen, "so members can do their exercises online at home with guidance."
Medical check important
Before participating in lung sports, a doctor must certify that the patient is suitable for it. Concomitant diseases must also be taken into account. COPD patients often also have coronary heart disease, for example due to decades of cigarette smoking.
"Signs of ischemia in the ECG, that is, signs of decreased blood flow in the heart, or threatening arrhythmias during exercise are, of course, exclusion criteria," says Gillissen.
But if the doctor gives the green light to participate in lung sports, according to Worth: "Exercise always leads to a plus in the patient's quality of life."