fitness games
With these cool fitness games you can burn calories in a playful way
Just in time for early spring, temperatures rise and the sun appears more and more often. What's better than spending the day with friends in the park? But instead of just lying lazily on the picnic rug, there are now these active and fun fitness games. Whether you prefer an active day of rest or a full body workout, there is a game for you. And should dark clouds suddenly appear in the sky, you can simply move your exercise program to the living room. Because we have also selected fantastic games for you.
Fitness Games: Get in shape
It does not matter if it is as a couple or in a larger group, playing sports in a playful way is a nice break from everyday life that makes you feel lighter. The games combine exercise with fun and good company with friends, even if your group of friends does not train. Then grab your favorite teammates, a cool drink and a few snacks in between – and off you go!
1. Viking Chess: the classic game for the park
Order here: viking chess
Viking Chess, actually called 'kubb', is an outdoor game that does not require you to be particularly athletic. However, it is an advantage to be able to throw well. You can play the game with 2-12 players, with two groups. The purpose of the outdoor game is to first overthrow the "servants" in the opposite group and then the "king" with throwing sticks. It can take up to two hours depending on the strength of the players. The playing equipment includes a wooden king, ten wooden workers, six throwing sticks and boundary sticks to mark the playing field. It all comes in a weatherproof carrying case. In the game you are not only constantly on your feet, you also have to bend down often to reassemble the sticks. A great workout for buttocks, legs and lower back. Tip: You should make a burpee every time you bend down so that you also train your whole body and get going in the cycle.
Slackline: balancing and training the muscles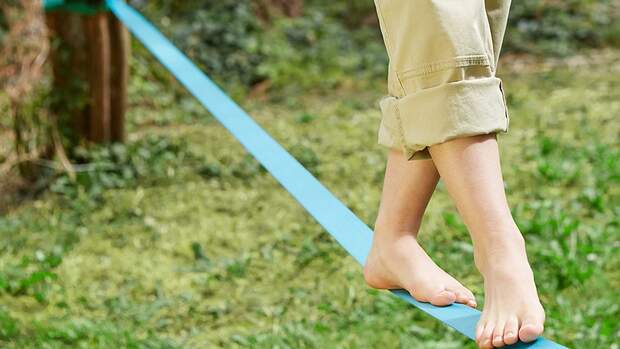 Order here: Complete slackline set with slackline, wood protection, helper rope and carrying case
Slacklining is the perfect leisure activity on mild spring days that will improve your balance. Balancing on the belt, on the one hand, trains your concentration, coordination and sense of balance, and on the other hand, relaxation improves the body's tension and strengthens your muscles. Among other things, arm, leg, buttocks, back and abdominal muscles are trained. Whether you are an experienced "tightrope walker", a sporty climber or a slackline novice – balancing on the line is suitable for anyone who enjoys improving their skills. Once you have mastered it, you can also add jumps and spins. So it never gets boring and there are always more movements to learn. Slacklining in the fresh air is therefore a good balance for everyday working life, which is fun and exercise alone, but also in a group.
3. Crossminton: Badminton without nets

Order here: Crossminton set consisting of 2 rackets, balls, a bag and other equipment
Crossminton is like badminton, but without nets and with rackets that are more like squash rackets. The badminton gets a lot of power from the racket, which makes the game faster. The game may be simple, but it keeps you on your toes and puts your fitness to the test. Speed ​​and a good gut feeling give you a big advantage in Crossminton. A small incentive: Crossminton can burn about 600 kilocalories per hour. You can play the game in pairs against each other. A game set traditionally ends with 16 points. Points are scored when the serve misses, the "accelerator" (ball) lands off the court or is hit twice in a row.
4. Roundnet: the fun sporting highlight of the summer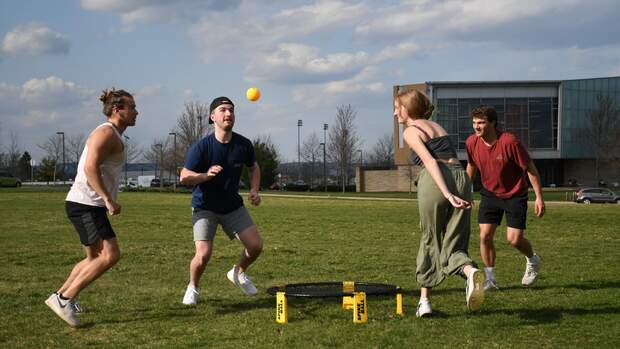 Order here: Rashball around net set consisting of net, two balls, a bag and other equipment
Parks can no longer be imagined without them: the little trampoline that people meander around. What looks confusing is actually quite simple: You have to try to hit the ball on the net in such a way that the other team cannot return the ball. Similar to volleyball, only on a smaller scale. Here, too, you have the advantage that everyone can participate anywhere. All you need is a flat surface, grass or sand would be perfect. Also with Roundnet you waste calories again without really noticing it. Jump, hit, kneel and stand up, the movement sequences on Roundnet are varied and train several muscle groups. Curious? So take three other players and invest in your first set together.
5. Survivor Challenge: the fitness card game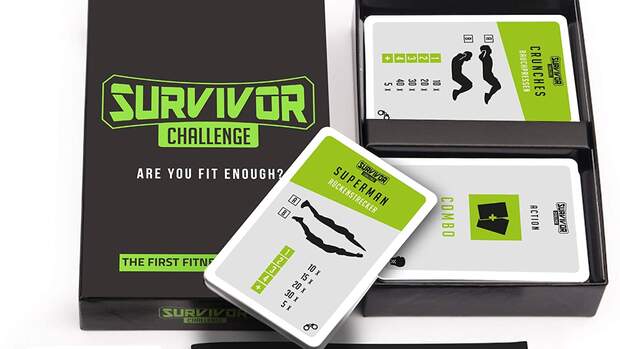 order here: The Survivor Challenge, the fitness card game
Survivor Challenge is a strategic fitness card game that has nothing to do with a casual picnic. Challenge your opponents with tough fitness challenges. Whether push-ups, plank variations, sit-ups or squats – with Survivor Challenge you train all your muscles. Pin your friends with the demanding training exercises, share the excitement with them and be up close while everyone in the group pushes their boundaries until the winner is finally chosen. Everyone can take part in the Survivor Challenge – whether it's a man, a woman, a couch potato or a thoroughbred athlete. Choose from four different levels of difficulty and let yourself be carried away by the group. The game is conveniently packed in a small box and requires no extra equipment.
Fitness games for console
There are some fitness games for the Nintendo Switch that will get you started. While playing, you sweat and burn some calories. We have selected our 2 top games for you.
6. Call Fit Adventure: the fitness adventure at home
Order here: Call Fit Adventure for the Nintendo Switch
With Ring Fit Adventure, your movements are transferred to the game through a leg strap and a rubber ring, Ring-Con. Ring Fit is a kind of role-playing game where you defeat opponents and develop your character by doing squats, yoga poses or sit-ups. In addition, there are also predefined and customizable training programs without role-playing elements. How to train your whole body. Thanks to different settings of the exercises, the program can be adapted to your needs. With additional practice, you can alternately compete against your friends and family members for the highest score.
7. Fitness Boxing: Boxing in time with pop hits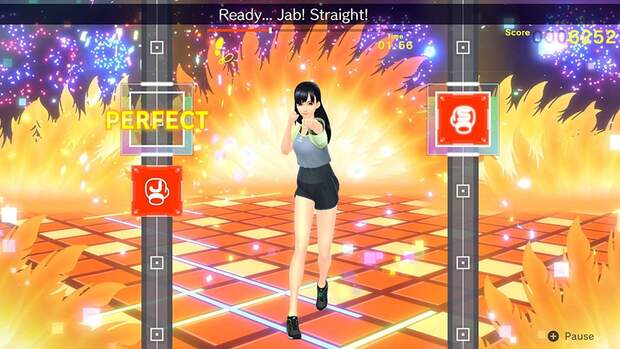 Order here: Fitness Boxing for Nintendo Switch
With fitness boxing, you get a digital trainer by your side, and as the name suggests, you need to box in the air. Instrumental versions of well-known pop songs are available for this purpose, which you can work your way through your training. You learn different combinations, train in two-player mode or compete for points in rival matches. In fitness boxing, you train your whole body, but the main focus is on the arms. Because you can set the speed and duration yourself, the training can be adapted to your needs. The game is suitable for an active rest day, but also as cardio training.
Spring time is park time. But instead of just lying on the rug, grab one of these games and get started. Bad weather? No problem! Some games can also be played at home if there is enough space. Otherwise, try a fitness game for the console.
This article may contain links to providers from whom MEN'S HEALTH receives commission. These links are marked with the following icon: