There are many reasons to move your workout into your own four walls – whether it's laziness, to save time and money, or to play sports more flexibly. The training instructions come easily via video from tablet, smartphone or television. The Apple Fitness Plus subscription service is ideal for owners of an Apple Watch 3 (and later). It provides videos for various sports including spinning, cardio, yoga and dancing. So far, however, the service has only been available in English-speaking countries. This changes immediately because the manufacturer rolled out the program to other countries on November 3, 2021, including Germany.
Apple Fitness Plus now in Germany
Apple has been offering Fitness Plus in English-speaking countries since the end of 2020. In a press release, the manufacturer announced the start of November 3, 2021 in other regions, i.a. Germany. Apple relies on English-language videos with subtitles, also in German. The service is now also available in these countries:
Brazil
France
Indonesia
Italy
Colombia
Malaysia
Mexico
Austria
Portugal
Russia
Saudi Arabia
Switzerland
Spain
United Arab Emirates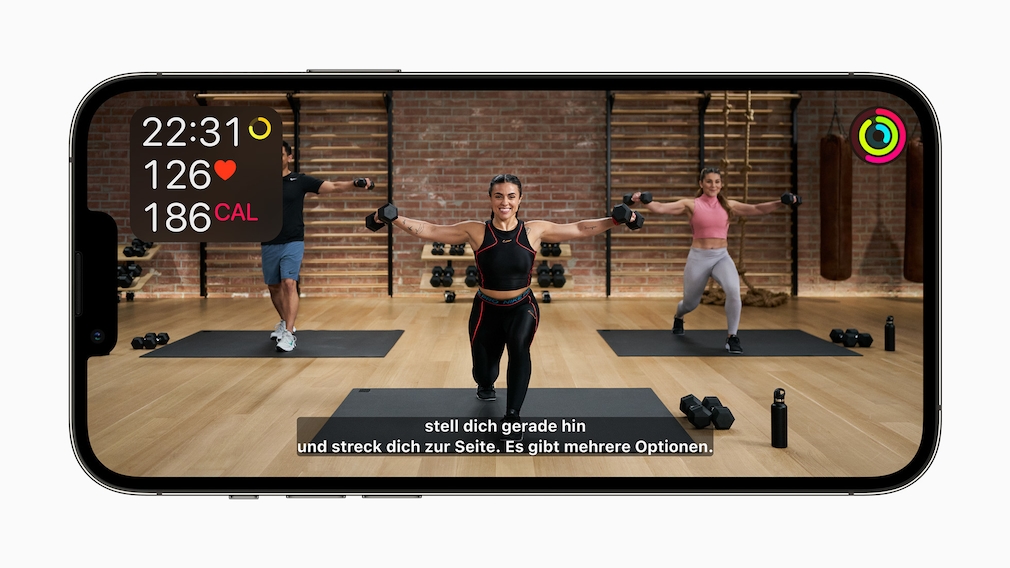 That's what Fitness Plus offers
Fitness Plus consists of training videos that are between five and 45 minutes long and have different levels of difficulty. These can be emphasized via Apple Music with music tracks to your liking, and you can also determine the duration of the workout yourself. There is different types of training ready: high-intensity interval training (HIIT), strength, yoga, dance, core, cycling, Pilates, meditation, treadmill (for running and walking), rowing and "mindful cooldown". According to Apple, new training sessions are added every week. For example, there is a program specifically to prepare for winter sports alongside two-time Olympic gold medalist and five-time world ski champion Ted Ligety. The Time to go feature is a kind of hiking podcast where celebrities "from all over the world" share stories. We tried Apple Fitness Plus.
SharePlay: Use Fitness Plus with others
Apple added a group training feature. It works like this: You start yours Training via SharePlay with up to 32 people at the same time train together – and compete against each other if you wish. With FaceTime it is possible to see the others do it. The group function started on October 25, 2021 in all countries where Fitness Plus is available.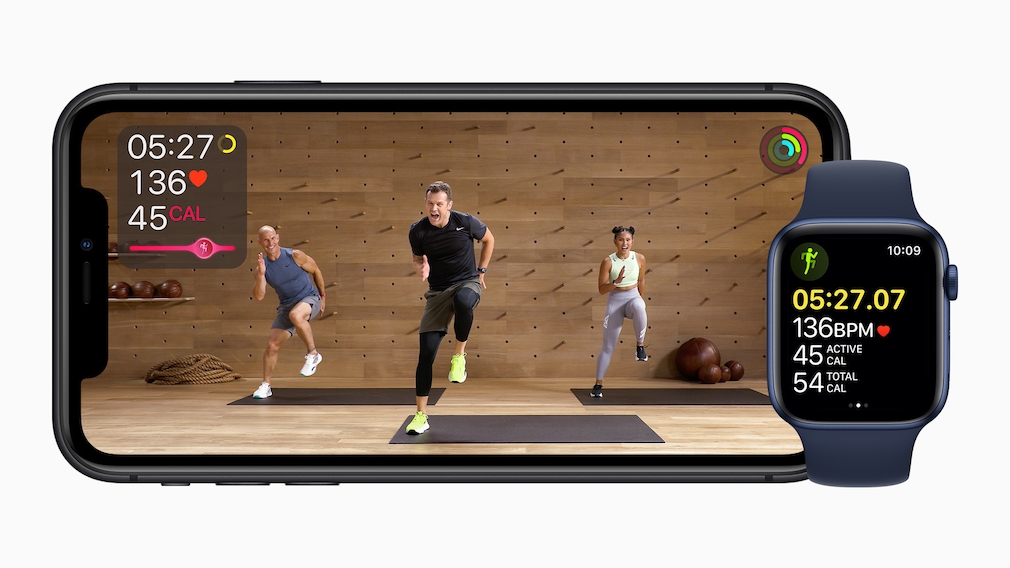 Compatible devices: Apple technology only
The videos run on the following Apple devices: Apple TV (4K, HD), iPhone (from 6S) or iPad (from iPadOS 14.3). An Apple Watch is a must. This transfers your workout data (heart rate and calories burned) to the screen during your workout. Fitness Plus does not (yet) run on Mac.
Price of Apple Fitness Plus: That's what the service costs
The Fitness Plus subscription can either be booked individually or in a package called Apple One in the "Premium" variant. Both versions can be shared with up to six family members via Family Sharing, provided they also have a compatible Apple Watch. Apple One Premium is a new version of the complete package and includes in addition to the Fitness Plus streaming services Apple Music and Apple TV Plus as well as 2 terabytes of iCloud storage space and the Apple Arcade game subscription. Apple One is also available as an individual and family version, but without Fitness Plus. Only the new variant Apple One Premium offers all Apple services included FitnessPlus.
Apple Fitness Plus: 9.99 euros per month or 79.99 euros per year
Apple One Premium: 28.95 euros per month
Try Apple Fitness Plus for free
If you buy a new Apple Watch (whether you buy an Apple Watch 3, 4, 5, SE, 6 or Apple Watch 7), you even get three months free from the sports offer. Anyone who already owns an Apple Watch 3, 4, 5, 5 or SE can test Fitness Plus for free for one month. Important: At least one Apple Watch Series 3 is required to use Apple Fitness Plus.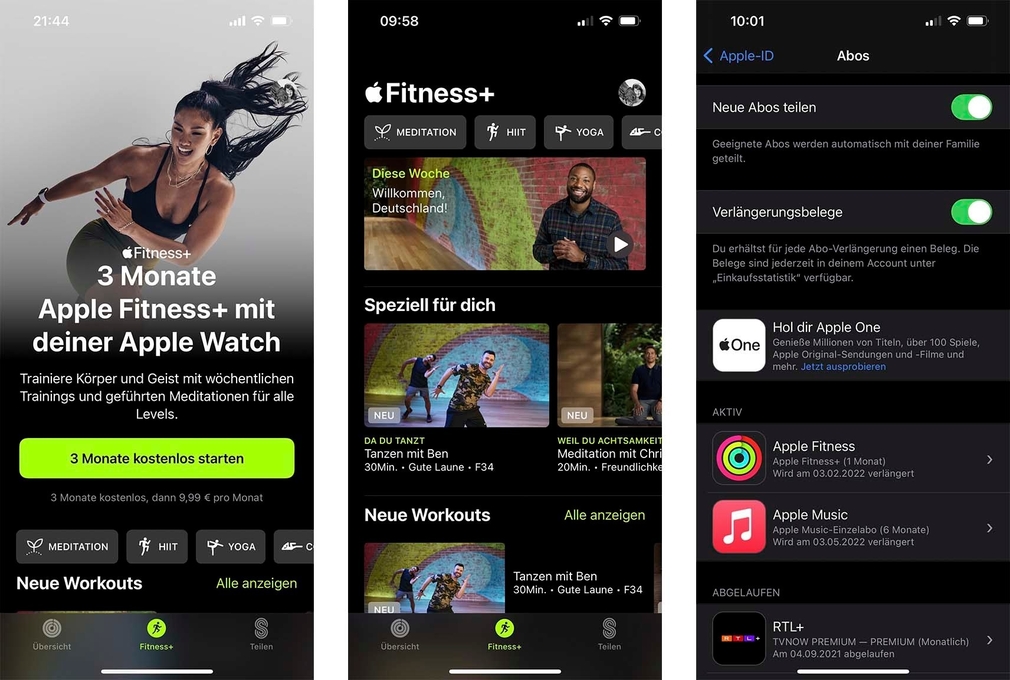 Book Apple Fitness Plus: How does it work?
To sign up for a Fitness Plus subscription, you must first update the iPhone software (at Settings, General, Software update) and Apple Watch (in the Watch app below In general, software update). Open the fitness app. If it's not already installed, do so via the App Store. In the new tab Fitness + you can subscribe to the offer. You only need to see the two menu items below overview and Share see, turn off iPhone and turn it on again once. The tab should then appear in the fitness app.
Cancel Fitness Plus again
The subscription can later be managed via the iPhone settings in the menu at the top, where your (account) name is. Tap your name and select subscriptions. To use Fitness Plus on iPad, you need to install the Fitness app from the App Store.