More than 1,100 trees in Berlin's streets and parks are lost each year. On the other hand, temperatures and the number of dangerous tropical nights are rising. Still, the Pankow district wants to have healthy trees felled – not for the first time. Seven poplars on a playground at Mauerpark must be removed. It's about much more than these seven trees: it's about how Pankow, like the whole of Berlin, is handling the climate crisis and protecting existing greens, so that Berlin remains a city worth living in the future.
But let's start from the beginning: Near the Moritzhof youth center, there are seven pops on an asphalt area designated as a playground. They could stand there and provide shade for well over 20 to 30 years. It will take time for trees to reach this size, and for their crowns to fully develop their climate protection effect. Better than any tree we plant is what we keep.
Road safety on the Mauerpark playground is not guaranteed
The roots of the poplars have thrown up in the ground and the safety of the playground has deteriorated. As a result, a basketball hoop had to be disassembled. Moreover, the poplars are literally in the way of a new path to be built in the future and to form the east-west connection between Prenzlauer Berg and Wedding. The passage over stone stairs is already used a lot, the residents have removed a line of a fence on their own to get faster to Gesundbrunnen station. From the authorities' point of view, this is not traffic safe either.
Also read: Because of the danger of terrorism: Pankow bollards the Mauerparken! The measure will cost Berlin half a million euros >>
As part of the redevelopment of the area, the playground on the site in addition to the path must be renewed. Children have requested a climbing parkour and water play. Hardly any resident wants the trees to be felled and replaced by young trees. Why should it not be possible to creatively integrate the existing events into a play landscape?
The experts' proposal for Green Berlin reads instead: The poplars should be replaced by much smaller, climate-resistant pillar games. Only then can the playground be renewed and paths laid out as planned.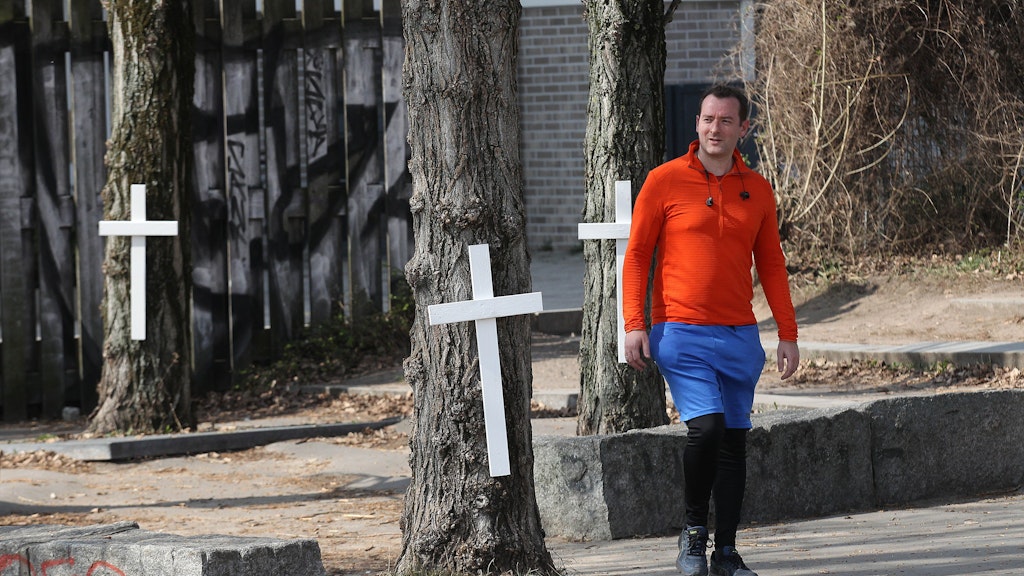 Poplar does not fit into the concept
Although the poplars are in good condition, they do not fit into the comprehensive new planning, for which there is only now Senate money from the "Future Urban Green" funding pool for the Grün Berlin Foundation. But not if the poplar's natural life cycle came to an end.
Because there must always be two options in decision papers, planners have decided on an "alternative" to replanting: If the poplars are to be preserved – as the local residents would like – they must be completely fenced to ensure traffic. security. Then "no use of playground and passage is possible," the newspaper states categorically. This opens up alternatives that are not, criticizes the association Friends of the Mauerpark eV and campaigns for other compromise solutions.
Read also: Artist action in Mauerpark: "Stop war!": With color against the war >>
The association had already managed to make compromises that take into account people and nature in the park. "At Falkplatz, for example, by documenting breeding grounds, he succeeded in convincing Grün Berlin to focus on nature and species conservation," says Alexander Puell, the association's chairman. Also in the northern Mauerpark, mature trees could be saved, clearing prevented, and a new path now leads past them in a different way.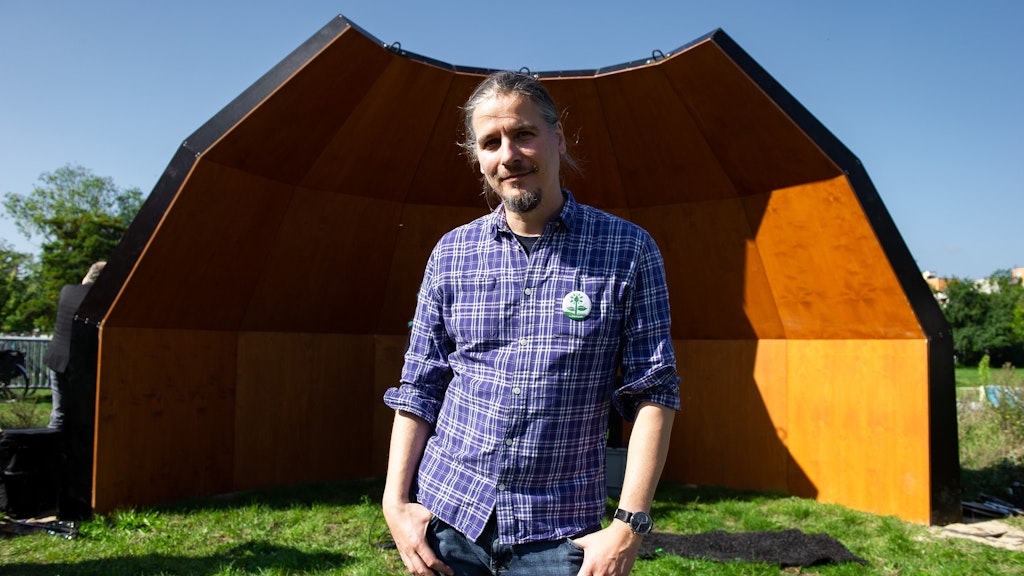 "Here, our constructive cooperation has had a positive effect: instead of a unilateral measure, synergies were found for better solutions," says Alexander Puell. In the current case, he criticizes the fact that Pankow's road and park department and the senate's department for environment and nature protection have no interest in a compromise solution for the poplars at Moritzhof.
Cut down or fence in – no ear for creative ideas
For them, there would only be deforestation or fencing. The interests of children who, according to the authorities, could not use the playground due to concerns about road safety, are played out against climate protection.
Read also: Pankow: free cut on the playground – Pauleparken behind the town hall center is redesigned >>
"Children also need fresh air to breathe, shade in the summer, climbing opportunities and nature to experience. And finally, climate protection must also help to ensure a world worth living in, not only for the present, but also for future generations. It is no coincidence that children and young people called their global initiative "Fridays for the Future", according to Mauerpark's friends in a letter to the responsible Pankow City Councilor, Manuela Anders-Granitzki.
Puell and his colleagues suggest building a bridge between the roots. A cool urban planning idea that is reminiscent of creative solutions from cities like Copenhagen and could create new, less boring examples in the urban space of Berlin.
Playgrounds in Berlin – unimaginative monotony
Is it not repeatedly criticized at school exams that children are less able to move? Perhaps it is also due to the sleek playground architecture that is the norm in Berlin, easy-care, maintenance-friendly, rootless, shadowless, bushy and unimaginative unit construction, which is practiced far too often.
Puell and his colleagues want to continue to promote an alternative that takes both interests into account. "The district office needs to take on more responsibility and can no longer hide behind arguments about responsibility and costs," says Alexander Puell.
If Berlin wants to be climate-friendly, child-friendly and modern, it must dare more than fencing or clearing. On Tuesday, BVV Pankow will take a position on the poplars in Mauerpark.