Apple Maps has received a major update and now offers new options in Germany. There are 60 points of interest in 3D, more detailed ground cover, improved navigation, Look Around for Munich, augmented reality pedestrian routes and more.
The new maps for Germany show buildings in 3D, parks, green areas, streets, airports, shopping malls and more with significantly more details and sights such as the Brandenburg Gate, Berlin's radio tower, the Elbphilharmonie in Hamburg or Neuschwanstein Castle in 3D. At the same time, areas highlighted with orange show busy streets, buildings and more, including shopping malls or urban areas.
The navigation has also been updated, including Siri announcing natural language instructions. Instead of "Turn left at 300 meters", Siri gives the command "Turn left at the next traffic light". Lane Assistant helps to avoid wrong turns and missing exits, just as the maximum speed limit is now displayed.
Furthermore, you can now also share the expected arrival time with family and friends, allowing you to follow the journey and any delays directly. It is also possible to report accidents, dangerous areas or speed cameras – just by Siri.
Look around for Munich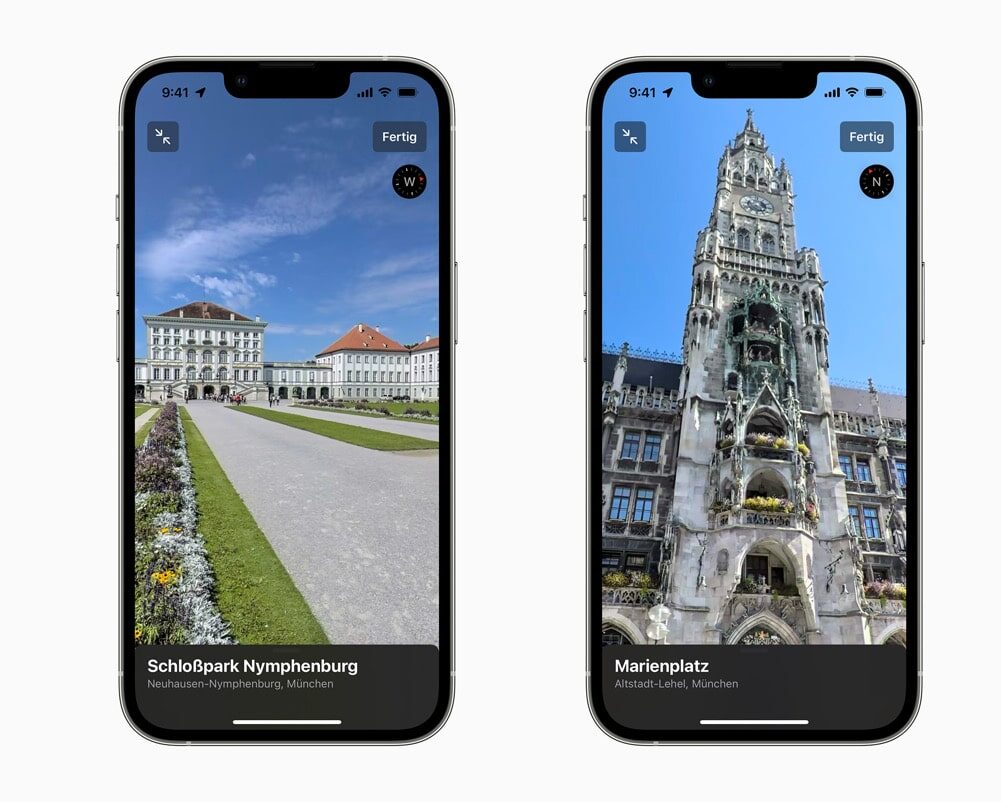 As the first German city, Munich can be experienced by everyone with Look Around. There are interactive street-level images with high-resolution 3D photography as well as a fluid and smooth depiction of major cities. At the same time, people and number plates were made unrecognizable. Anyone who wants to pixelate their house or find errors, for example, can report them via this website.
With the latest updates, Apple Maps introduces Augmented Reality Pedestrian Routes, which provide turn-by-turn directions in augmented reality for select German cities, including Berlin, Frankfurt, Hamburg, Cologne and Munich. You can simply lift your iPhone to scan surrounding buildings. Maps generate a very accurate location and provide detailed augmented reality directions that can be seen in the real world.
Additional features
Explore and navigate with a visually stunning 3D cityscape offering an unprecedented level of detail for neighborhoods, commercial areas, ports, buildings and more. From now on, users can see changes in city heights, new street details and custom landmarks in cities around the world, including London, Los Angeles, Montreal, Philadelphia, San Francisco, San Diego, Vancouver, Washington, DC and more.
ONE Interactive Globe, which opens up a whole new way of seeing the world.3 The three-dimensional globe shows the natural beauty of the earth with amazing structures and shapes. Users can see amazing details for mountains, deserts, forests, oceans and more. The world's most remote and beautiful places are now easily accessible directly from your iPhone.
favorites, which enables one-touch navigation to frequently visited places. Whether at home, work, gym or school, users can start navigating with a single tap when the location is in Favorites on the Home screen.
flyover, which offers a way to discover selected major urban areas with photorealistic, immersive 3D views. Users can fly over a city with their device or explore cities and sights in high resolution from a bird's eye view and rotate, zoom, move and tilt the section as they wish.
flight statuswhich uses Siris on-device intelligence to search for information stored in Mail, Calendar or Wallet and proactively provides flight information on terminals, gates and departure times as well as flight changes or cancellations for upcoming trips.
indoor map to airports and shopping malls, allowing users to see which floor they are on, where the toilets are located, and even which shops and restaurants are open by simply opening the Maps app.