Listening to music and playing sports at the same time: A good combination that puts you in a good mood and boosts motivation. However, the question arises: "Which sports headphones should I buy?". We explain what you need to be aware of and introduce you to the best Bluetooth models for athletes.
1.True Wireless: Beats Fit Pro
Advantage:
Consistently designed for sports with a secure fit
Useful functions (ANC, 3D sound, etc.)
Disadvantage:
Full range of features only on iOS, some features are missing on Android
Relatively large transport box
Relatively new, relatively expensive, but also quite good: It Beats Fit Pro are ideal for sports of any kind thanks to their compact design and flexible silicone wings.I can shake my head as I want, they always stay in place. Even a headstand was no problem with them – I just deduce from this that they are even suitable for yoga (I have no experience with that).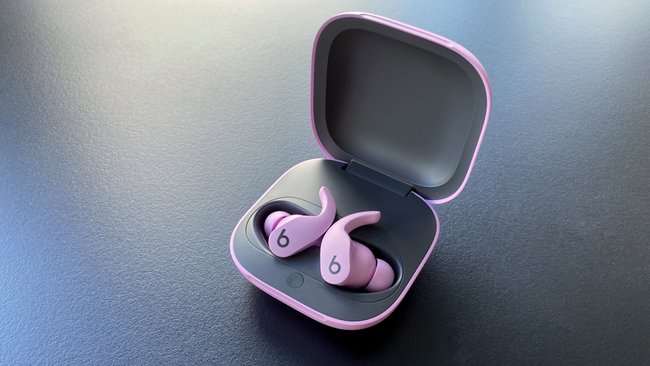 The manufacturer emphasizes that Beats Fit Pro is compatible with Apple and Android – but I find that iPhone users have a small advantage, because only those who can enjoy 3D sound with e.g. dynamic head tracking. Conclusion: My personal sports headphones are favorite and – besides sporty aspects – also the best alternative to the popular AirPods Pro at the moment.
2. Great sound, but with a cable: Bose Soundsport Wireless
Advantage:
Loud sound
Secure fit and high wearing comfort
Disadvantage:
Very voluminous shells that protrude clearly from the ears
Battery life only up to 6 hours per. charging
yes the model Bose Soundsport wireless has been around for a few years now. Nevertheless, the neckband headphones (a cable you put around your neck) are still worth a look. Unlike models that have just been released, Bose no longer needs to prove itself, as more than 24,000 mostly positive customer reviews on Amazon show (as of March 2022). It passed this large-scale long-term test with flying colors.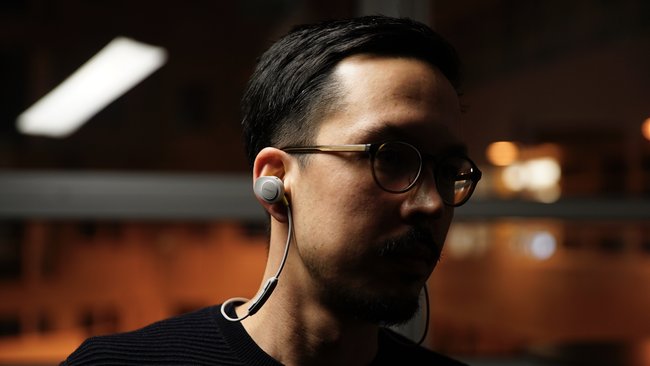 What excited me during the test at the time: Only a few headphones sound as full-bodied and powerful as the Bose Soundsport Wireless – with the right music driving the whole body. Battery life (up to 6 hours per charge) is below average by today's standards, and the actual size of the two cases also seems a bit strange. But why should it interfere with evening jogging, especially if the price is right? Take a look at this classic.
3. Ears free thanks to bone cord: Shokz OpenRun Pro
Advantage:
More intense perception of the surroundings
Multipoint Bluetooth
Fast battery charging
Dust and waterproof according to IP55
Comfortable to wear, but …
Disadvantage:
… Impractical design
Weak bass sound
No intuitive operation
The packaging is not updated
that Shokz OpenRun Pro is unlike any other headphone. The manufacturer, formerly known as "AfterShokz", has entered a niche with its bone conduction technology, which is particularly interesting for outdoor activities. Instead of clogging the ear canals, the ears remain free. OpenRun Pro is worn in the same way as glasses (but backwards), and most of the audio transmission takes place directly via the cheekbones. You can always hear if cars are approaching or a bicycle is ringing.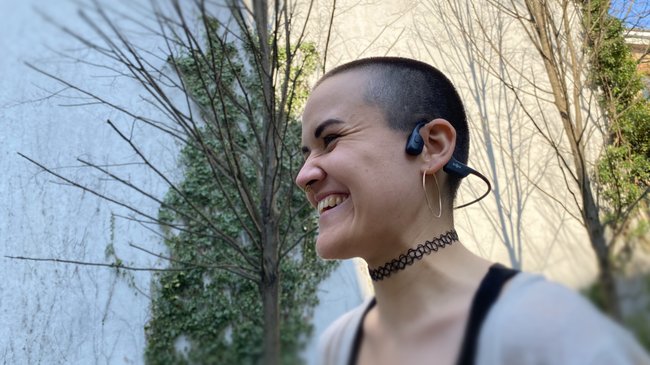 This works fantastically well, the sound quality is more than adequate, at least for the secondary sound amplification, and provides motivation when running. Compared to conventional in-ears, bass-heavy kick drums lack the power, but you are compensated for with a particularly airy and light wearing comfort. More about this in our detailed test report by Sarah:
Headphones and sports: you need to be aware of this when buying
The most important basic rule: Practicing sports and wearing headphones should always be done with safety in mind. Under no circumstances should both the athlete and his surroundings be endangered. Concrete example: If you ride with headphones on, you could not hear other vehicles (danger to yourself) or be so distracted by the music that you lose concentration on other road users (danger to others).
Fixed seat: Sport means movement, so the headphones must fit well. Here, In-ear models usually have an advantage, as they are firmly attached to the ear canal – provided they fit properly. Some models are also provided with hooks or wings on the ear pieces, so that the grip around the ear is strengthened. Headphones with headbands (over-ear / on-ear) must have a strong contact pressure and at the same time be light in weight to stay comparably good.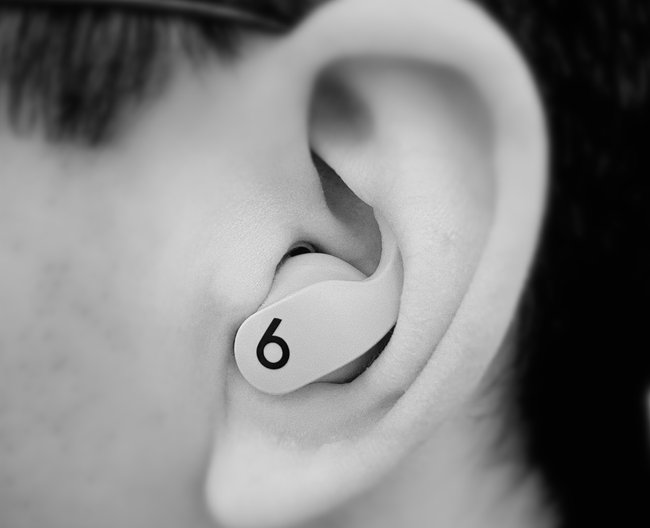 Advantages and disadvantages of cables: With in-ear headphones, there are models with cable or neck straps that connect both headphones. Since Apple's AirPods came out, the category of genuine wireless earphones, that is, two separate wireless headphones, has also become more and more popular. It is not possible to say in general which solution is basically better. Bluetooth headphones with headbands tend to have longer battery life and are less likely to be lost. Genuine wireless earphones can (individually) fly out of the ear with a jagged motion and can then be lost. The following applies: Where there is no cable, you can not be stuck somewhere with a cable.
Water and dust resistance: So-called IP codes provide information on whether a gadget is protected from water, dust and sweat. Such features are usually also advertised by the manufacturer and can be clearly seen only by the packaging of the headphones. Conversely, this means that if headphones are not labeled "waterproof" or "waterproof", then they are not recommended for a sweaty sport.
Battery life, sound and design: How many hours a pair of headphones lasts is less important for sports headphones than it is for "travel headphones" (eg Sony WH-1000XM4). Above all, it is important that the headphones last the intended duration of the activity (eg 2 hours of jogging). An overly strong bass can be annoying when listening to music, but it's not that bad during running training. When it comes to design, you can compromise because it's not about looks, it's about functionality. In the review of Bose Soundsport Free, for example, we complained that the bulky house stuck out of the ears – but it is ultimately a matter of taste and does not mean much to the ambitious athlete.
Headphones for sports: trying them on helps with the purchasing decision
Ultimately, the only way to find out if a pair of headphones really fits well and if it suits the intended sport is to try it out beforehand. For what is stuck in one user's ear and easily participates in a somersault, the other user falls out with a slight shake of the head. Therefore: Ask in the store if you can try the models or, if in doubt, make use of your right of return at the online retailer.